(Darco x Carneval x Lord)
BWP – dark bay – Homozygote – 1,70m – 1990
❝  Son of the regretted Darco from which he got his strength and stable mind, Non Stop also comes from one of the most wellknown holsteiner damline which has also produced Cöster, Carthago, Canturo, …  and from which he got his blood, chic and nice gaits! ❞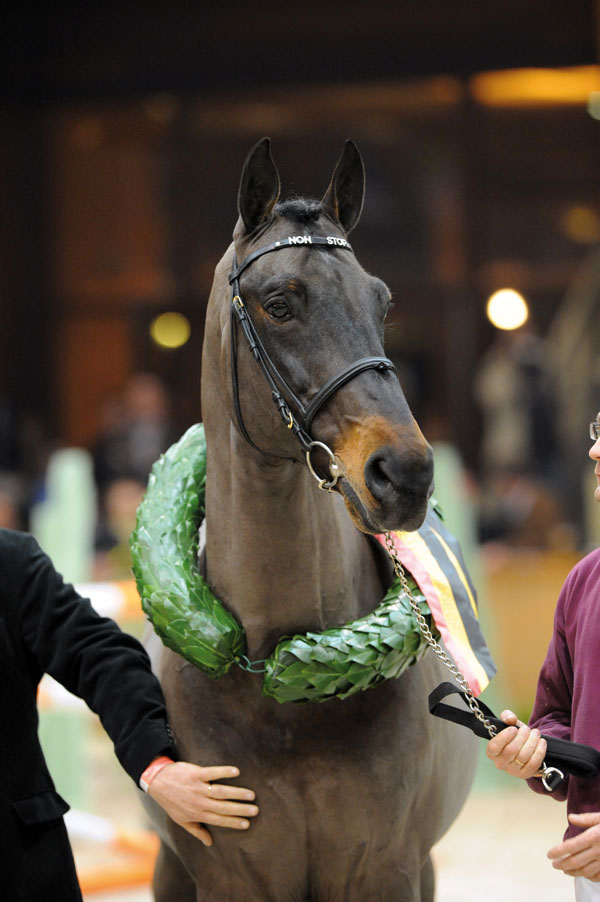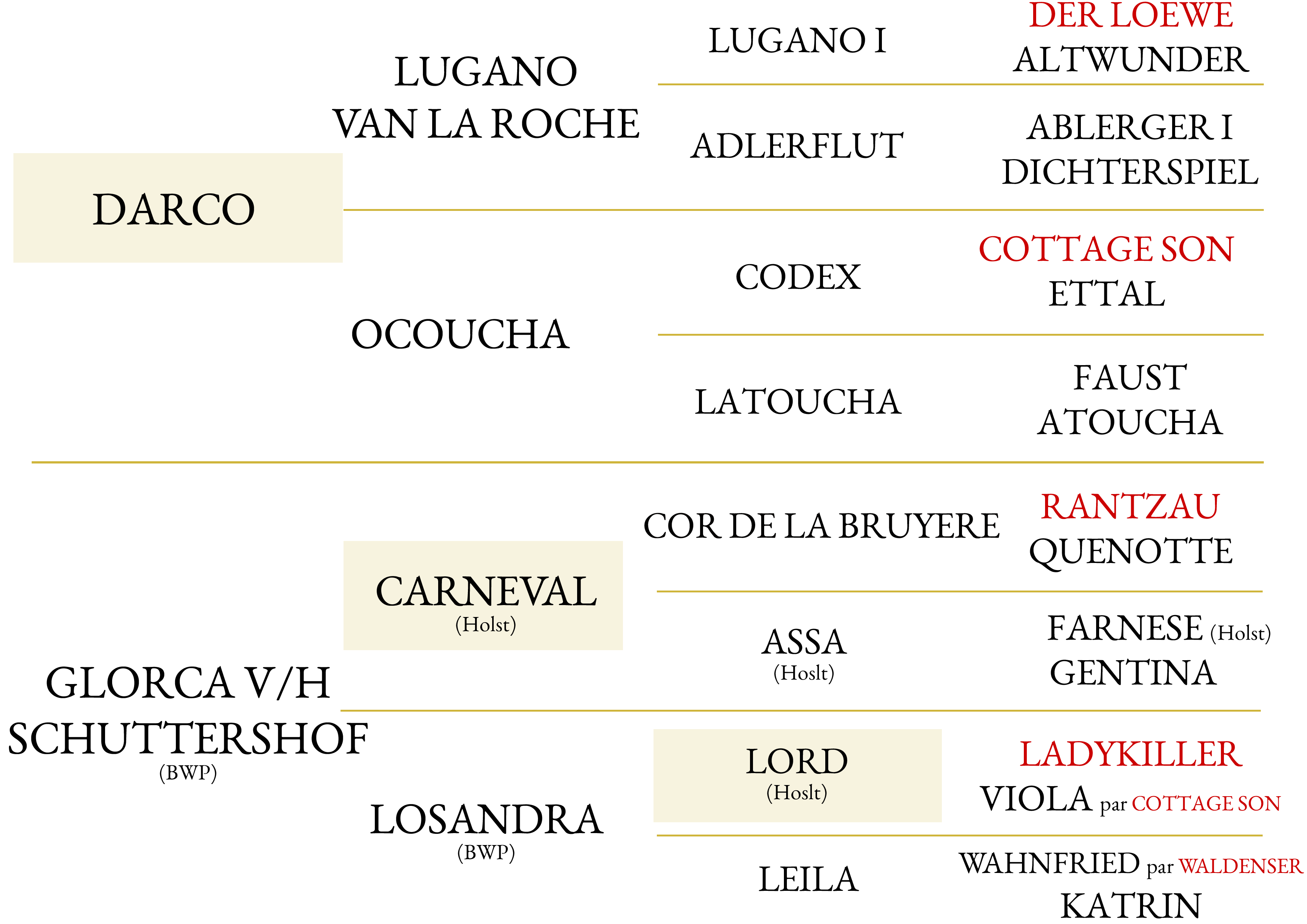 HIS SIRE : DARCO: Great international showjumper winner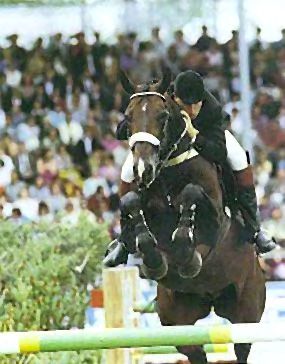 He won many World Cup Grand Prix and ended 7th at Barcelone Olympic Games
Darco is one of the Best stallions in the World, 1st for many years of the WBFSH Stallion ranking list.
He has produced among the best :
Sapphire : 6th Beijing OG and 7th Aachen WEG, Trudo King Darco : Atlanta Olympic Games, Belgium Champion and 5th at St Gall European Championships. He has also produced the stallions : Parco, Winningmood vd Arenberg, Non Stop, Klassique du Gué ISO 147, Vesuvius vh Moeshof ISO 150 … and the showjumpers Barbarossa Van Paemel ISO 167, Codarco CSIO5*, Damascus Van Het Lindehof ISO 153, Eros du Bois Blanc ISO 150, Escape St Ghyvan ISO 150, Insolante ISO 166, Jolly Girl de Kervec ISO 153, L.B. Eagle Eye CSIO5*, Lavande d'Aix ISO 158, Nais de la Pomme ISO 152, Océane du Désert IDR 150, Option d'Auge ISO 151, Oxford d'Esquelmes ISO 169, Patchouli't Kesterbeekbos ISO 153, Qwintus ISO 151, Val d'Oise de Fauquez ISO 150, Valentino ISO 164, Vital Utopia ISO 155, Widney ISO 150, Wodan ISO 166, Fair Play d'Esquelmes ISO 156 …
HIS 1st DAM : GLORCA V/H SCHUTTERSHOF : belongs to the prestigious 162 Holsteiner familly
has also produced Olympus (CSI for United States), Tempus van Orti (CSI 1,40m), Quintus van Orti (excellent dressage horse with C. Fassaert). 
Glorca is also the sister of the stallion Cum Laude Z (1,60m).
HIS DAM BLOODLINE
Non Stop's mother line belongs to the prestigious 162 Holsteiner familly from which come several famous champions and stallions, like :
Cöster : European Champion with C. Ahlmann. His 4th dam, Katrin, is also the 4th dam of Non Stop and has also produced Sando Khan (fantastic dressage horse), Santiago (one of the best german eventer)
Canturo : 2nd world performer stallion in 2005, GP winner with B. Alves
Carthago : one of the best Holsteiner showjumper and stallion
Feinschnitt : 10th at Los Angeles Olympic Games. CSI with Luis A.Cervera
But also : Waterford Crystal European champion with Christian Ahlmann, Ulika exceptional CSIO mare, Lacros CSI with Dirck Schröder, Lactic II CSI with John Whitaker, Lord Calando, …
A mother line which counts 4 great Olympic horses

 

:Feinschnitt I,

 

Waterford Cristal,

 

Canturo

 

and

 

Cöster

 

bronze team medal.
What else to say ?

The quality of Non Stop's mother line is multiplied tenfold by good crossings with excellent sires of dams

 

like :
Carneval :

son of the great 

Cor de la Bryère

 and grand-sire of 

Flemmingh
Lord :

grand-sire of 

Cardento

, 

Coriano, Amadeus, Atlantic, Celano, Chairman, Concorde IV, Quaprice du Bois Margot

, 

Magic Bengtsson,

 

etc and sire of 

Livius

 

Los Angeles OG.

Wahnfried : 

grand-sire of the stallions 

Sandro

, 

Lancier

, 

Feinschnitt
We can also remark that Carthago, Canturo, Cöster come from Cor de la Bryère and show many similarities then with Non Stop in their pedigree from the both sides.
Among his best performances, we noticed:
International Grands Prix, Derby and Puissances Winner

 under the saddle of Nelson Pessoa and Tony Hassman

.
Champion of Belgium at 6 YO
Best 5 YO stallion at

 

Zangersheide

 

World Championships
1st of the Belgium Cycle Classique at 4 YO

At 3 YO, he already won the best free showjumping mark : 27/30. 
Other performances
Among his best results, we will remind :
With Toni Hassmann in 2002 : 1° Puissance CSI-B Neustadt-Dosse, 5° Puissance CSI-W Dortmund, 8° 1.55 Mixed comp. CSI-A Hamburg, 10° Derby, CSI-A Hamburg ; in 2001 : 2° 1.40 speed class CSI-W Geneva, 2° 1.45 speed class CSI-A Spangenberg, 2° 1.50 speed class CSI-A Hardenberg, 3° Puissance CSI-W Berlin, 5° 1.40 speed class CSI-A Berlin, 9° 1.50 speed class CSI-A Hardenberg ; in 2000 : 1° speed class CSIO Poznan, 2° speed class CSI-A Bremen, 3° speed class CSIO Lummen, 5° Mixed comp. CSI-A Bremen, 5° speed class CSI-A Wiesbaden, 5° 2 phases CSI-A Munich Riem, 5° hunting class CSI-A Munich Riem.
With Nelson Pessoa, in 1998 : 1° speed class CSI Valkenswaard, 1° Mixed comp. CSI Hamburg, 2° speed class CSI Hamburg, 3° speed class CSIO Calgary, 3° Mixed comp. CSIO Calgary, 3° speed class CSI Valkenswaard, 3° Mixed comp. CSIO Falsterbo, 4° speed class CSIO Falsterbo ; in 1997 at 7 YO : 3° Mixed comp. CSIO Mechelen.
NON STOP
________________________________________ 
Non Stop is certified "VERY GOOD" stallion for jumping in France !
He is the best son of Darco, ranked among the Best Stallions of the World since several years (26th in the WBFSH stallions jumping ranking list 2013). Among his 400 first offspring, more than 20% jump in 1,40m classes or more, which is exceptionnal !
Among his best offspring at international level, we notice :
Abbervail van het Dingeshof  : CSIO5* Denis Lynch,
Pironella : CSIO5* Daniel Deusser,

Amai

 : Mickael Whitaker, WEG 2010 and winner of the GP CSIO5* Aix la Chapelle 2012,
Bonzai van de Warande : CSIO5* Juan Carlos Garcia,
Vangelis S : CSIO5* Robert Smith,
Sitah van Vrijhern : OG de Pékin, 5th of the GP CSIO4* Wellington
But also : 
Ulysse sacred European 2009 Team Champion for Switzerland after winning the first class in Windsor ! He is also  : Swiss Champion, winner of the Derbies at La Baule and Madrid, 1st of Falsterbo GP CSIO5*, 2nd of Oslo GP CSIW, 1st of Munich GP CSI4*, etc.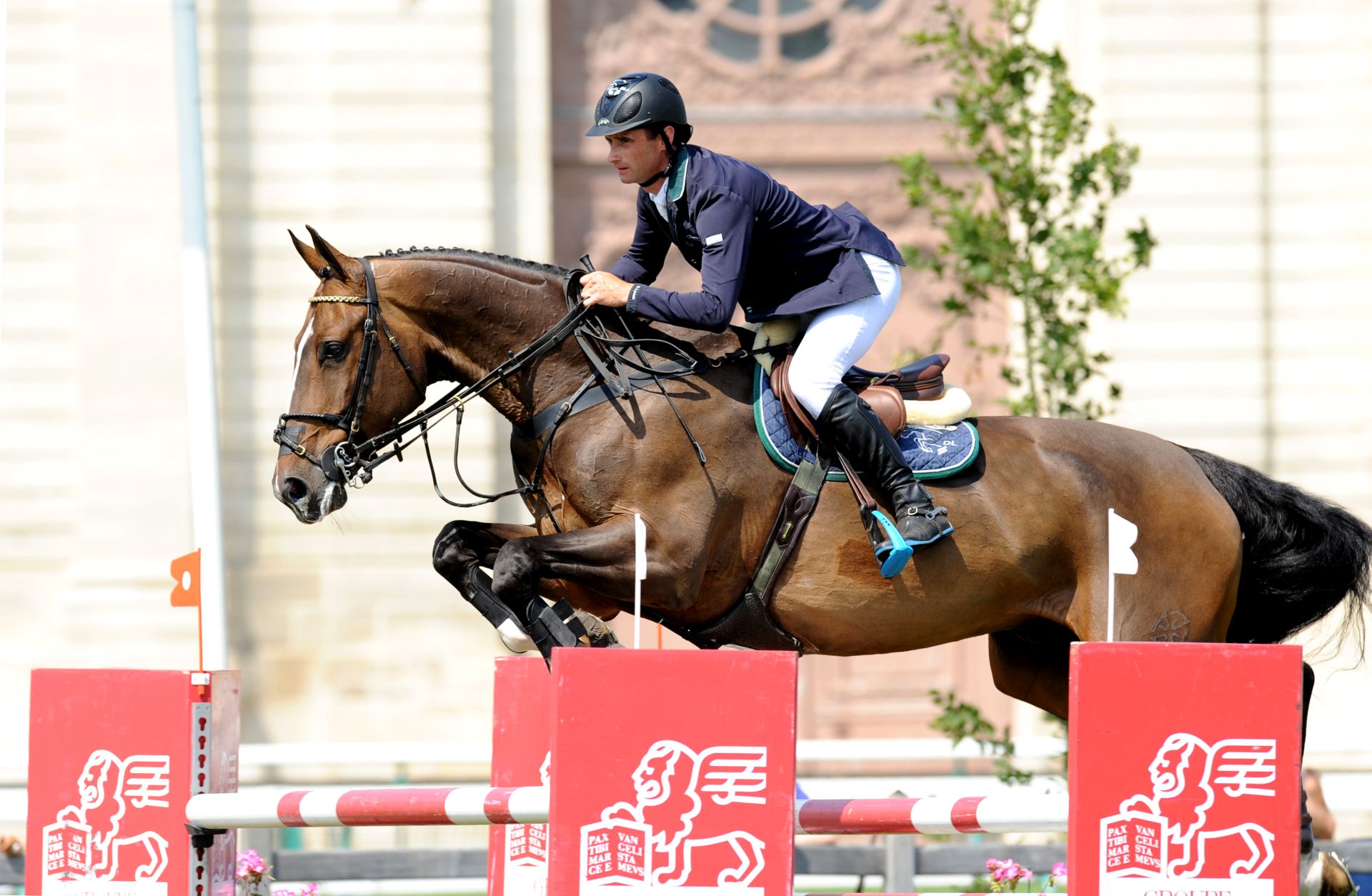 Abbervail van het Dingeshof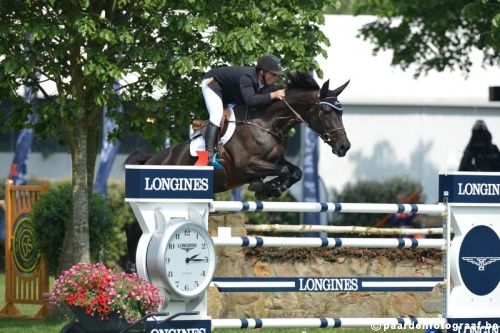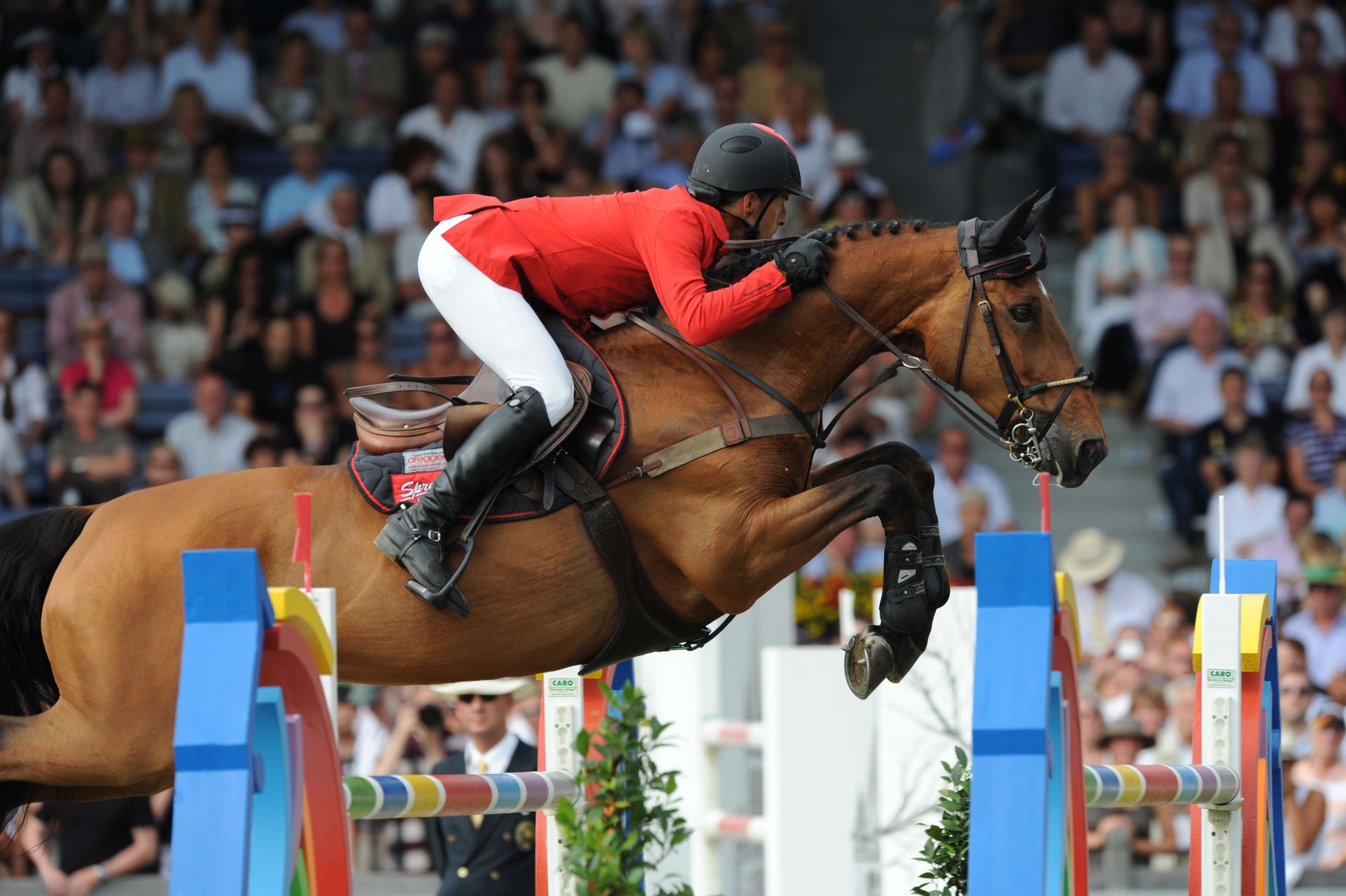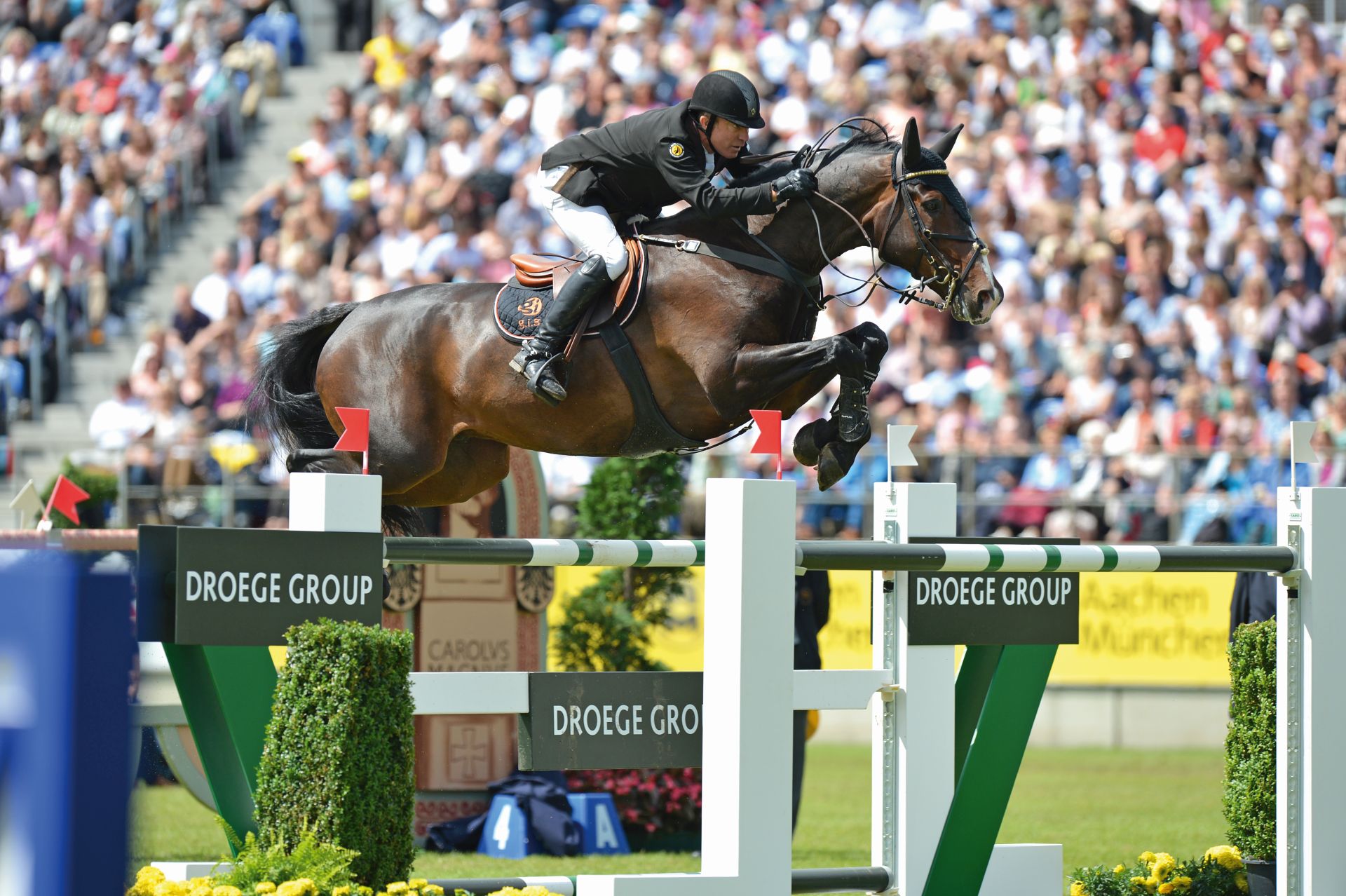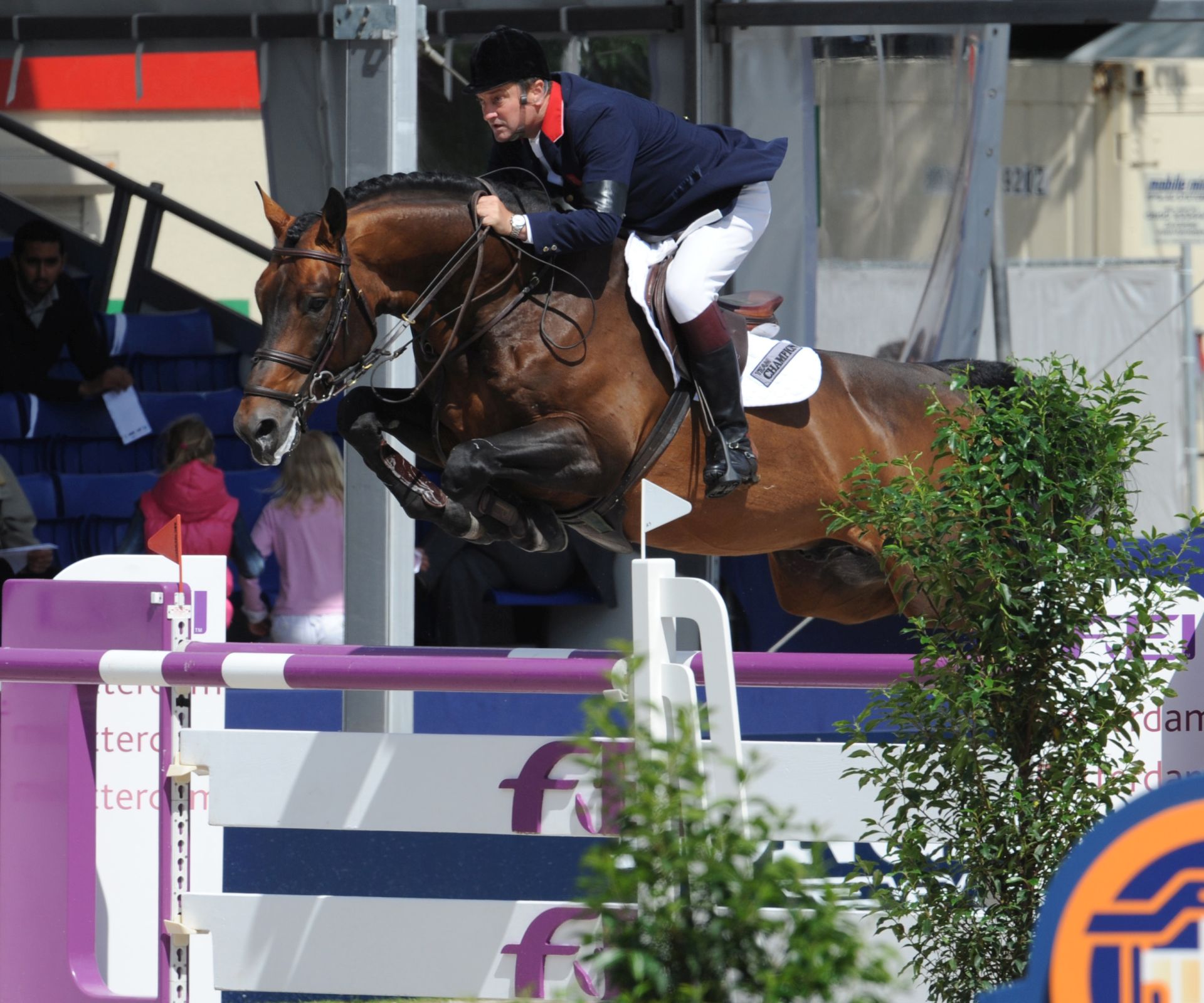 Vangelis S
Further information
Non Stop was placed during 10 years in the WBFSH rankings Top 100 of the Best Sires in CSO.
Many others are also ranked in International Grand Prix, like :
A New Fidelity, Deus, Eau de Parfum Van Overis, Ebano, Eloise du Petit Vivier, F Olympic MH, Fariska, Fiero van Orti, Fine Star van 't Asschaut, Fiona v/h Lemmenshof, Galip, Gayatri van het Welthof, Gigi l´Amouroso ter Notelaere, Gipsy Boy, Gladstone, Grand Amour, Gulio van de Koelaar, Hearton du Bois Halleux, Inonstop van't Voorhof, Just in Time, Kind of Magic, Lucky Luke de Barzin, Nabuco, Nesquick, New Stop Z, Nomanee,  Notaris, Rosa Cocktail, Semsaladem Berkenbroeck, Semtex, Texas, Topic van het Voorhof, Ultra Fidelity M, Uni Stop van het Hoksent, Via Veneto, Warrior van het Dingeshof, Zambezi, Z7 Ascot...

Several Non Stop's products also got some medals in Junior and Young Riders Championships, which show their easiness : Rolex van Berkenbroeck, Team Bronze Medal and 8th in individual at Hagen 2002 Juniors European Championships ; Takashi van Berkenbroeck, individual Bronze Medal at Vilamoura 2004 Juniors European Championships ; Uppercut, Silver Medal at Auvers 2007 Young Riders European Championships.
Among his best offspring indexed in France we can already notice  :
Almero van de Kwekenhoeve ISO 131, Amai ISO 128, Anew Fidelity "M" ISO 127, Axel van Overis ISO 132, Babou's Dream de Nisi ISO 125, Barbabianca Griserie IPO 130, Beaubrun de la Chenee ISO 128, Bellisima Kerellec ISO 134, Big Ben II Van de Bunte ISO 138, Bimbo de Lara ISO 153 (winner of GP 145 CSI2* Cluny 2021), Braungirl de Pleville ISO 142, Can't Stop D'Oz ISO 129, Cassidy du Frene ISO 129, Carlo de Siju ISO 132, Ceylan de Blondel ISO 144, Charivari Marcia ISO 132, Cheilane de Blondel ISO 145, Chiara Gem ISO 136, Daytona Semilly ISO 141, Discla ISO 137, Djazz des Neys ISO 137, Don't Stop de Beaufour ISO 137, Don't Stop Semilly ISO 153, Dont Stop Van Klapscheut ICC 126, Eblesse Vh Scheefkasteel ISO 148, Ecuador de Beaufour ISO 141 (11th of the 5YO male France Championship in 2019), Evana van het Leliehof ISO 130, Evita ISO 136, Evita Van't Hof V Eversem ISO 143, F Olympic Mh ISO 133, Favola VI V Berkenbroeck ISO 127, Forta ISO 129, Gem Twist ISO 139, Gieliam Vh Kaleyhof ISO 126, Hobbit Huxly Blesse Vt Asschaut ISO 138, Jonas du Petit Vivier ISO 140,  Kalambaka Hille IPO150, Kennedy Lady du Petit Vivier ISO 129,  Kenneth du Petit Vivier ISO 138, Lana d'O ISO 133, Lenz de l'Esperance ISO 130, Loren Saint Benoit ISO 131,  No Comment Of The Paddock ISO 129, No Limit 2(de) ISO 132, No Way van Berkenbroek Z ISO 136, Nonty JP Z ISO 140, Quattro du petit vivier ISO 127, QuickBoy de Maibelle ISO 143, Quicksilver des Brumes ISO 129, Rebel ISO 130, Samourai W ISO 129, Shaba van Berkenbroeck ISO 161, Uldorado ISO 130,  Ultimate des Bruyeres ISO 130 ; Uncle Jack de Liam ISO 128, Unitop van't Pachtershof ISO 145, Urielle S ISO 135, Viking van Kwekenhoeve IE SO ISO 146, etc.
For more news, pictures and videos, click on : webstallions
More offspring from Non Stop
Non Stop brings to his offspring his good balance, a great canter and a lot of easiness. His damline also brings some blood, chic, style and wonderful paces.
Non Stop doesn't produced chestnut horse, only bay ones.
A SIRE SURE VALUE
WILLING
STRENGTH
INFLUX
SCOPE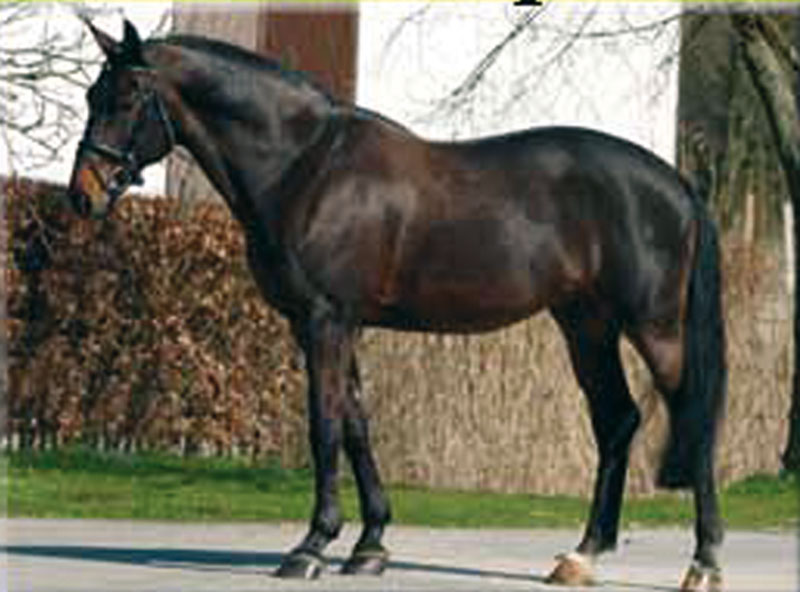 NONSTOP
2023 COVERING CONDITIONS

You can bring your mare to France for being inseminated.
In this case, the stud fee is divided in two parts :
220 € at booking + 1500 € when the mare is pregnant 
Live Foal Guarantee
 Frozen semen
Sales conditions –  France   🇫🇷
Further information
It is also possible to send frozen and/or chilled semen to another french AI center (shipping costs to add).
NONSTOP
2023 COVERING CONDITIONS – EXPORT

Towards foreign countries, we can send you the semen directly
or through our broker if there is one who works for us in your country
1000 € for 1 dose (1 dose = 3 straws)
sold under contract (ICSI, live foal guarantee, taxes, shipment and cost for the health certificate excluded). 1 dose is sold with 1 Breeder's Certificate and a maximum number of 1 foal born.
For ICSI, thank you to send us an email at contact@semilly.com
NonStop has a good fertility rate
ISO : Showjumping Index
ICC : Eventing Index
IDR : Dressage Index
IE : exported horses ranked in international classes CSI /CSIO / CSIW

100 to 120 : Good
120 to 140 : Very Good
140 to 160 : Excellent
160 and more : The Best

Des générations d'Hommes de Chevaux au service de l'élevage et des sports équestres
Haras de Semilly
Impasse de l'Hôtel Pohier
50680 COUVAINS
France
Email : contact@semilly.com
Téléphone : +33(0)233053144
Richard LEVALLOIS : +33(0)672887149
Sophie LEVALLOIS : +33(0)672887151