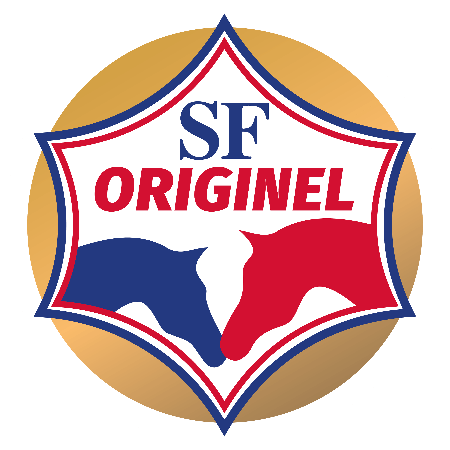 FUNKY MUSIC SEMILLY
(Diamant de Semilly x Apache d'Adriers x Uriel)
SFO – bay – 1,68m – 2015
APPROVAL :
SF

GENETIC :
ISO 133 / BSO+21 (0.59)

SPORT :
Vice-Champion of France for SF Stallions 2018 / 7th in the French 5-year-old Championship (2019)
WFFS & PSSM1 :
not tested
HEALTH :
CIRALE*****

XX = 58,86%

A FAMILY OF
COMPETITORS BORN
STRENGTH
MENTAL
SOLIDITY
BLOOD
❝  The pure SF stallion FUNKY MUSIC SEMILLY is undeniably gifted for show jumping, like his full brother, the stallion Rock'N Roll Semilly, placed in GP 1,60m CSI5* and like all their brothers and sisters. Actually, it is rare to see a dam line which passes on so many qualities with such consistency : great willingness, power, soudness, carefulness, energy, excellent jumping technique and top rideability. Placed among the best showjumpers of his generation, Funky Music has a powerful canter, a lot of scope and strong hindquarters. ❞ 
ISO 133

In 2022, Funky Music is placed 2nd of the 1,40m Grand Prix in Compiègne. In 7YO classes, he is also placed : 2nd and 6th of the Grand Prix in Canteleu, 5th of Saint-Lô's GP, 10th of the Normandy Horse show's GP, 16th of Auvers's GP, 1st of CSIYH classes in Cabourg and Royan, … 
Qualified "Very Good" after the 5YO French Championship (2020). 
7th of the 4YO French Championship, qualified "Excellent" (2019).
Vice-Champion of France of 3YO SF Stallions.   
Other performances
n 2020, Funky Music Semilly easily qualifies for the French 5-year-old Championship, where it achieves a clear double and qualified "VERY GOOD".
Great start for Funky Music Semilly who is named Vice-Champion of the 4YO SF stallions during the SF stallions Masters 2019 ! He is also double clear round at the 4YO Regional Championships of Normandy 2019. He finished the season ranking 7th at the 4 YO France Championship in Fontainebleau, qualified "EXCELLENT".
Funky Music Semilly finished 2018 3YO SF Stallions France Vice-Champion at only 0,004 point close to the France Champion. He has impressed everybody by his jump quality and won the ride and free jump tests with respectively 18/20 and 18.25/20 !
During the testing, Funky Music confirmed the expectation, getting the qualification "VERY PROMISING STALLION". The jury noticed that he was applied and receptive, with a good useful gallop, with punchn with a strong wither punchy wither duuring the jumps, very respectful and with a lot of power in the back and knees.
FUNKY MUSIC SEMILLY
________________________________________ 
Begins breeding in 2019.
The first foals of Funky Music Semilly have a lot of energy, a good balance, a strong back and powerful hocks.
Madison Deltik, finished 6th of the old male foals in Périers (2022). 
Kiss Me de Brion, finished 9th in the French Championship for young female (2020). 
Further information
Trust the experience of the Levallois family to have chosen you promising young stallions. There is therefore no great risk to take using this young genetics. Funky Music Semilly represents a safe bet, appealing to breeders who entrusted it with more than 180 mares for its first two years of breeding!
Kestutis de Bougy
Funky Music x Muriesco du Cotentin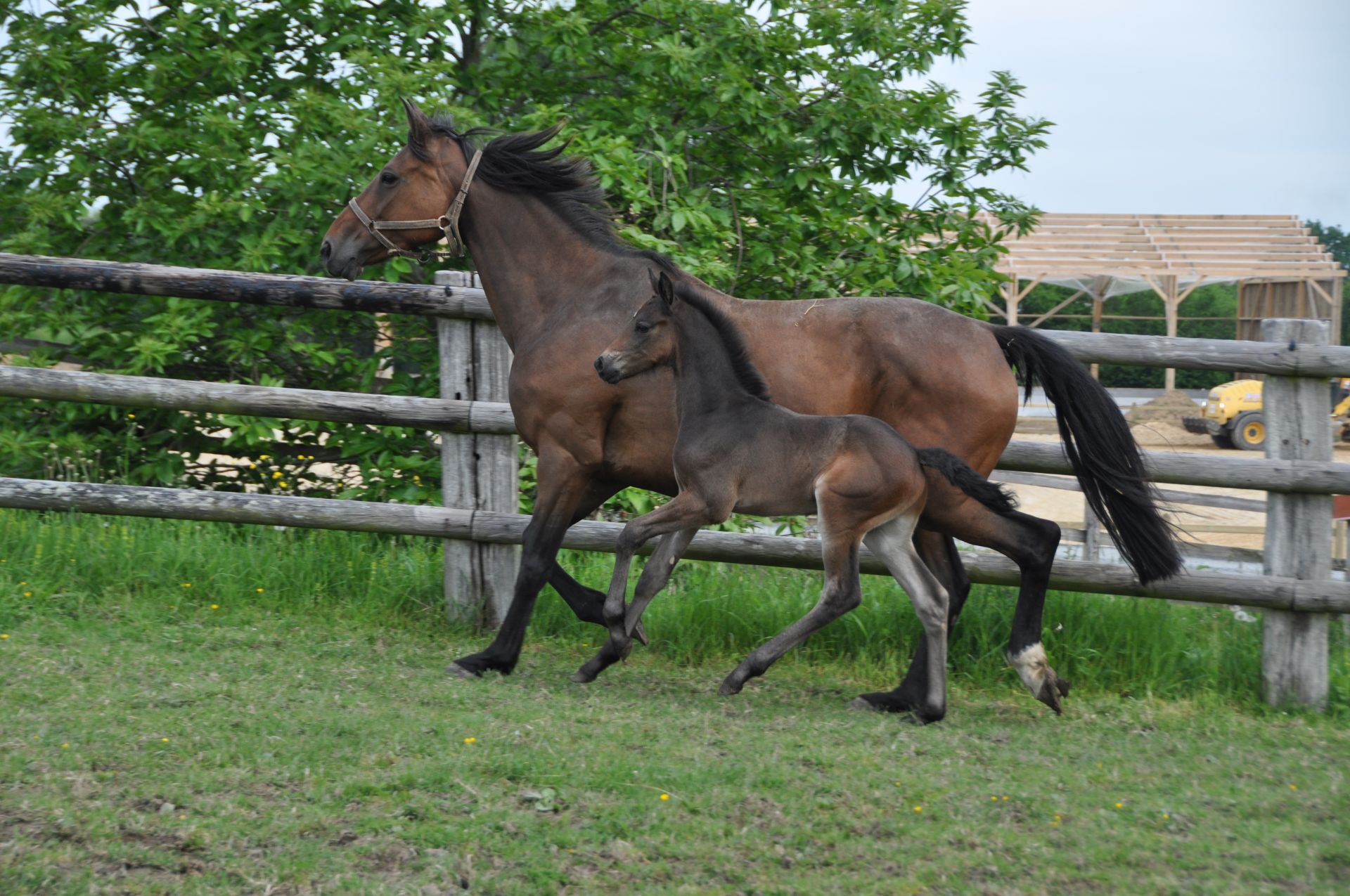 Kokain du Paute
Funky Music x Salto de L'Isle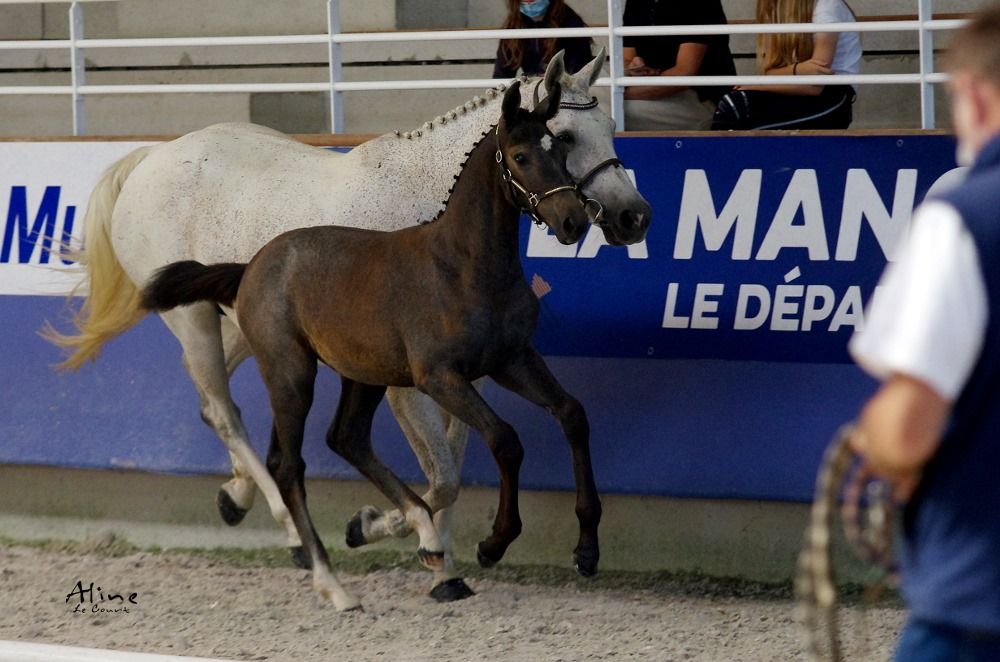 Kiss Me de Brion
Funky Music x Opium de Talma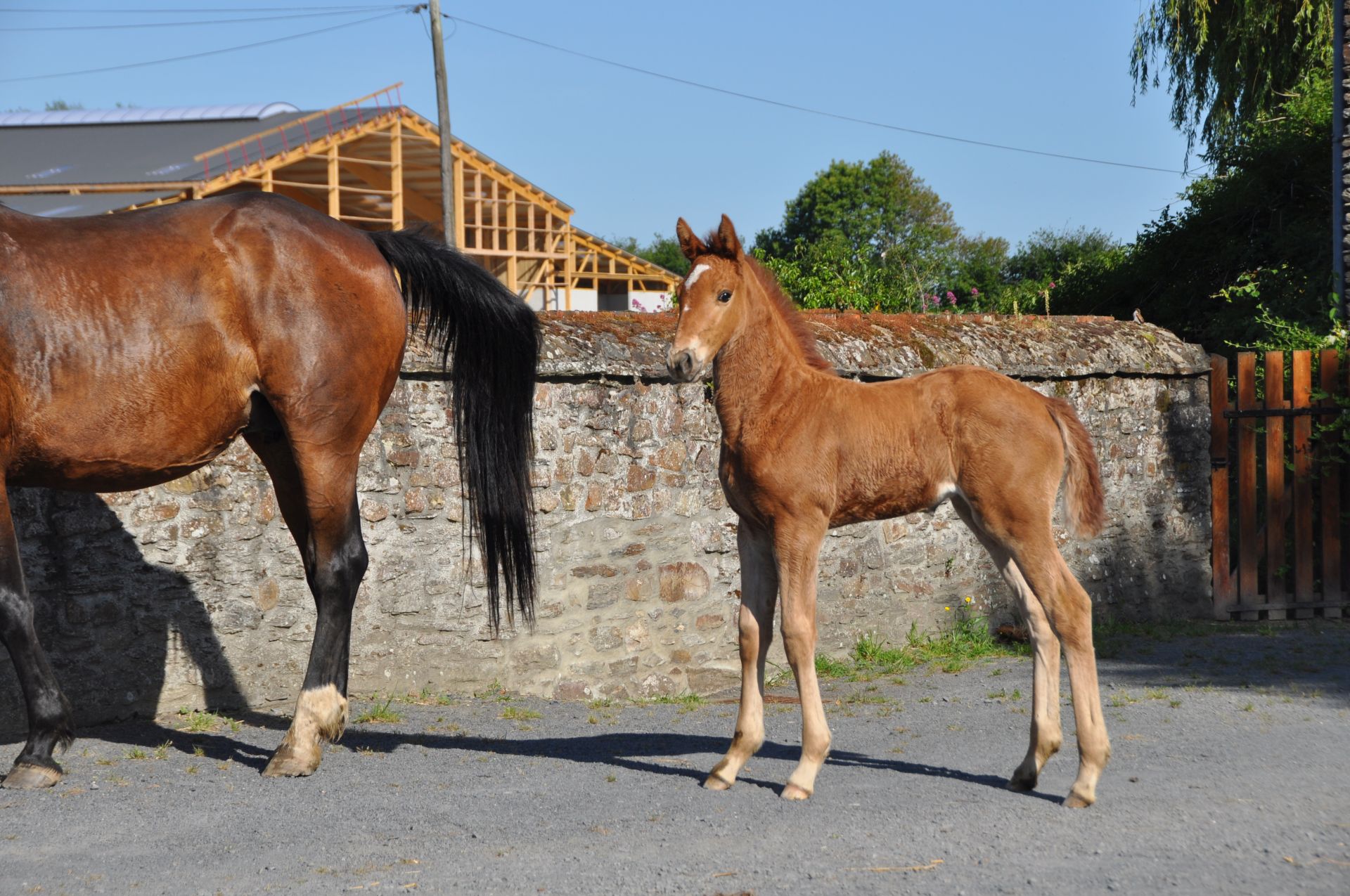 K de Terrette
Funky Music x Hurlevent de Breka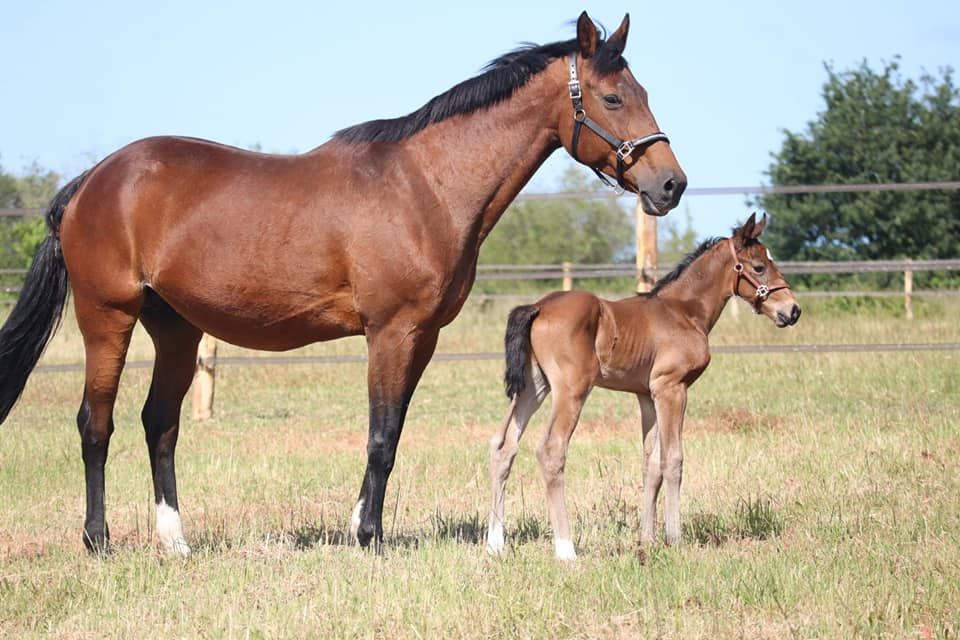 Kick Fun de Icksy
Funky Music Semilly x Alfa d'Elle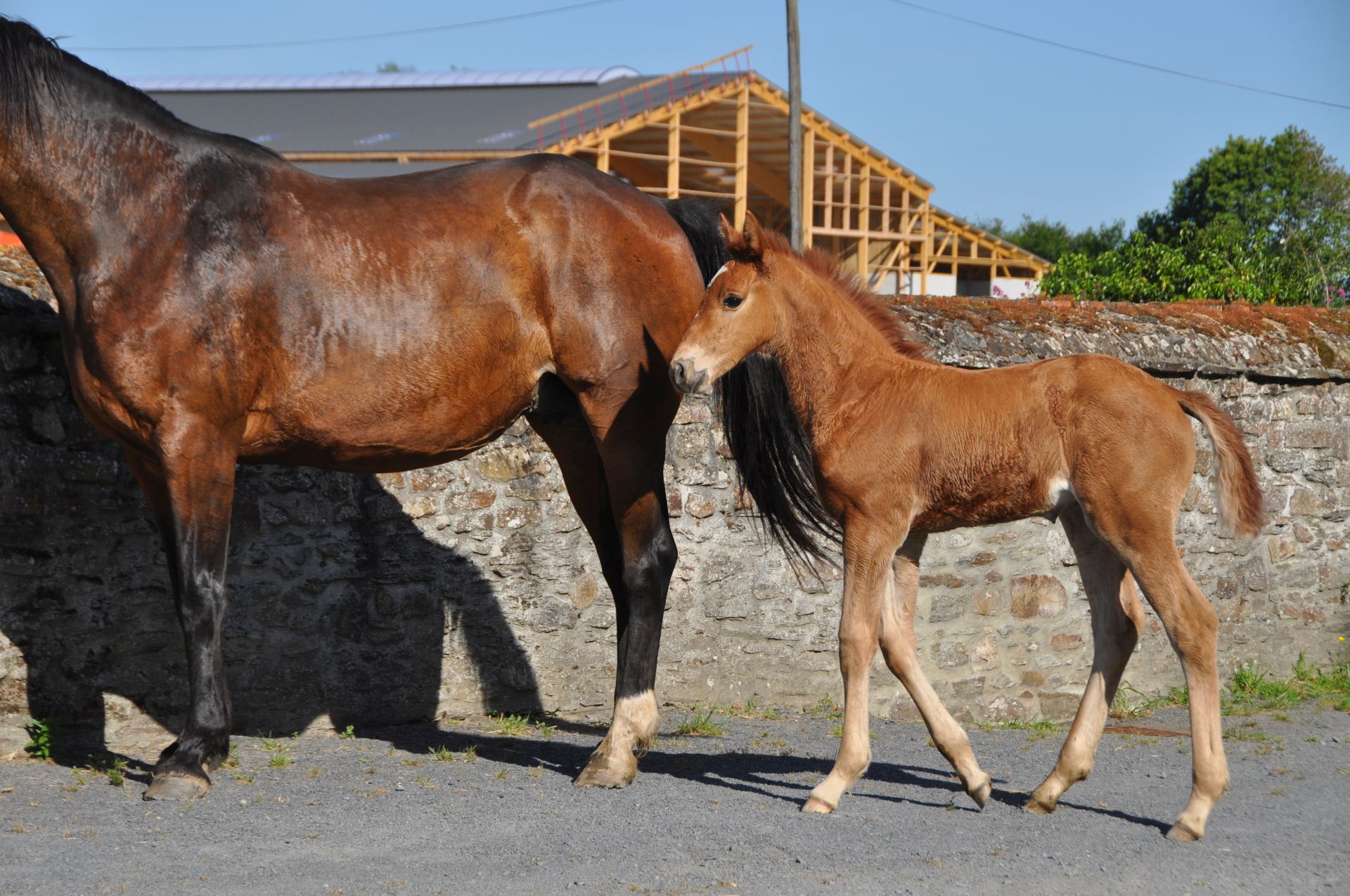 K de Terrette
Funky Music x Hurlevent de Breka
Kall Me Dream
Funky Music x Osiris d'Orion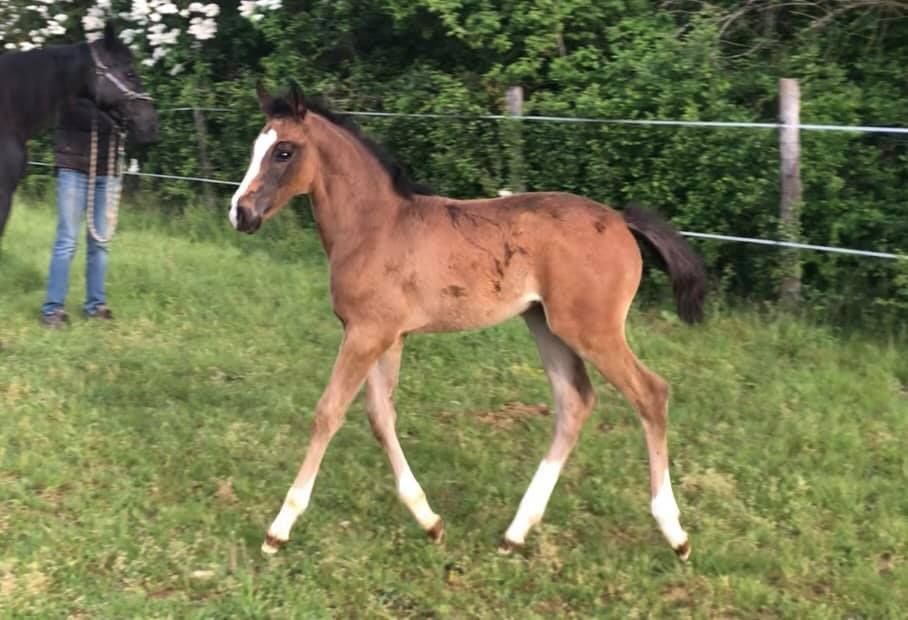 Keld Am Sodh
Funky Music x Quito de Baussy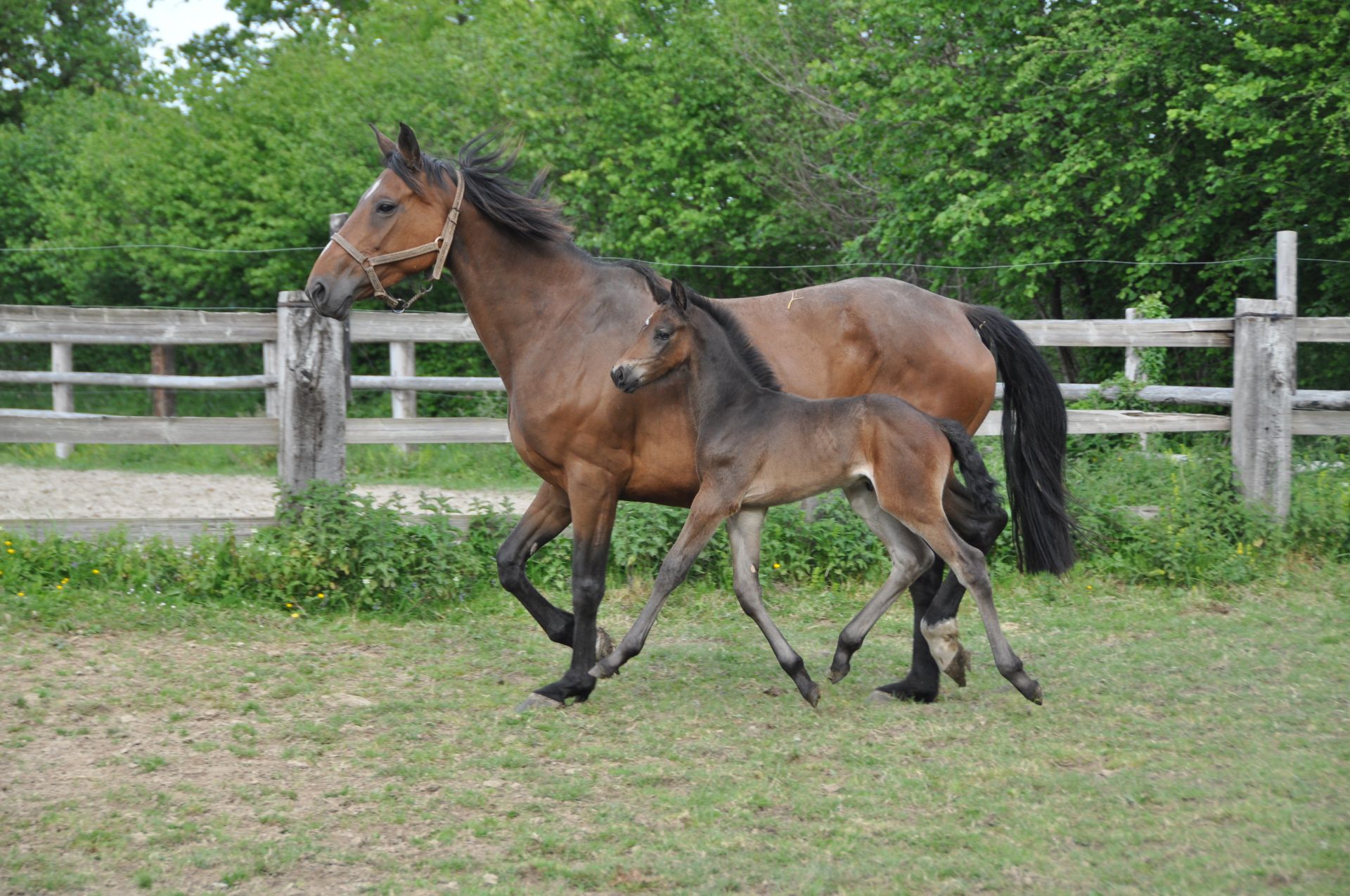 Kokain du Paute
Funky Music x Salto de L'Isle
Kestutis de Bougy
Funky Music x Muriesco du Cotentin
Funky Music Semilly is very similar to his full brother Rock'n Roll Semilly at the same age. He is also cooperative, careful, with a powerful canter, blood, a lot of scope and strong hindquarters.
Like his brother, placed ELITE stallion, Funky Music should passes on his power, good strong legs, excellent jumping qualities, top rideability, and great willingness.
A FAMILY OF
COMPETITORS BORN
STRENGTH
MENTAL
SOLIDITY
BLOOD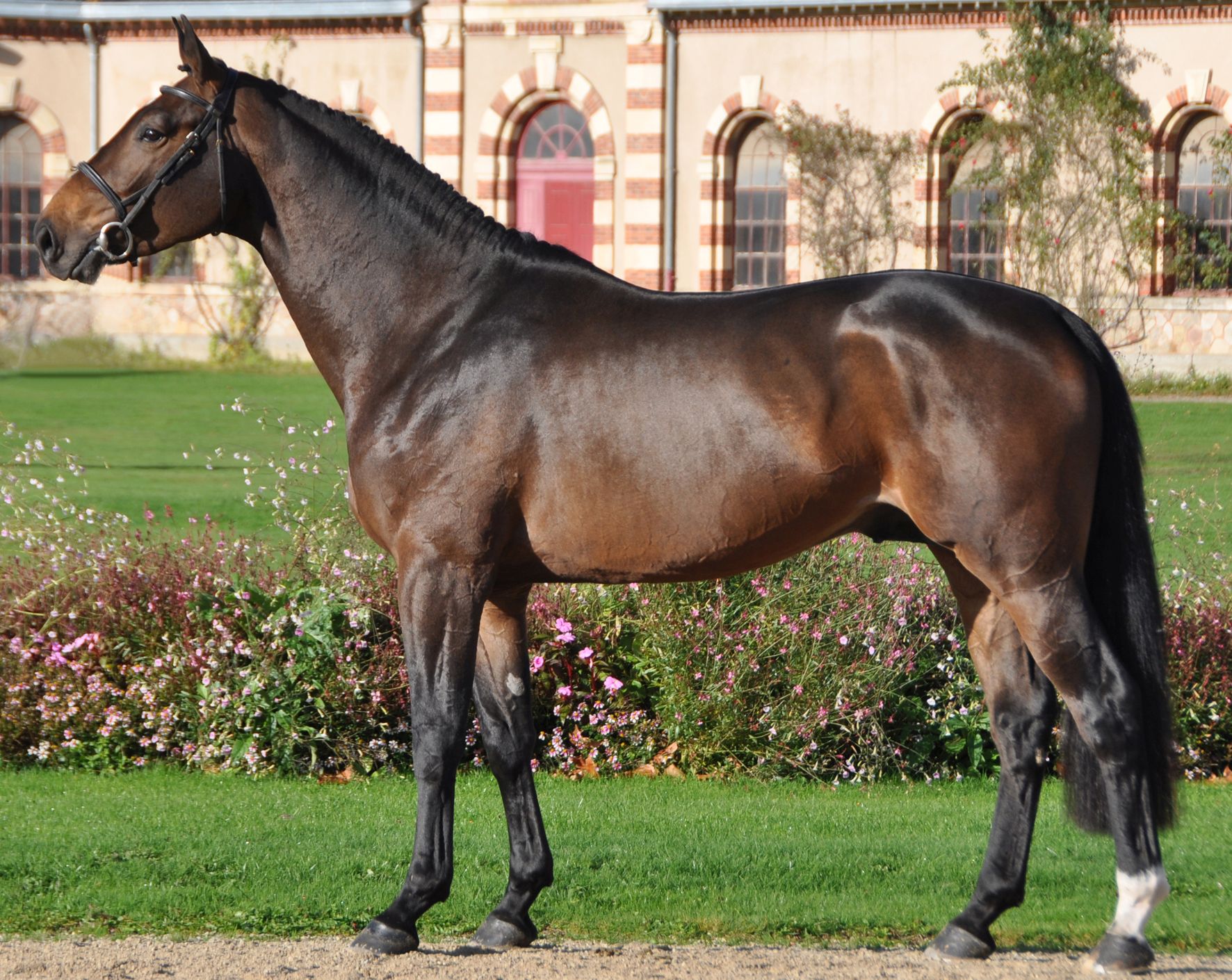 FUNKY MUSIC SEMILLY
2023 COVERING CONDITIONS – France

You can bring your mare to France for being inseminated.
In this case, the stud fee is divided in two parts :
220 € at booking + 700 € when the mare is pregnant 
Live Foal Guarantee
 Frozen semen
At Haras de Semilly, the inseminations and scans are included.
Sales conditions –  France   🇫🇷
Further information
It is also possible to send frozen and/or chilled semen to another french AI center (shipping costs to add).
FUNKY MUSIC SEMILLY
2023 COVERING CONDITIONS – EXPORT

Towards foreign countries, we can send you the semen directlyvor through our broker if there is one who works for us in your country with 2 different options:
COVERING SALE

900 € Live Foal Guarantee
OR
SEMEN SALE

900 € for 4 doses
sold under contract (ICSI, live foal guarantee, taxes, shipment and cost for the health certificate excluded). 1 dose is sold with 1 Breeder's Certificate and a maximum number of 1 foal born.
For ICSI, thank you to send us an email at contact@semilly.com
The doses' quality is certified by Eurogen.
ISO : Showjumping Index
ICC : Eventing Index
IDR : Dressage Index
IE : exported horses ranked in international classes CSI /CSIO / CSIW

100 to 120 : Good
120 to 140 : Very Good
140 to 160 : Excellent
160 and more : The Best

Generations of Horsemen in the service of breeding and equestrian sports
Haras de Semilly
Impasse de l'Hôtel Pohier
50680 COUVAINS
France
Email : contact@semilly.com
Phone : +33(0)233053144
Richard LEVALLOIS : +33(0)672887149
Sophie LEVALLOIS : +33(0)672887151