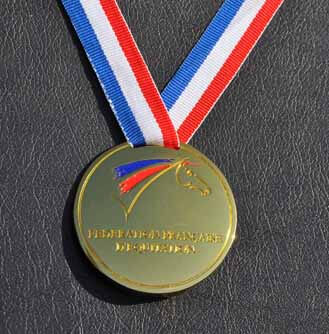 (Quaprice Boimargot x Jus de Pomme x Transvaal)
SF – bay – 1,67m – 2010
APPROVAL :
SF
GENETIC :
XX = 64 %
SPORT :
ISO 145
GP 1,50m
WFFS & PSSM1 :
not tested
LABELS :
"VERY GOOD" at the end of the 4-year-old Championship
HEALTH :
CIRALE****
POWER OF
REAR HAND
GALOPADE
CHIC
SURE PEDIGREE
❝  Artiste is a perfect crossing between Quaprice and a dam by the Olympic Champion Jus de Pomme which has also produced several showjumping winners, He has proven himself his ease at top level by being placed with his young rider in the hard 1,50m Grand Prix CSIO3* in Deauville. They also won the title of French Champion of the Young Riders 2022 and competed up to 1,55m GP CSI4*. Artiste has strong hindquarters, is handsome, tonic, moves very well and jumps with suppleness and strength in the back. His first offspring arrives at international level, like Felin de St Martin placed in the Italian Senior Championships 2022 at only 7 YO.❞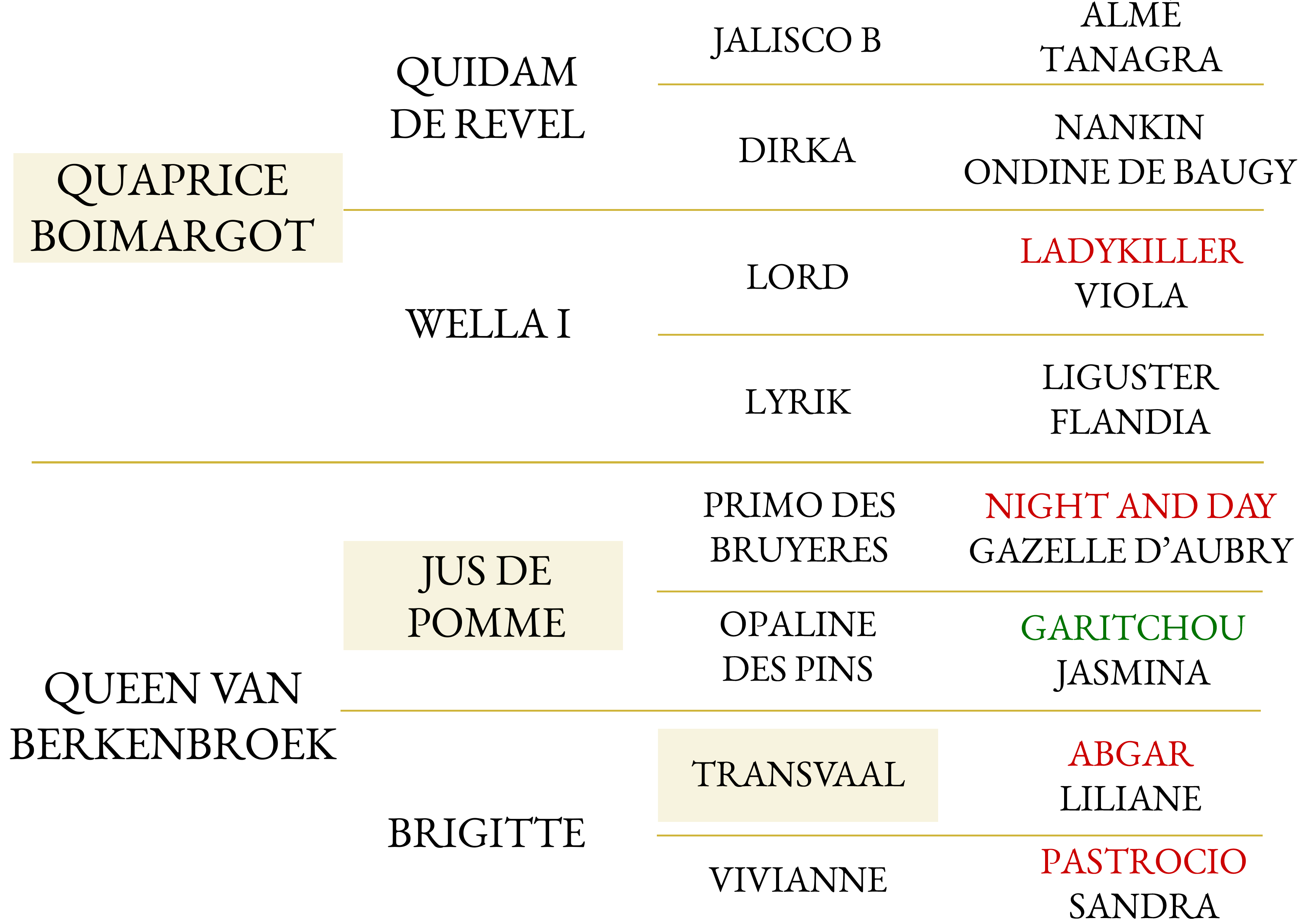 HIS SIRE : QUAPRICE BOIMARGOT : Son of Quidam de Revel and an excellent Holsteiner maternal line.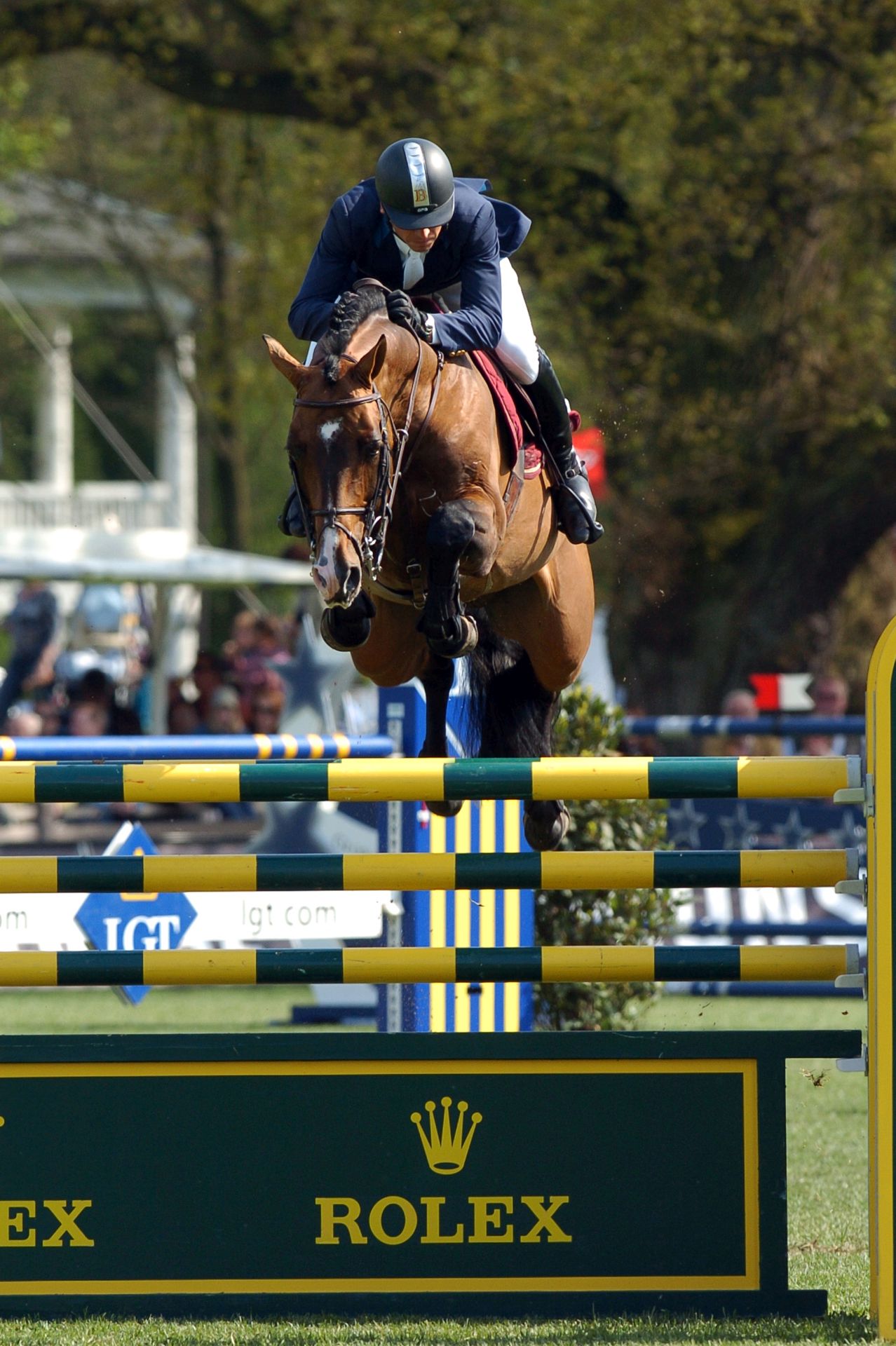 Son of the famous Quidam de Revel with a great holsteiner damline : His 1st dam, Wella I, has also produced : Diana IV (dam of the great international winner Conduct with Conor Swail) ; Flandia (dam of the good international showjumpers Coloredo with Markus Renzel and Cadillac with Eric Navet, ISO 162) ; Ornella (Champion of France at 6 YO and then great internationale winner with Daniel Deusser) ; …
His 2nd dam, Lyrik, has also produced : Lantaan Holsteiner stallion ; Traumfee (2nd dam of the international winner Carnaval La Silla with Susanne Behring) ; Zisterne 2nd dam of the stallions Caesar van de Helle (sire of numerous international showjumpers like Cooper Van de Heffinck), Cezaro good international winner and Quinault great international winner with Mikael Forsten, …
His 3rd dam, Flandia, has also produced : Literat private stallion ; Odine (dam of the great international winner Operette La Silla with Jan Tops and 2nd dam of the stallion Clintino) ; Padura (2nd dam of the stallions Cordoba VDL and Caricello) ; Sultanin (2nd dam of the stallion Quebec) ; Umberto private stallion ; Zita IX (mother of the stallions Carbonnieux Van de Helle and Libertus).
His dam line is the n°504 in the Holsteiner studbook where also come from the stallion New Time very good CSI winner and the international showjumpers: Eurocommerce New Orleans (Gerco Schröder), Candy (Alois Pollman-Schweckhorst), …
Quaprice BoiMargot (ex. Quincy) began breeding in France in 2004 and has already produced the stallions Rissoa d'Ag Champion of France of the 3YO stallions in 2008 ISO 170, Adzaro de l'Abbaye ISO 131, Banzaï Semilly ISO 134, Regent de Montsec ISO 150, Ria Brulaire ISO 152, Ricore Courcelle ISO 160, Sam du Challois ISO 162, Shampagne Batilly Champion de France des étalons de 3 ans 2009 ISO 146, Soliste du Janlie ISO 148, Solitude au Vetn ISO 157, Strangelove Ennemmel ISO 146, Sublim des Grezils ISO 142, Tender Bride ISO 155, Top Gun Semilly ISO 141, Bears étalon KWPN, Ultrachic de Charmois ISO 154, Vertige de Galarzacs ISO 157, Be Mine d'Authuit ISO 150, Butterfly Ennemmel ISO 158… et les performers Ratina d'la Rousserie ISO 168, Reflet d'Azif ISO 150, Robin d'Epic ISO 157, Rosalie Divine ISO 155, Sangria du Coty ISO 166, Talisman de Mazure ISO 160, Terceira ISO 151, Trafalgar Kervec ISO 164, Une Etoile d'Elle ISO 150, Unetoile de la Serre ICC 149, Uqualin du Saulcy ISO 155, Ultrachic de Charmois ISO 150, Vivaldi du Theil ISO 167, Viking d'la Rousserie ISO 170, Berdenn de Kergane ISO 162…
HIS 1st DAM : QUEEN VAN BERKENBROEK: is one of the rare mare by the Olympic Champion Jus de Pomme
Jus de Pomme had a small but very high quality production with among others: O de Pomme (Olympic Games Athens), Baragway (JEM Aachen), Jumpy des Fontaines (Olympic Games Beijing), Marlou (5th World Cup Las Vegas), Quervo Gold (JEM Aachen), V de Pomme (JEM Lexington), etc.

Artist's mother has also produced several international champions: Abbervail van het Dingeshof CSIO5* Denis Lynch, Una van Berkenbroeck CSIO5* Tim Stockdale, Warrior van het Dingeshof CSI3* Simon Buckley.
Artist's mother has also produced in France:
♦ 2003 Posy de Beaufour, ISO 129
          • 2009 Venicici de Beaufour, ISO 137
          • 2011 Bolero de Beaufour, ISO 146
          • 2014 Elvira de Beaufour, ISO 136
♦ 2004 Quinox de l'Abbaye, ISO 138, exported to Algeria, CSI 1,45m
♦ 2005 Rilson de l'Abbaye exported to Denmark, CSI 1,45m
♦ 2008 Ushuaia de l'Abbaye, ISO 122
          • 2011 Bugano de l'Abbaye, ISO 141
          • 2014 Equistar de l'Abbaye, ISO 139
♦ 2012 Cherry Queen Semilly
♦ 2015 Fortuna Semilly, ISO 121
ISO 142

In 2022, Artiste is ridden by the Young Rider Dylan Levallois. They are regularly ranked together in 1m45 and 1m50 classes.
YOUNG RIDERS FRENCH CHAMPION

6th GP1m50 CSI3* Deauville

3rd GP1m45 Fontainebleau
In 2019, Artiste de l'Abbaye is placed 5th of the 1,50m Grand Prix in Montfort sur Meu, 8th of the 1,45m GP in Canteleu, 9th of the 1,45m GP in Saint Lô.
Others performances
In 2018, Artiste de l'Abbaye begins the showjumping season as well as he ended the previous with several rankings : 5th in Auvers 1,35m Grand Prix and 9th in the 1,30m class, 10th of the second GP135 in Auvers, 13th of the 1,30m in Saint Lô and clear round in the 1,40m, 11th of a 1,40m class in Deauville, 11th of the 1,40m GP in Montfort sur Meu, 13th of the 1,35m GP in Le Pin, 5th of the 1,40m GP in Deauville, 11th of the 1,40m and 10th of the 1,45m GP in Notre Dame d'Estrées, 10th of a 1,45m class in Canteleu CSI3*, clear round in the 1,50m indoor Grand Prix of Saint Lô.
In 2017, Artiste achieved a very good season with many good results in 7YO Grand Prix. He was clear round in two 7YO classes in Saint Lô CSI, 6th in the 1,40m Grand Prix in Saint Lo CSI2*, 5th in Grand Prix TOP 7 in Rennes, 8th of Grand Prix TOP 7 of the Normandy Horse Show, 8th of a 7YO class in La Hague CSI, 9th of Grand Prix TOP 7 in Cabourg, 8th of a 1,35m speed class in Deauville, 14th of the 1,35m Pro GP in Saint Lo, etc.
In 2016, Artiste qualified easily for the 6YO Championships of France at Fontainebleau.
In 2014, Artiste shows great potential in 4 YO classes and is placed 3rd of the inter-Regional Championships in Normandy ! He has been qualified easily for the 4YO French Championships in Fontainebleau and finished among the best, ranked "Very Good". 
Artiste has been approved during the French Championships of the 3YO Stallions 2013, placed 4th.
ARTISTE DE L'ABBAYE
________________________________________ 
Entered at Haras in 2014, the first foals of Artiste are powerful and have an energic nature. They show beautiful gaits light and supple.
In 2022, Felin de St Martin ranked 3rd at the Italian team Championship.
In 2018, one of his son, Ikam de l'Horizon was anointed France Vice-Champion of the foals in the older males category.
The very young Artist production looks promising: Formuleflorale Brenus ISO 116, Frimousse de Nesque ICC 121 (4th of the 2021 Eventing Championship in Pompadour (cycle libre 3rd year), Galion de Frenay ISO 131, Guepard de France ISO 110, Guess d'Ajon ISO 127 …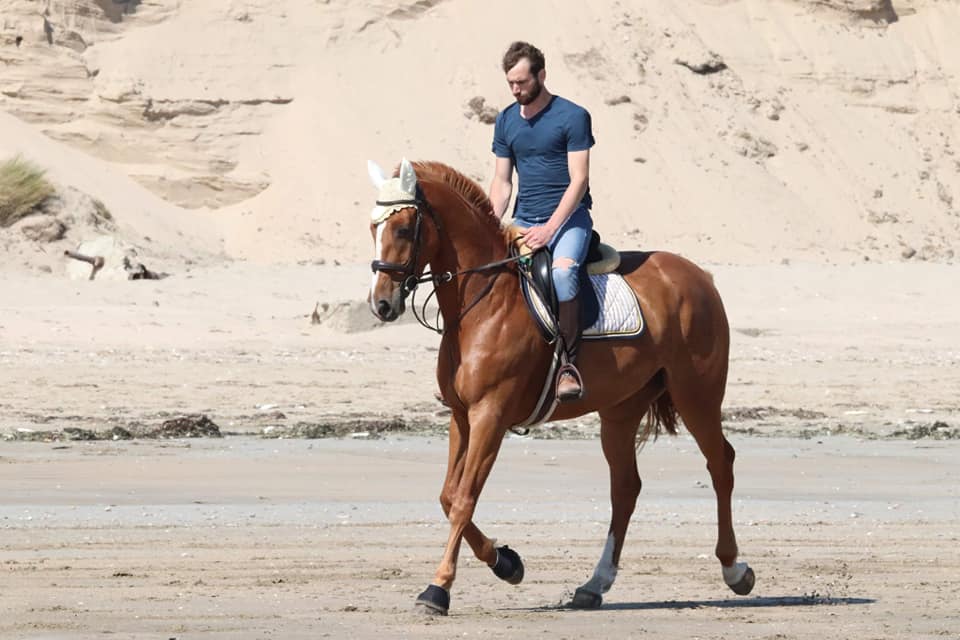 Félin de St Martin
(Artiste de l'Abbaye & Diamant de Semilly)
3ème par équipe Championnat d'Italie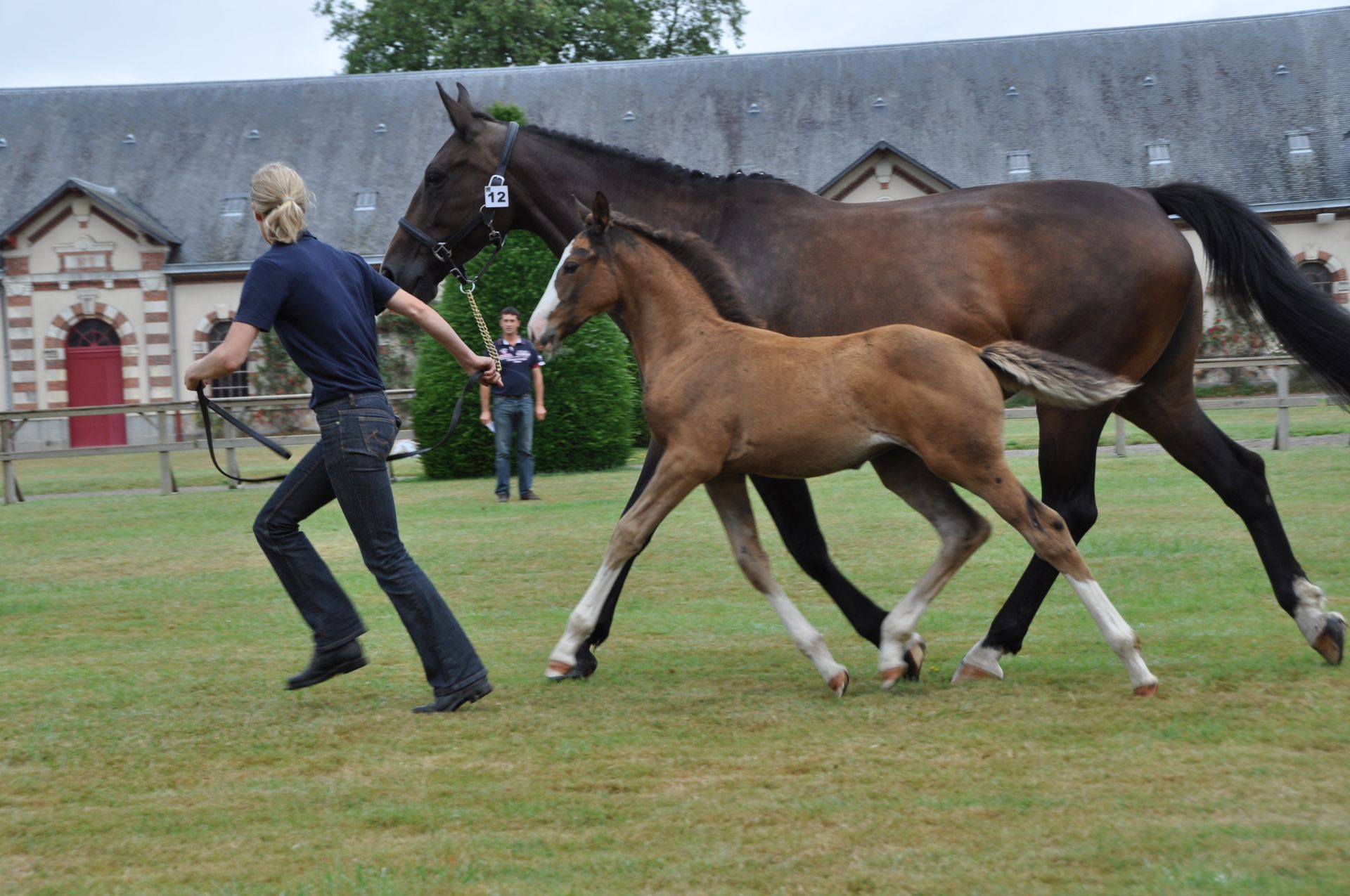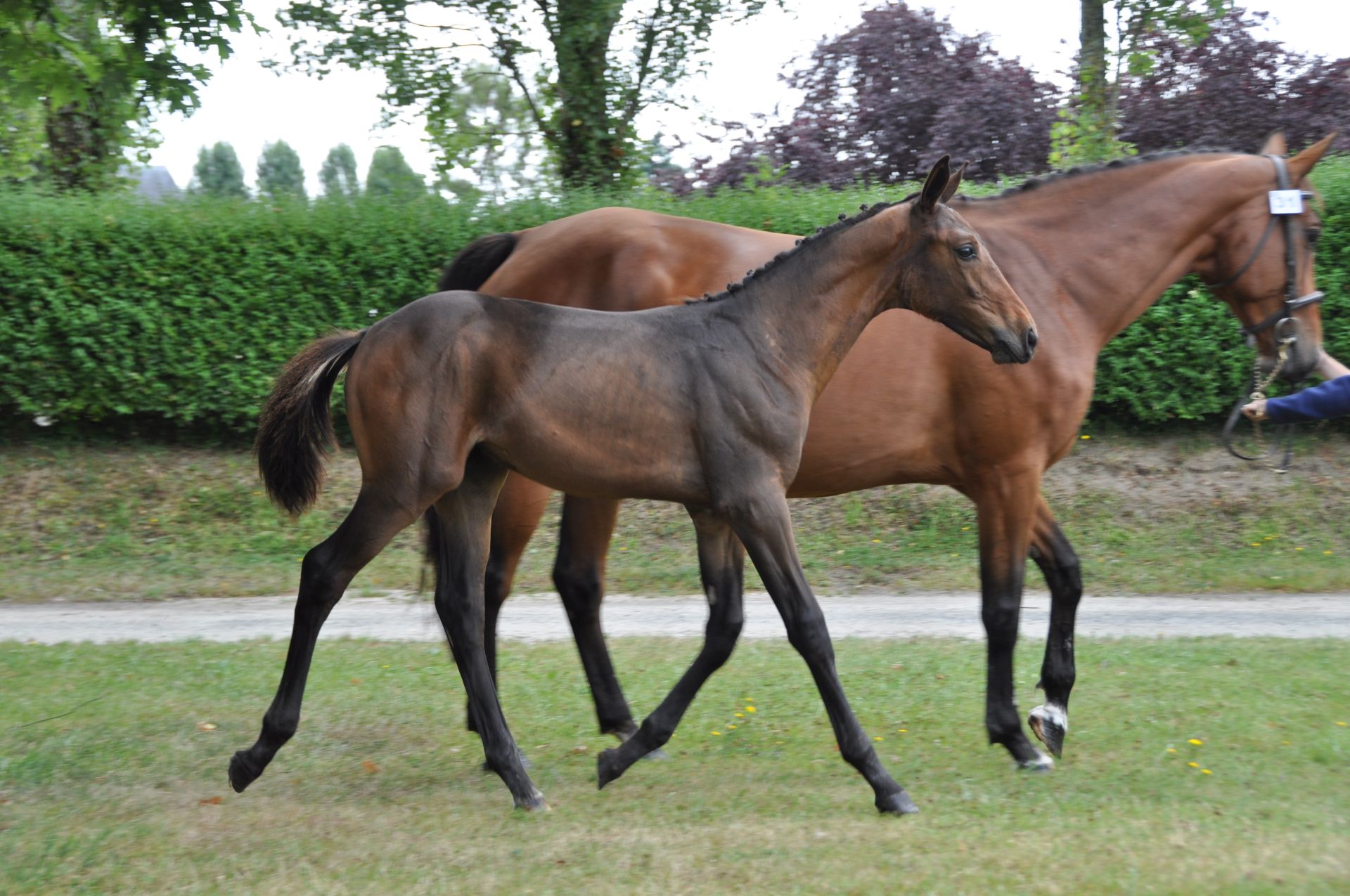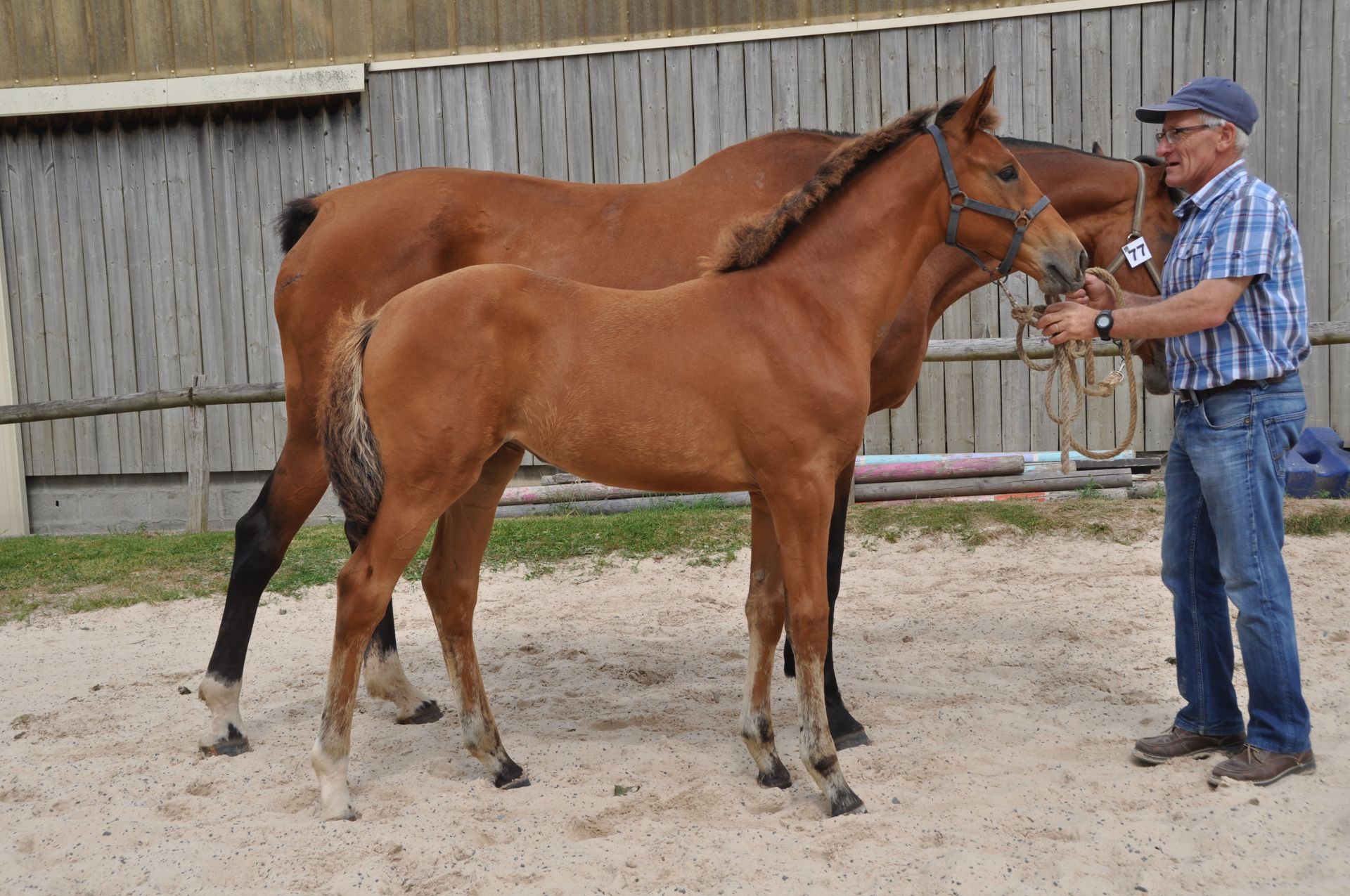 Grussgott dela Mazure
Artiste x Vesontio du Mesnil
Heïdi Dear
Artiste x Lagon de l'Abbaye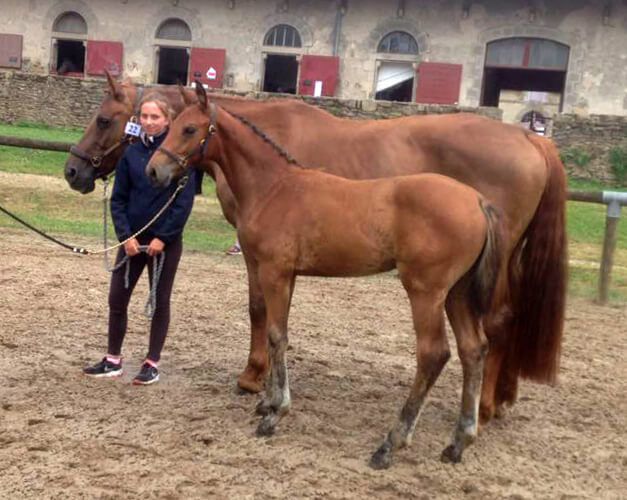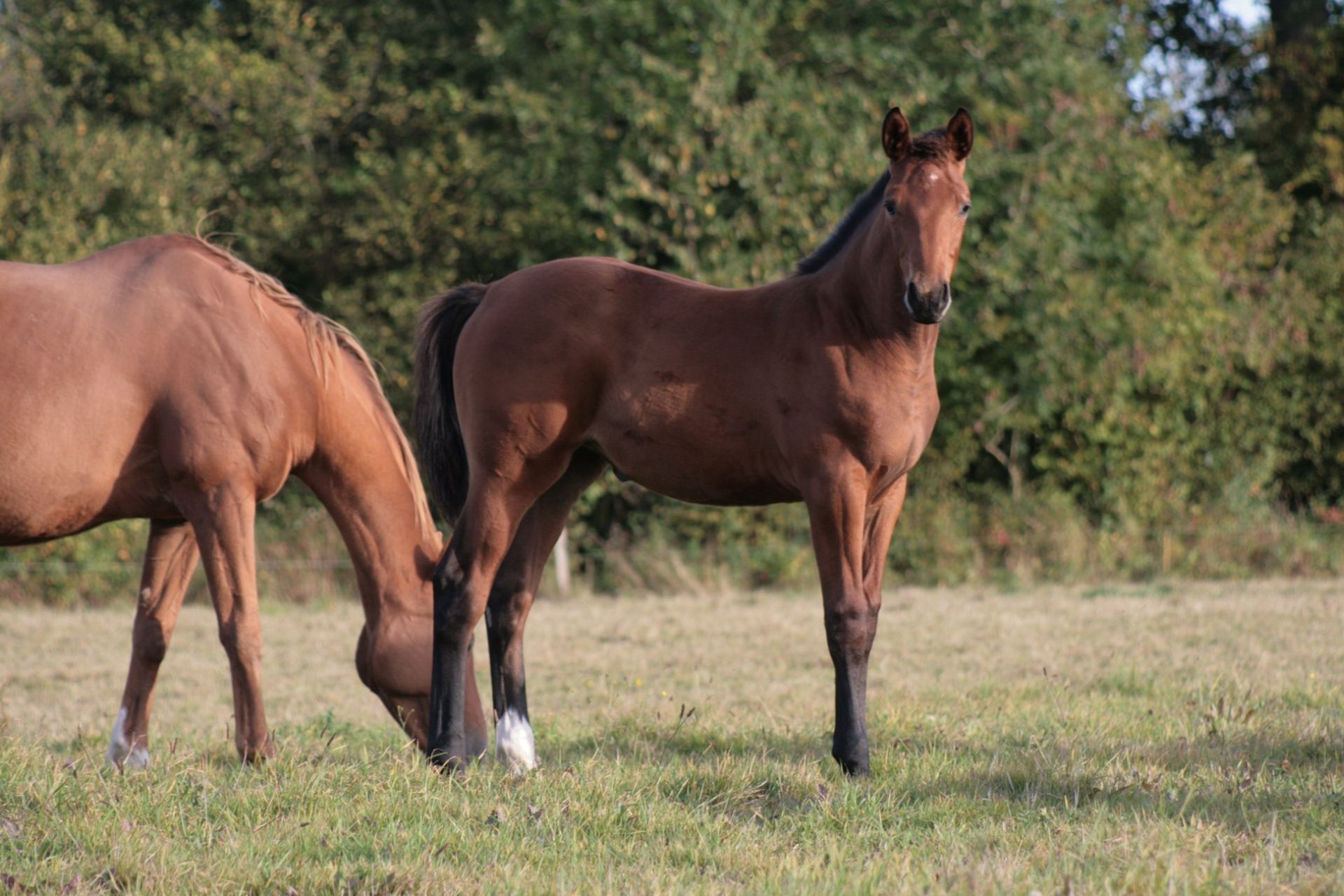 Ittica Dear
Artiste x Lagon de l'Abbaye
Luminescence Brenus
 Artiste de l'Abbaye x Air Jordan
Artiste passes on strength in hindquarters, suppleness, energy and nice gaits.
POWER OF
REAR HAND
GALOPADE
CHIC
SURE PEDIGREE
ARTISTE DE L'ABBAYE
2023 COVERING CONDITIONS – France

You can bring your mare to France for being inseminated.
In this case, the stud fee is divided in two parts :
220 € at booking + 900 € when the mare is pregnant 
Live Foal Guarantee
 Frozen semen
At Haras de Semilly, the inseminations and scans are included.
Sales conditions –  France   🇫🇷
Further information
It is also possible to send frozen and/or chilled semen to another french AI center (shipping costs to add).
ARTISTE DE L'ABBAYE
2023 COVERING CONDITIONS – EXPORT

Towards foreign countries, we can send you the semen directlyvor through our broker if there is one who works for us in your country with 2 different options:
COVERING SALE

1100 € Live Foal Guarantee
OR
SEMEN SALE
1100 € for 4 doses 
sold under contract (ICSI, live foal guarantee, taxes, shipment and cost for the health certificate excluded). 1 dose is sold with 1 Breeder's Certificate and a maximum number of 1 foal born. 
Contact us by email contact@semilly.com 
The doses' quality is certified by Eurogen and Artiste de l'Abbaye has very good fertility rate.
ISO : Showjumping Index
ICC : Eventing Index
IDR : Dressage Index
IE : exported horses ranked in international classes CSI /CSIO / CSIW

100 to 120 : Good
120 to 140 : Very Good
140 to 160 : Excellent
160 and more : The Best

Generations of Horsemen in the service of breeding and equestrian sports
Haras de Semilly
Impasse de l'Hôtel Pohier
50680 COUVAINS
France
Email : contact@semilly.com
Phone : +33(0)233053144
Richard LEVALLOIS : +33(0)672887149
Sophie LEVALLOIS : +33(0)672887151