(Darco x Brownboy x Calmeo)
BWP – Bay – 1,73m – 2002
❝  Strong stallion worthy of his famous sire Darco, Copin van de Broy went at the Top of the showjumping World scene with Markus
Ehning !❞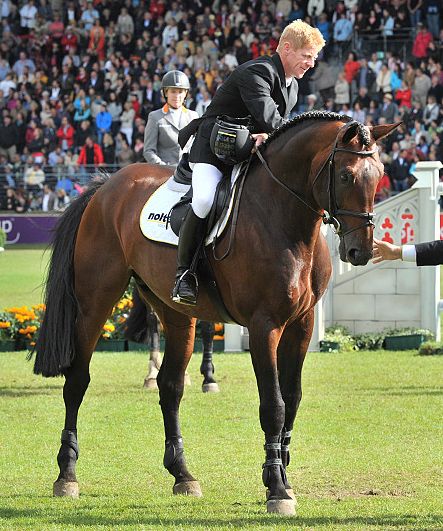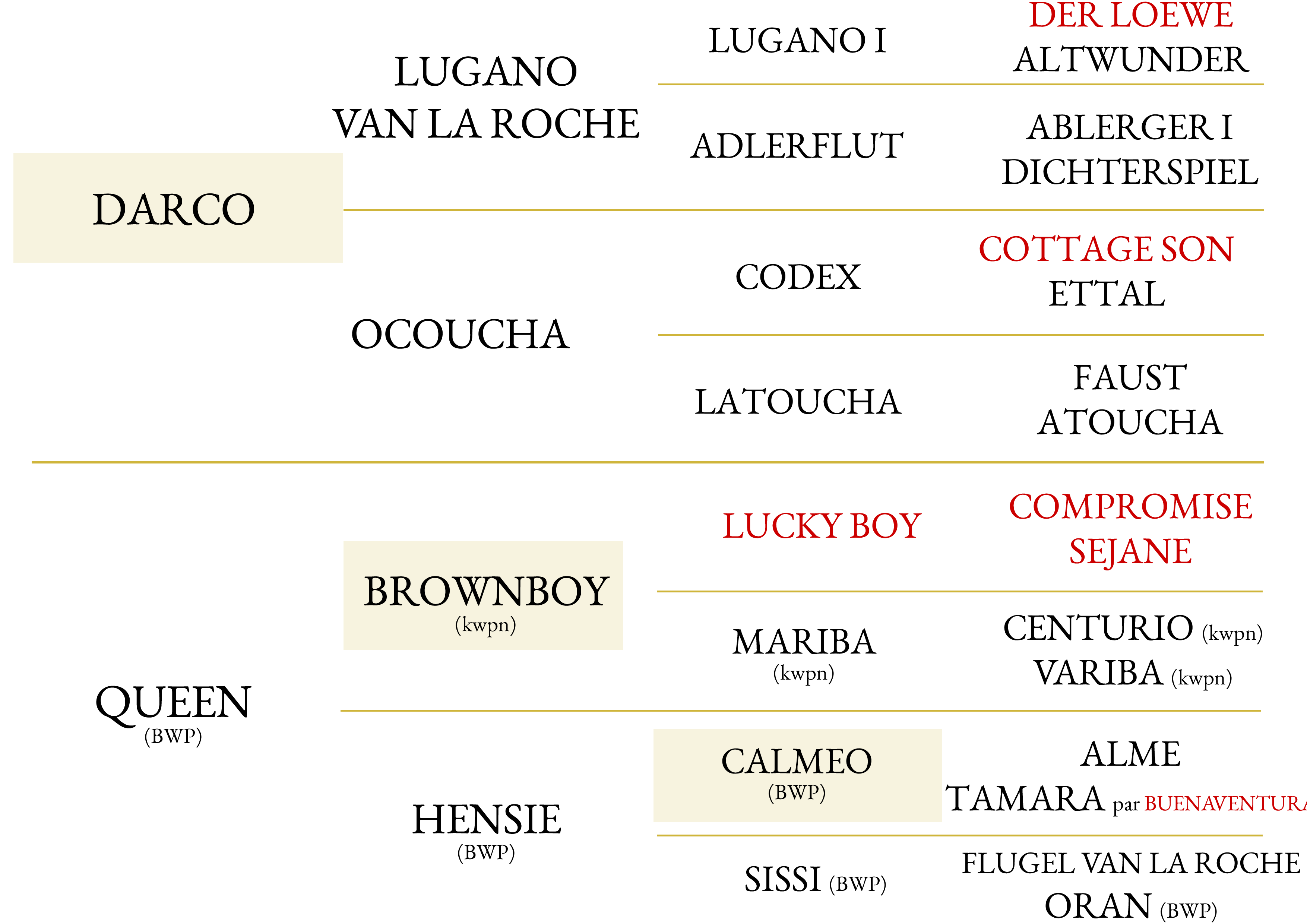 HIS SIRE : DARCO: Great international showjumper winner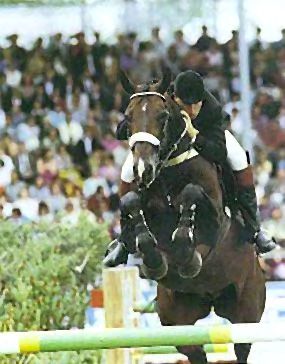 He won many World Cup Grand Prix and ended 7th at Barcelone Olympic Games
Darco is one of the Best stallions in the World, 1st for many years of the WBFSH Stallion ranking list.
He has produced among the best :
Sapphire : 6th Beijing OG and 7th Aachen WEG, Trudo King Darco : Atlanta Olympic Games, Belgium Champion and 5th at St Gall European Championships. He has also produced the stallions : Parco, Winningmood vd Arenberg, Non Stop, Klassique du Gué ISO 147, Vesuvius vh Moeshof ISO 150 … and the showjumpers Barbarossa Van Paemel ISO 167, Codarco CSIO5*, Damascus Van Het Lindehof ISO 153, Eros du Bois Blanc ISO 150, Escape St Ghyvan ISO 150, Insolante ISO 166, Jolly Girl de Kervec ISO 153, L.B. Eagle Eye CSIO5*, Lavande d'Aix ISO 158, Nais de la Pomme ISO 152, Océane du Désert IDR 150, Option d'Auge ISO 151, Oxford d'Esquelmes ISO 169, Patchouli't Kesterbeekbos ISO 153, Qwintus ISO 151, Val d'Oise de Fauquez ISO 150, Valentino ISO 164, Vital Utopia ISO 155, Widney ISO 150, Wodan ISO 166, Fair Play d'Esquelmes ISO 156 …
HIS 1st DAM : QUEEN
She has also produced : 
Unique Van de Broy, placed in 1,50m international classes with Peter Postelmans. Unique van de Broy is also the dam of the stallion Casado Van't Gelutt and of Eurocommerce Panama (ex. Contrex van de Broy), very good CSI winner with Wout-Jan Van der Schans.
HIS 2nd DAM : HENSIE : filly of Calmeo, himself by the leading sire : Almé
Almé, sire of so many showjumping winners and great stallions like  : Galoubet A, Jalisco B, Aérobic Z, Artos Z, Athlet Z, Animo, Ahorn, Almé Star, Zalmé, …
Hensie is also the dam of Naylasouf, CSI winner (Grand Prix CSIO Zagreb) and herself mother of Calisto vd Windheuvel, good winner in junior and 1,50m classes.
HIS 3rd DAM : SISSI
She has also produced Kitty des Bruyeres dam of Welloucca de Rialfo good 1,40m winner.
Great International showjumping winner !
Winner of the World Cup Grand in Mechelen CSI5*

Winner of the

 

Sires of the World in Mechelen CSI5*
Winner of the CSI5* of Calgary, 2nd in the World Cup CSI3* in Sacramento  (2015)
3rd of the GP CSI5* of Calgary, 1st of the Nations Cup of Gijon CSIO5 (2014)
2nd GP CSIO5* Falsterbo, 2nd King George's Cup CSIO5* Hickstead, 2nd GP CSI3* Paderborn (2013)
In 2012, he is ridden by Markus Henning. He

 

wins the GP CSI3* of Hardenberg

 

(cf. jump-off)

 

and the

 

Nations Cup of Rome CSIO5*

 

and Rotterdam

 

CSIO5*
Other performances
2013
He is also placed 3rd GP CSI5* Oslo, 3rd GP CSI5* S'Hertogenbosch, etc…
2012
He is ridden by Markus Henning. He wins the GP CSI3* of Hardenberg (cf. jump-off) and the Nations Cup of Rome CSIO5* and Rotterdam CSIO5*, 2nd of a 1,50m class in Hannover CSI3*, 3rd of a 1,60m class in Paris CSI5*, 6th of Verone GPW CSI5*, 7th of Cannes GP CSI5*, 7th in the World Cup Finale in S'Hertogenbosch, 8tth in the GP of Rotterdam CSIO5*, Muenster CSI4* and Neumünster CSI3*, 9th of the Top Ten finale in Geneva CSI5*, 9th of Aachen GP CSIO5*, …
2011
At 9 YO Copin bursts onto the showjumping scene and he's selected for the European Championships : Winner of the World Cup Grand in Mechelen CSI5*, Winner of the Sires of the World in Mechelen CSI5*, but also 2nd in the GP of Ascona CSI3*, 3rd of the Nations Cup in Dublin CSIO, 4th Liège CSI4* GP, 4th in Rotterdam CSIO5* Nations Cup, 7th in La Corogna CSI5* GP, 15th in Helsinki CSI5* GP, 16th in Helsinki CSI5* GPW, 16th Rotterdam CSIO5* GP, …
2010
Copin has already got excellent results for the beginning of the international level : 1st in Welkenraedt CSI2* GP, 1st in Bratislava CSIO3* Nations Cup, 1st of a 1,45m class in Wiener Neustadt CSI3*, 1st of the 7/8 YO Nantes CSI3*, 4th in Bruxelles CSI2* GP, 4th in a 1,50m class in Wiener Neustadt CSI3*, 4th in Fontainebleau CSI2* GP, 5th of the Sires of the World in Mechelen CSI5*, 8th of La Corogne CSI5* GP, …
2009
he is regularly placed in 7YO classes with Gregory Whateley : 2nd in Wisbecq CSI2*, 3rd in Vejer de la Frontera CSI3*, 3rd in Wisbecq CSI2*, 4th in Chantilly CSI4*, …
For more news, pictures and videos, click on : Ecurie Fabien Schreiber or webstallions
COPIN VAN DE BROY
________________________________________ 
Despite a low number of mares covered at the beginning, the quality of his offspring is already impressive !
He began breeding in Belgium in 2005 and in France in 2011.
Among his products, we noticed: 
Artemis du Mabiet 4YO Champion of Belgium 2010, Bonaparte vp Wisbecq Champion of the 5 YO and Champion of the 6YO in Canada, Chopin du Château Hollogne Z winner of the 2012 belgium 4YO classic cycle, the stallion Come Back Z Champion of Belgium 2012, Cowboy du Toultia Z ISO144 one of the best 5YO in France in 2013, Daytona du Toultia ISO 113 winner of the 4YO classic cycle in Belgium 2013, Elite de Mazin ISO 128, Evye Quatre Saisons IPO 150,  Flora du Mesnil ISO 135 9th at the 4YO female France Championship in Fontainebleau 2019, …
THE BEST OFFSPRING FROM COPIN
________________________________________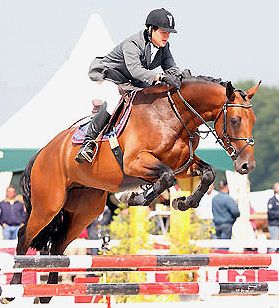 Artemis du Mabiet
(Copin vd Broy x Landjuwel St-Hubert)
4 YO Champion of Belgique in 2010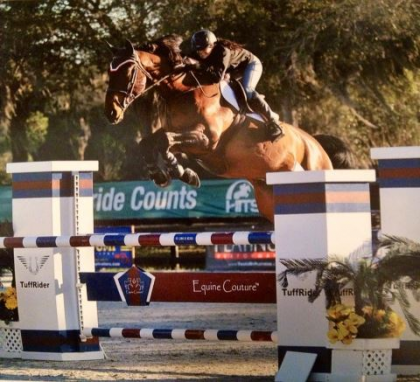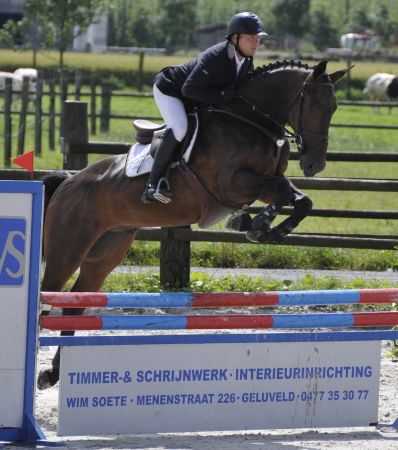 Chopin du Chateau Hollogne Z
(Copin van de Broy x Non Stop)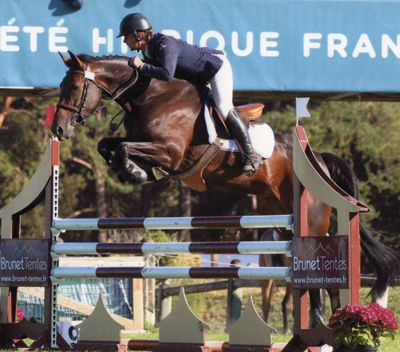 Flora du Mesnil
(Copin x Echogene Latour)
Further information
He has also produced:
Aparte de Bioagrico, Dino van de Kapel 24ème et Carolus van de Kapel 25th of the 4YO Belgium 2010 Championships, Cannonball du Toultia Z stallion, Daytona du Toultia Z ISO 114, Caraibes du Toultia ISO 138, Carmen du Toultia ISO 127, Challenger du Toultia Z ISO 110, Cheri de Papignies ISO 114, Copin's Boy stallion 5th of the GP CSIYH 1,50m in Valkenswaard 2021, Cover Girl du Toultia Z, Crescendo des Carmes Z ICC 115, Darc Star du Borget ISO 127, Darling de Riverland ISO 128, Dayane du Sey ISO123, Daydream de Riverland ISO 122, Deinik Ar Mammik ISO 139, Deliciosa ISO126, Destinee du Prelat ISO122, Diane de St Leu ISO 130, Drenaline de l'Extase ISO 126, Duchesse d'Harmonie ISO 110, Durocasse du Sey ISO 120, Elinka de Riverland ISO 114, Elite de Mazin ISO 128, Energumene du Gue ISO 114, Epsilon des Coux ISO 119, Evye Quatre Saisons IPO 151, Feel Good d'Harmonie ISO 113, Fidgi des Gargas ISO 126, Flora du Mesnil ISO 135…
More offspring from Copin
Copin brings to his offspring : size, lot of strength, good locomotion, soft mouth, a great canter and a lot of ease ! We advise to bring him mares with enough blood and chic.
Copin is homozygote, so he produces only bay horses or grey or piebald depending on the mares, but not any chestnut ones.
TYPICAL SON OF DARCO
STRENGTH
LOT OF EASE
FRAME
GOOD JUMP TECHNIQUE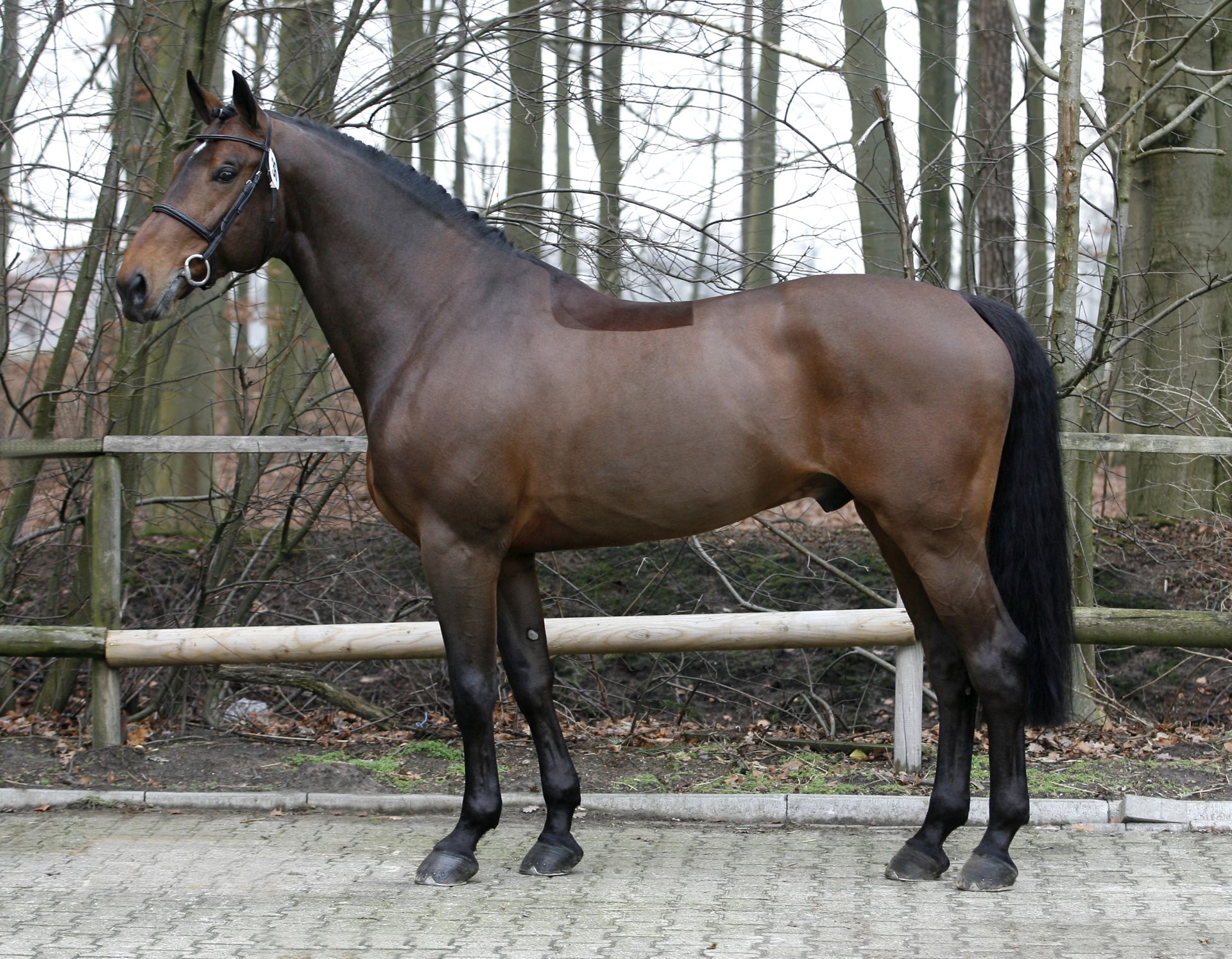 COPIN VD BROY – 2023 CONDITIONS 


LAST FROZEN SEMEN AVAILABLE !

500 € / dose
(1 dose = 4 straws, to use in deep AI on ovulation)
Further information
It is also possible to send frozen semen to another AI center (shipping costs to add).
Sales – conditions – France   🇫🇷

Sales conditions – Export
Towards other countries, we can send you the semen directly or through our brokers if there is one who works for us in your country. For all information, please contact us by email : contact@semilly.com
Copin has got a good fertility rate.
ISO : Showjumping Index
ICC : Eventing Index
IDR : Dressage Index
IE : exported horses ranked in international classes CSI /CSIO / CSIW

100 to 120 : Good
120 to 140 : Very Good
140 to 160 : Excellent
160 and more : The Best

Generations of Horsemen in the service of breeding and equestrian sports
Haras de Semilly
Impasse de l'Hôtel Pohier
50680 COUVAINS
France
Email : contact@semilly.com
Phone : +33(0)233053144
Richard LEVALLOIS : +33(0)672887149
Sophie LEVALLOIS : +33(0)672887151