(Nartago x Le Tôt de Semilly x Starter)
SF – Dark bay- 1,64m – 2013
❝ Endowed with an excellent temperament, easy, willing, diligent, serious, careful, smart, Donatello always tries to do his best. He is also powerful and supple. He has beautiful gaits and jumps very well with a very strong back. ❞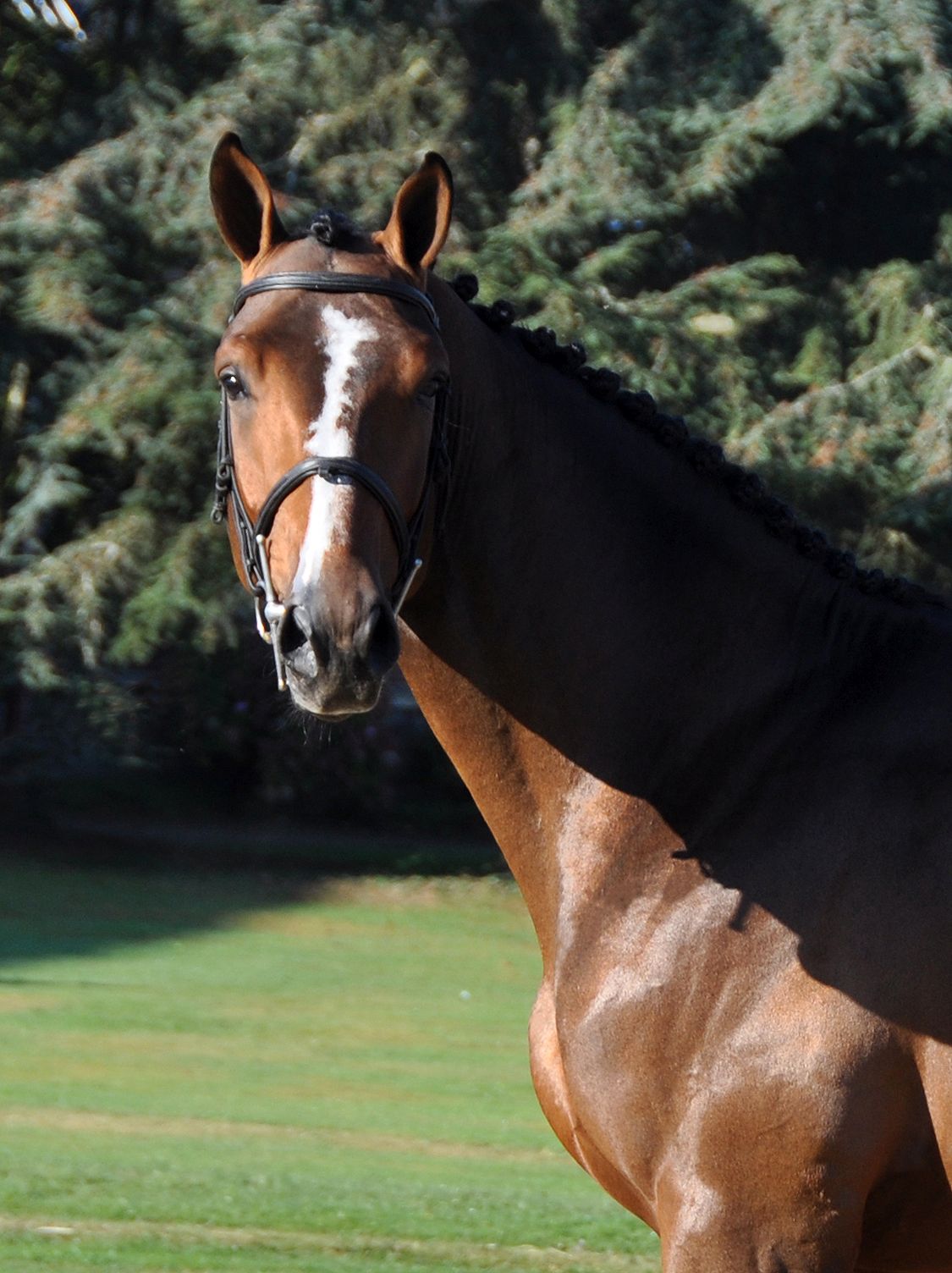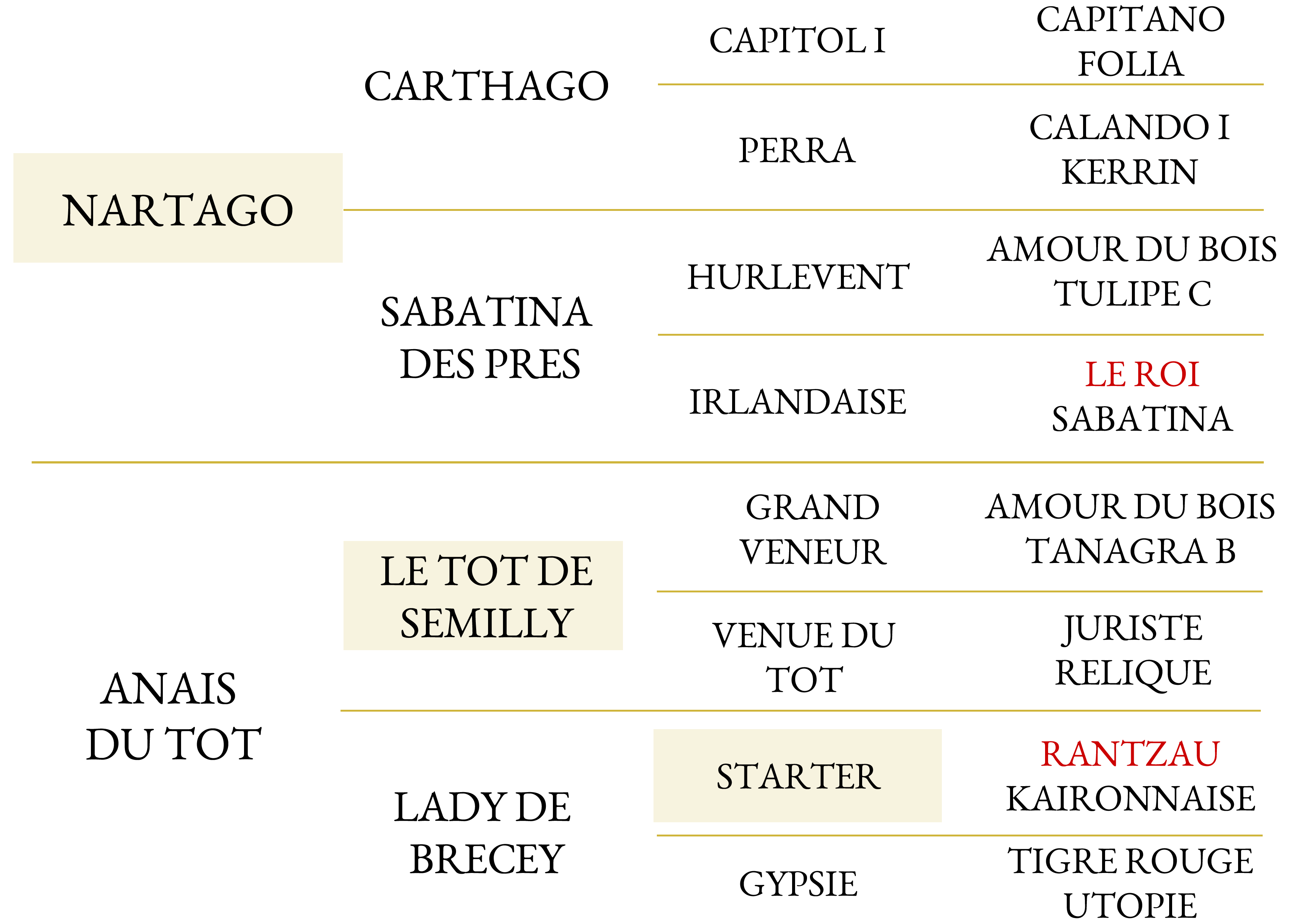 Donatello has a rich pedigree of 54% thoroughbred (cf. webpedigree)
HIS FATHER : NARTAGO : son of the famous Carthago, excellent international showjumper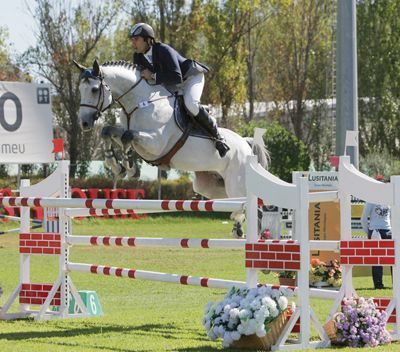 The sire of Nartago, the famous Carthago, excellent international showjumper with Jos Lansink, participated two times at the Olympic Games. He is also ranked among the best sires of showjumpers worldwide.

The mother of Nartago, Sabatina des Près, was also a great international winner with Manuel Malta da Costa, CSIO, ISO163. From this dam line also come from several great international winners like : in dressage Bolero de Chine IDR146, in jumping Babette XVII ISO163,  Ut Majeur Trois ISO152, in eventing Flipper I ICC170, Gentleman E ICC175, …
Nartago himself jumped in 1,55m international Grand Prix with his young Portuguese rider before to concentrate his all life for breeding.
Nartago began breeding in 2005, after winning at 3YO the Selle Français stallions Championships. He has already produced some very good winners like : Sellia du Bessin ISO152, Shamira Semilly ISO142, Sabine des Ibis ISO145, Tessy du Bessin ISO136, Typhon de la Cense ISO153, Ushuaia d'Aurel ISO 159, Vartago du Dorset ISO143, Vodka Star ISO 157, Alentejo ISO 149, Captain Semilly, stallion, Darley du Lozon ISO 142 CSI3*, Dgin du Pestel ICC 161,  Evora Semilly ISO 130 …
HIS 1ST DAM : ANAIS DU TOT
She has also produced:
♦ 1992 Elena de Semilly, ISO 144
          • 2007 Tresor de Coat Men, ISO 114
          • 2011 Baby Girl de Coat Men, ISO 122
          • 2012 Cuick Star de Coatmen, ISO 137
♦ 1993 Firebird de Semilly, ISO 114
♦ 1998 Kolombo de Semilly, ISO 145
♦ 2002 Ottawane Semilly, ISO 147
          • 2008 Utawa des Selenides, ISO 124
♦ 2004 Querida Semilly, ISO 119
          • 2012 Cuzco Semilly , ISO 125
          • 2015 Fazenda Semilly, ISO 149
♦ 2006 Shamira Semilly, ISO 142, exported to USA (CSI 1,45m)
♦ 2008 Ushuaia Semilly, ISO 137
♦ 2010 Almeria Semilly, ISO 121
♦ 2013 Django Semilly, ISO 119
HIS 2ND DAM : LADY DE BRECEY
She has also produced :

♦ 1984 Severine, ISO 117
♦ 1987 Valdy des Vignes, ISO 137, Champion of France of 6YO criterium
         • 2002 Opal de Riverland
         • 2010 Armani de Baussy, ISO 130
♦ 1991 Douglas de Semilly, ISO 117 

From his dam line, many performers also come from like David ISO140, Jolie Meunière ISO130 exported she continued in internationals showjumping like Alise du Cerisier ISO139, Ibiza du Cerisier ICC136, etc.
Donatello pursues his career in the USA.
In 2018 Donatello finished 29th at the 5YO France Championship , ranked this year again "Very Good", and was faultness in the 5YO Inter-Regional Championship in St Lô
Donatello realised an excellent 4 YO season and finished 3rd of the 4YO Championships of Normandy, 2nd best stallion. Donatello finishes among the best 4 YO in the French Championships, ranked "Very Good" .
Donatello has been approved in 2016 and has been qualified "VERY PROMISING" among the best 3YO stallions after the SF stallions test.
DONATELLO SEMILLY
________________________________________ 
He started breeding in 2017
This mid-sized stallion is also very well built, with low joints, strong legs, especially well developed hocks, powerful back and a well-carried neck.

Endowed with an excellent temperament, easy, willing, diligent, serious, careful, smart, Donatello always tries to do his best. He is also powerful and supple. He has beautiful gaits and jumps very well with a strong back.
DONATELLO SEMILLY
2023 COVERING CONDITIONS – France

You can bring your mare to France for being inseminated.
In this case, the stud fee is divided in two parts :
220 € at booking + 600 € payable 48h after foaling 
Frozen semen
At Haras de Semilly, the inseminations and scans are included.
Sales conditions –  France   🇫🇷
Further information
It is also possible to send frozen and/or chilled semen to another french AI center (shipping costs to add).
DONATELLO SEMILLY
2023 COVERING CONDITIONS – EXPORT

Towards other countries, we can send you the semen directly
or through our broker if there is one who works for us in your country
with 2 different options:
800 € payable 48h after foaling
Frozen semen

OR
800 € for 4 doses of 2 straws per dose
sold under contract (ICSI, live foal guarantee, taxes, shipment and cost for the health certificate excluded). 1 dose is sold with 1 Breeder's Certificate and a maximum number of 1 foal born.
Contact us by email contact@semilly.com 
The doses' quality is certified by Eurogen and Donatello's semen presents an excellent fertility rate.
ISO : Showjumping Index
ICC : Eventing Index
IDR : Dressage Index
IE : exported horses ranked in international classes CSI /CSIO / CSIW

100 to 120 : Good
120 to 140 : Very Good
140 to 160 : Excellent
160 and more : The Best

Generations of Horsemen in the service of breeding and equestrian sports
Haras de Semilly
Impasse de l'Hôtel Pohier
50680 COUVAINS
France
Email : contact@semilly.com
Phone : +33(0)233053144
Richard LEVALLOIS : +33(0)672887149
Sophie LEVALLOIS : +33(0)672887151