(Cornet Obolensky x Diamant de Semilly x Canturo)
SF – grey – 1,70m – 2016
APPROVAL :
SF

GENETIC :
ISO 125
BSO+20 (0.56)

SPORT :
Vice-champion of Normandy of 3-year-old SF stallions
WFFS :
not carrier (n/n)
LABELS :
CSO & CCE

HEALTH :
CIRALE*****
CROSSING OF THE
WORLD BEST SIRES
LOCOMOTION
FLEXIBILITY
BLOOD
CHIC
❝  Alchemy of the best bloodlines on a global scale, the refined Grimsky has inherited Arabian type beauty, blood, suppleness, gaits with scope and the quickness of his sire, Cornet Obolensky. He has also inherited the excellent rideability, strength and willingness of his damsire Diamant de Semilly. ❞ 
HIS SIRE : CORNET OBOLENSKY (ex WINDOWS vh COSTERSVELD): Very big international winner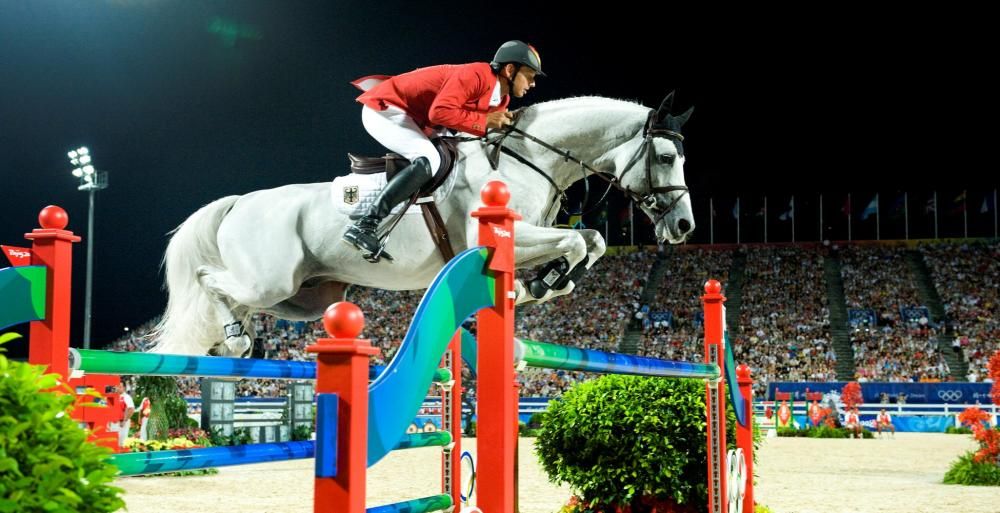 Cornet Obolensky has a total of 8 victories including the Grand Prix CSI5 * in Zürich and more than 80 classifications in international events under the saddle of Marco Kutscher:
• European team champion in 2011 in Madrid and 11th in individual
• Participation in the Beijing Olympics
• Winner in Nations Cups in Rome, Rotterdam in 2008, 2011 and 2012, 2nd in Aix-la-Chapelle and 3rd in Rome and Hickstead.
• 3rd in the German Championship in 2008
• Winner of the Samsung Super League Final in Barcelona in 2007 and 2008 etc …
Descended from the excellent blood of Clinton x Heartbreaker, two renowned performance stallions.
Cornet Obolensky is regularly ranked in the Top of the Best Show Jumping Stallions in the World ranking: 2nd in 2014, 3rd in 2015 and 2016, 4th in 2017 and 2018, 5th in 2019 (WBFSH ranking).
Among his most famous descendants at the international level, we will remember:
Balou du Reventon (ex Cornet's Balou), Cannavaro, Carthagena, Clooney 51, Comme Il Faut, Cornet 31, Cornado NRW, Cornet d'Amour, etc… En France, il est également le père de nombreux gagnants dont Arqana de Riverland ISO 172 – CSI3O*, Captain Keen ISO 161 – CSI4*, Courage des Fegie ISO 155, Corneska de la Falize ISO 160, Kontessa Ten Braems ISO 150,Vangog du Mas GarnierISO 170- CSI5*, etc.
BSO +24 (0,98)
HIS 1st DAM : VIEW OF SEMILLY
She is a young mare whose first product, Elite Semilly, ISO 123, was placed among the best of the 5YO genetaion in Fontainebleau (2019) before being exported to USA.
HIS 2nd DAM : VISION DE LIGNY
She has produced:
♦ 2011 Bunny Boy Semilly, exporté en Suisse CSI 1,40m
♦ 2014 Eyepop Semilly, 7th of the SF 6 YO mares Championships of France, placed Excellent, ranked in CSI4* 1,45m at 8 YO, 2nd of the 1,45m GP Saint-Lô 2022, ISO 147
♦ 2016 Gin Fizz Semilly, ISO 121
     

HIS 3rd DAM : WANDA: toured at the highest international level with Ludger Beerbaum then Rodrigo Pessoa
In particular, it has produced:
♦ 2003 Plutot de Beaufour, stallion sBs
♦ 2004 Quisas Diamant, ISO 158
♦ 2006 Babalou de Ligny, stallion Italy
♦ 2006 Cancan de Ligny, stallion USA
♦ 2006 Balaika de Ligny, ISO 143
♦ 2007 Bannda des Bergeries
          • 2013 Hanna des Bergeries, ISO 137
♦ 2008 Diablesse du Ry Z, ISO 126
♦ 2009 Vendetta Semilly, ISO 133
♦ 2010 Awani Semilly, ISO124, ICC 127 then exported to Italy where it is classified in CCI
♦ 2010 Away Semilly, ISO 161, stallion                                                                                                                                                                                                      ♦ 2010 Awani Semilly, ISO 133
♦ 2011 Browning Semilly, ISO 133
HIS 4th DAM : SANTANE: is the sister of the stallion Weinheim and the international showjumper Wizard (CSI 1,60m) by Watzmann
She has also produced the full sister of Wanda, Waika, who is the mother of the international winner Graciella (CSI 1,60m) Champion of Switzerland 2012 with Janika Sprunger.
In 2023, Grimsky realized a very good season, he is ranked 16th of the 7yo male during Fontainebleau and realized many clear-rounds : 
– Grand Prix Top7 1,40m
– Grand National de Montfort sur Meu
– CSO Deauville
– 135 Rennes
– ranked 5th of the St Lô Grand Prix
– Grand National d'Auvers
Grimsy is qualified in 2021 for the 5-years-old French National Championship.
In 2020, in parallel to a breeding season done in fresh semen, Grimsky Semilly made 9 clear rounds above 10 and is placed 25th of the Top 100 best 4 YO French jumpers.
Grimsky Semilly has been approved SF Stallion in 2019 after the stallion test, and was qualified "Very Promising". He was also vice-champion of Normandy of the 3YO SF stallions.
GRIMSKY SEMILLY
________________________________________ 
Begins breeding in 2020. 
SF approved stallion qualified : VERY PROMISING by the SF studbook in 2021.
Grimsky's foals are built like him. They usually have a cute head, a lot of blood, scope and they move very well. They are modernly built.
In 2022, several have been well placed in the foals shows like Mazurka (Grimsky X Lamn de Fetan) who won the young fillies show of Sartilly, Megane de Vesquerie who is placed 2nd, Milou du Bois who won the old colts in La Mouche and is placed 3rd of the Fenc Championships !  
He belongs to the "Young Male Genetic SF program" of the Selle Français studbook.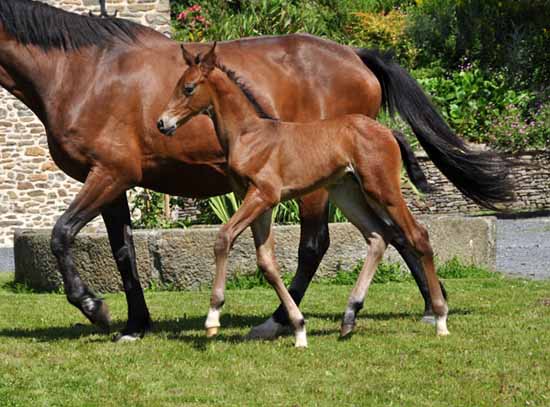 Lupin Jurassien
Grimsky x Voeu de Bonneville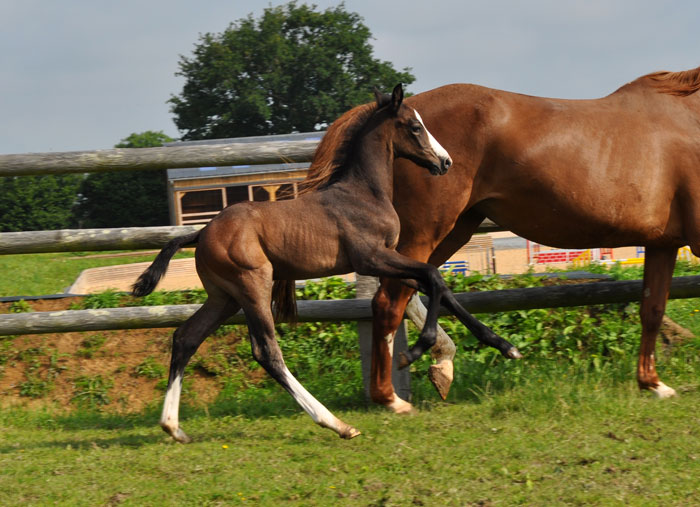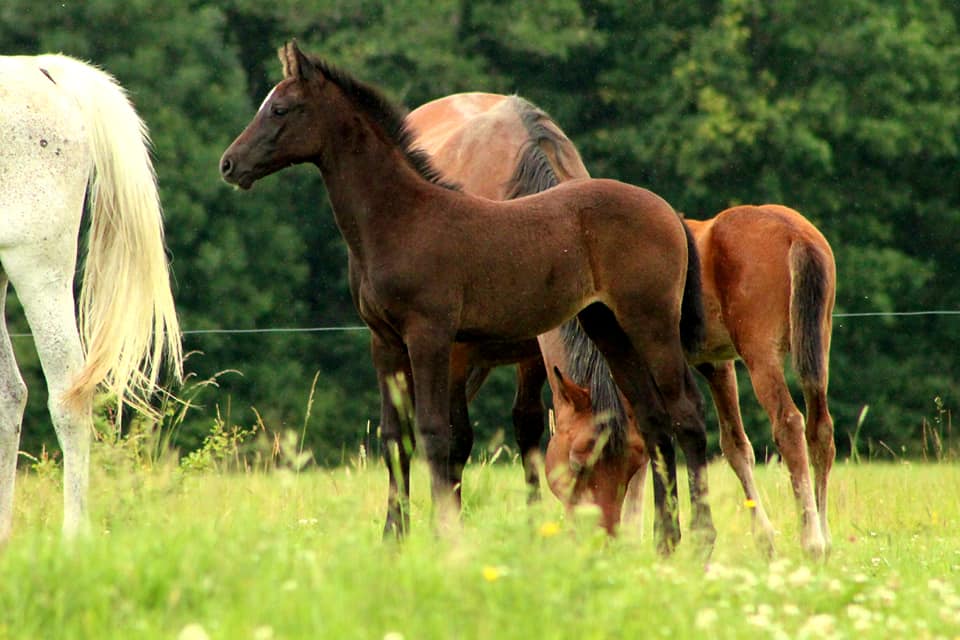 Las De Coeur Pti'Pont
Grimsky x Cartani x Con Air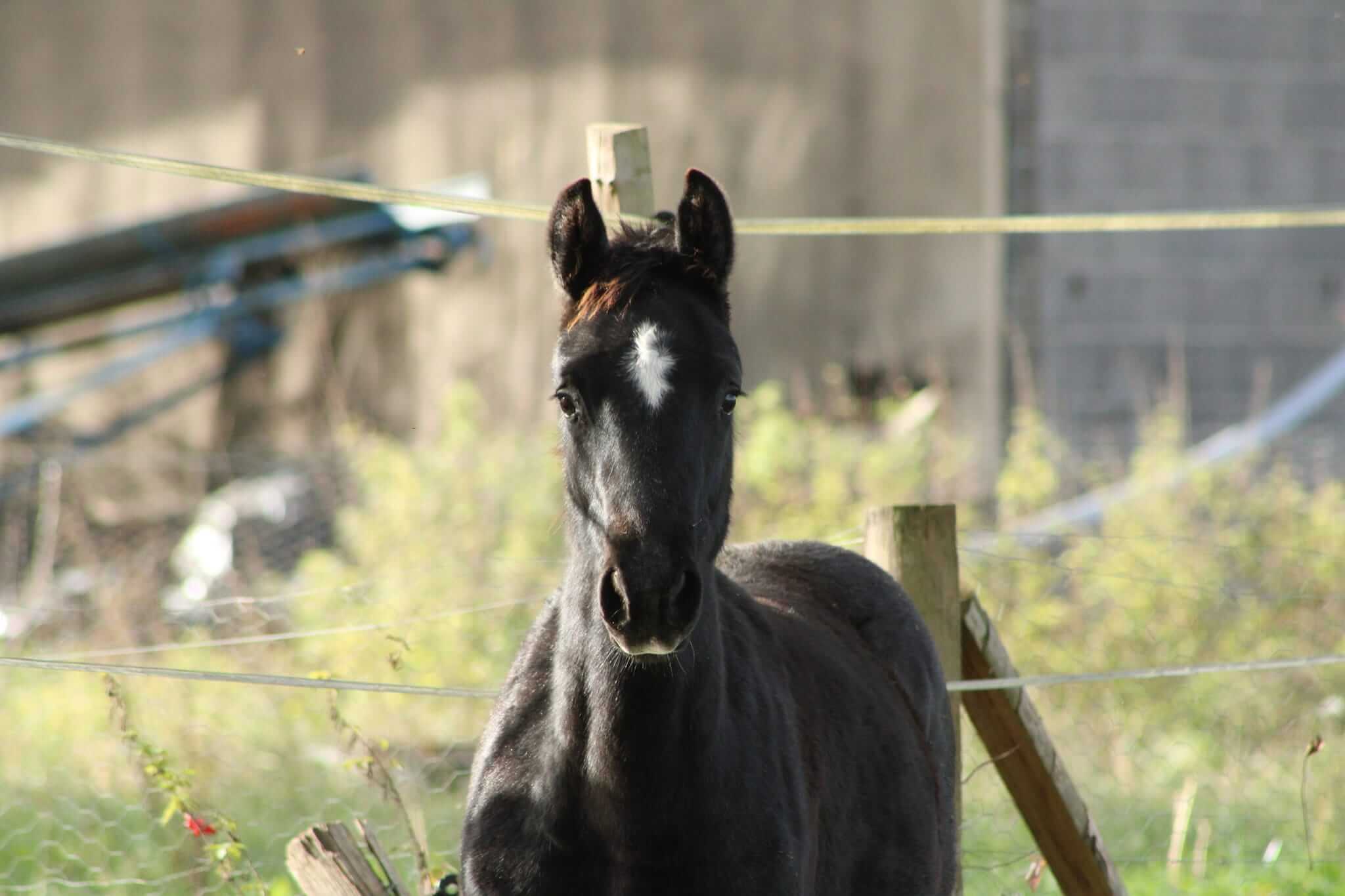 Las De Coeur Pti'Pont
Grimsky x Cartani x Con Air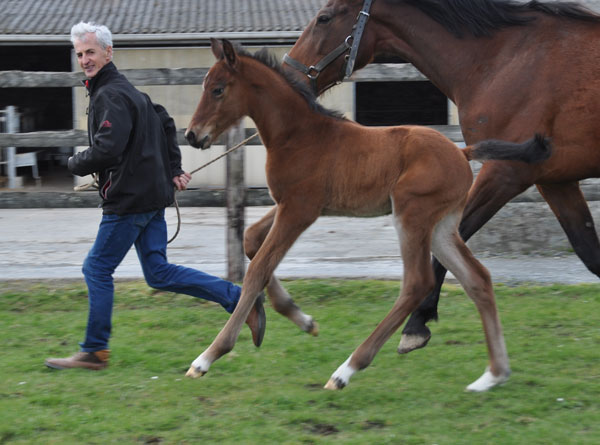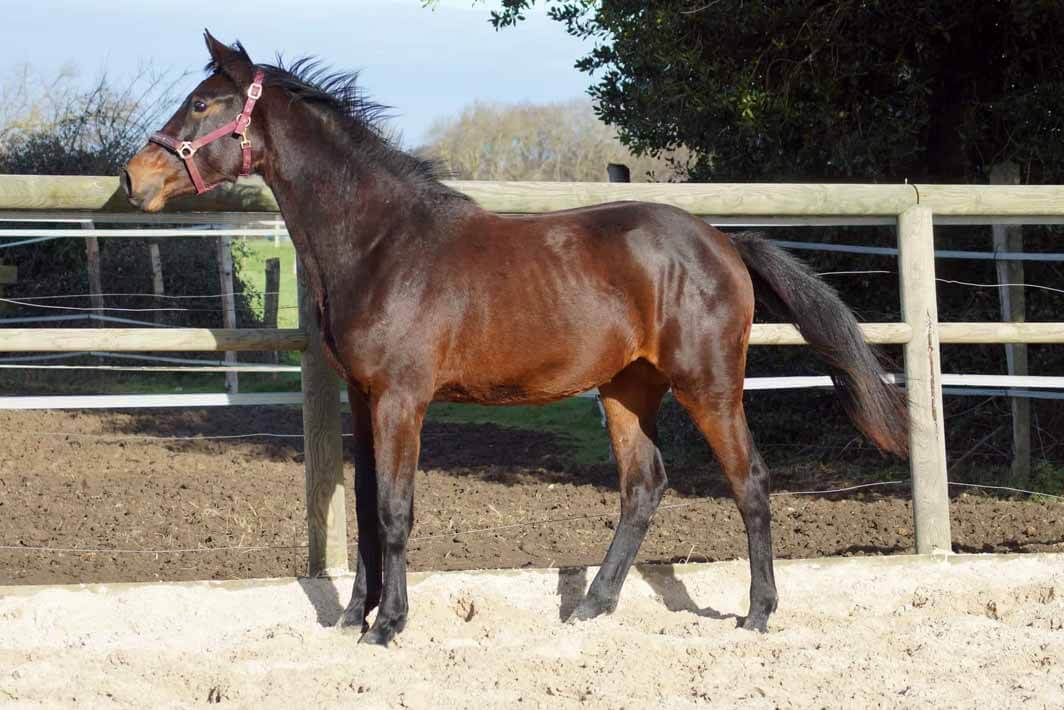 Ladiva du Vana
Grimsky Semilly x Nabuco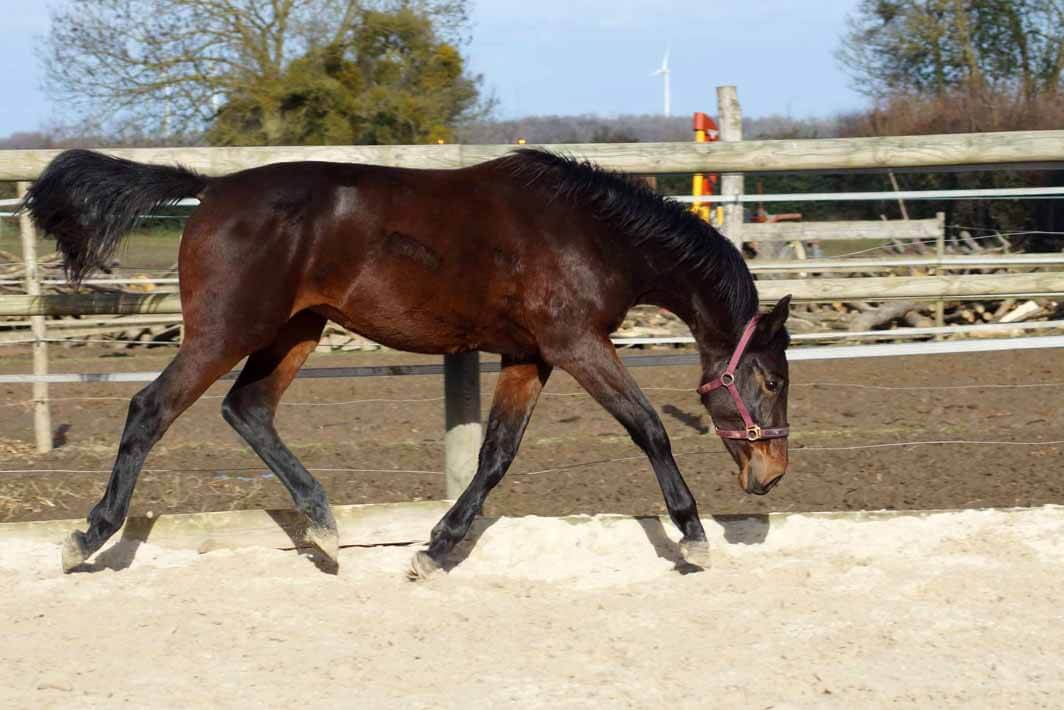 Ladiva du Vana
Grimsky Semilly x Nabuco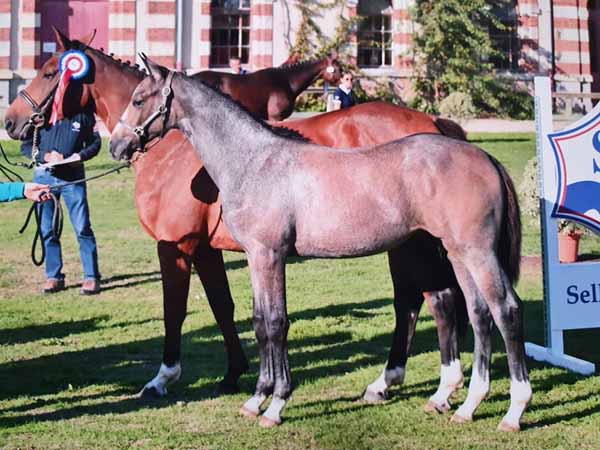 Milou du Bois
Grimsky Semilly x Top Gun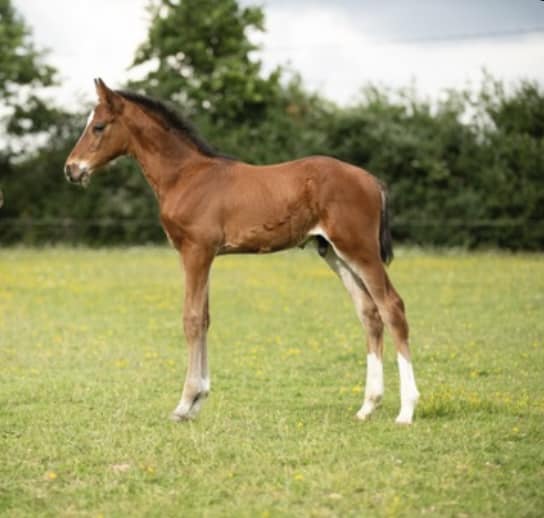 N'Granit de Maje
Grimsky Semilly x Bazooka de Hus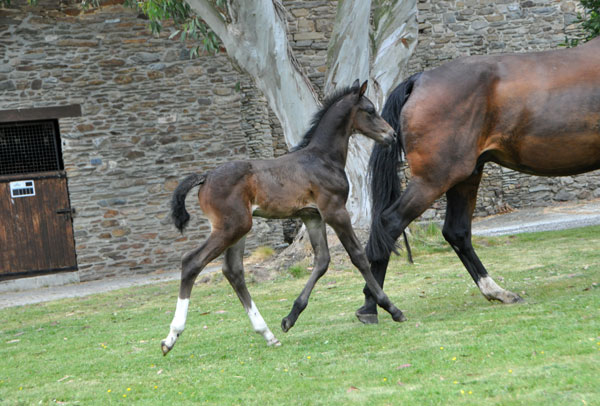 N du Joret
Grimsky Semilly x Duchesse du Joret by L'Arc de Triomphe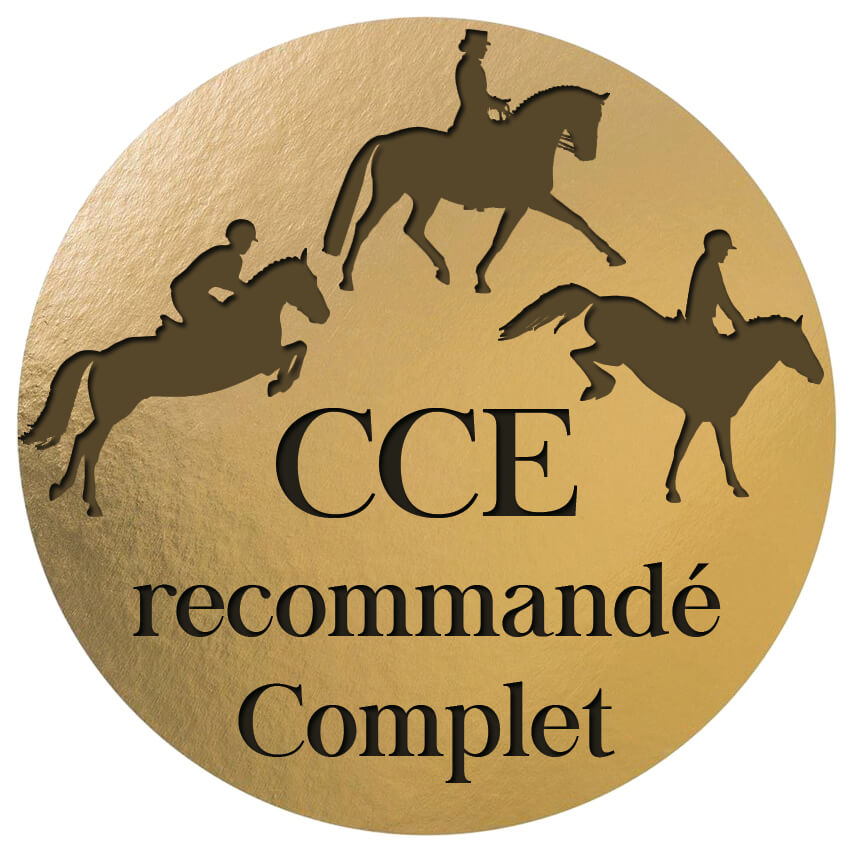 His offspring has fine cute heads, lot of blood and moves very well. Grimsky is recommended for showjumping or eventing.
CROSSING OF THE
WORLD BEST SIRES
LOCOMOTION
FLEXIBILITY
BLOOD
CHIC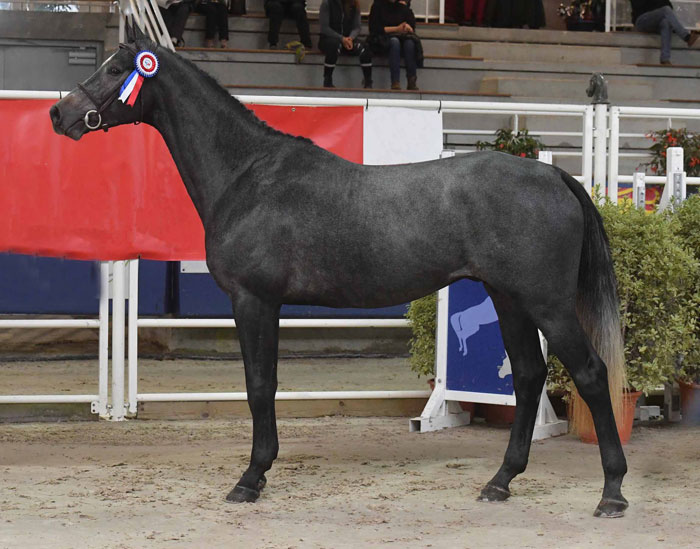 GRIMSKY SEMILLY
2023 COVERING CONDITIONS – France

You can bring your mare to France for being inseminated.
In this case, the stud fee is divided in two parts :
220 € at booking + 700 € when the mare is pregnant 
Live Foal Guarantee
 Frozen semen
At Haras de Semilly, the inseminations and scans are included.
Sales conditions –  France   🇫🇷
Further information
It is also possible to send frozen and/or chilled semen to another french AI center (shipping costs to add).
GRIMSKY SEMILLY
2023 COVERING CONDITIONS – EXPORT

Towards foreign countries, we can send you the semen directlyvor through our broker if there is one who works for us in your country with 2 different options:
COVERING SALE

900 € Live Foal Guarantee
OR
SEMEN SALE

900 € for 4 doses
sold under contract (ICSI, live foal guarantee, taxes, shipment and cost for the health certificate excluded). 1 dose is sold with 1 Breeder's Certificate and a maximum number of 1 foal born.
For ICSI, thank you to send us an email at contact@semilly.com

The doses' quality is certified by Eurogen.

Generations of Horsemen in the service of breeding and equestrian sports
Haras de Semilly
Impasse de l'Hôtel Pohier
50680 COUVAINS
France
Email : contact@semilly.com
Phone : +33(0)233053144
Richard LEVALLOIS : +33(0)672887149
Sophie LEVALLOIS : +33(0)672887151