(Nartago x Le Tot de Semilly x St Brendan xx)
SF – gris – 1,69m – 2012
❝ The new grey jewel made in Semilly ! "
Captain Semilly focuses the qualities inherited from his exceptional bloodlines : strength, scope and gaits of Carthago, chic and impulse of his grand-dam full of blood, nice character from Le Tot, which makes Captain a modern stallion, powerful, with beautiful gaits, huge blood and an excellent jumping technique. ❞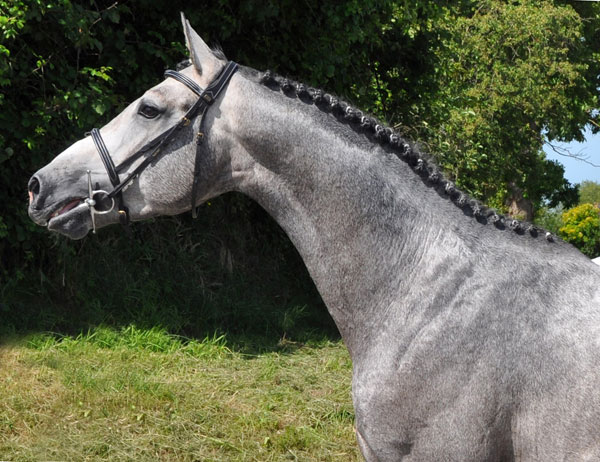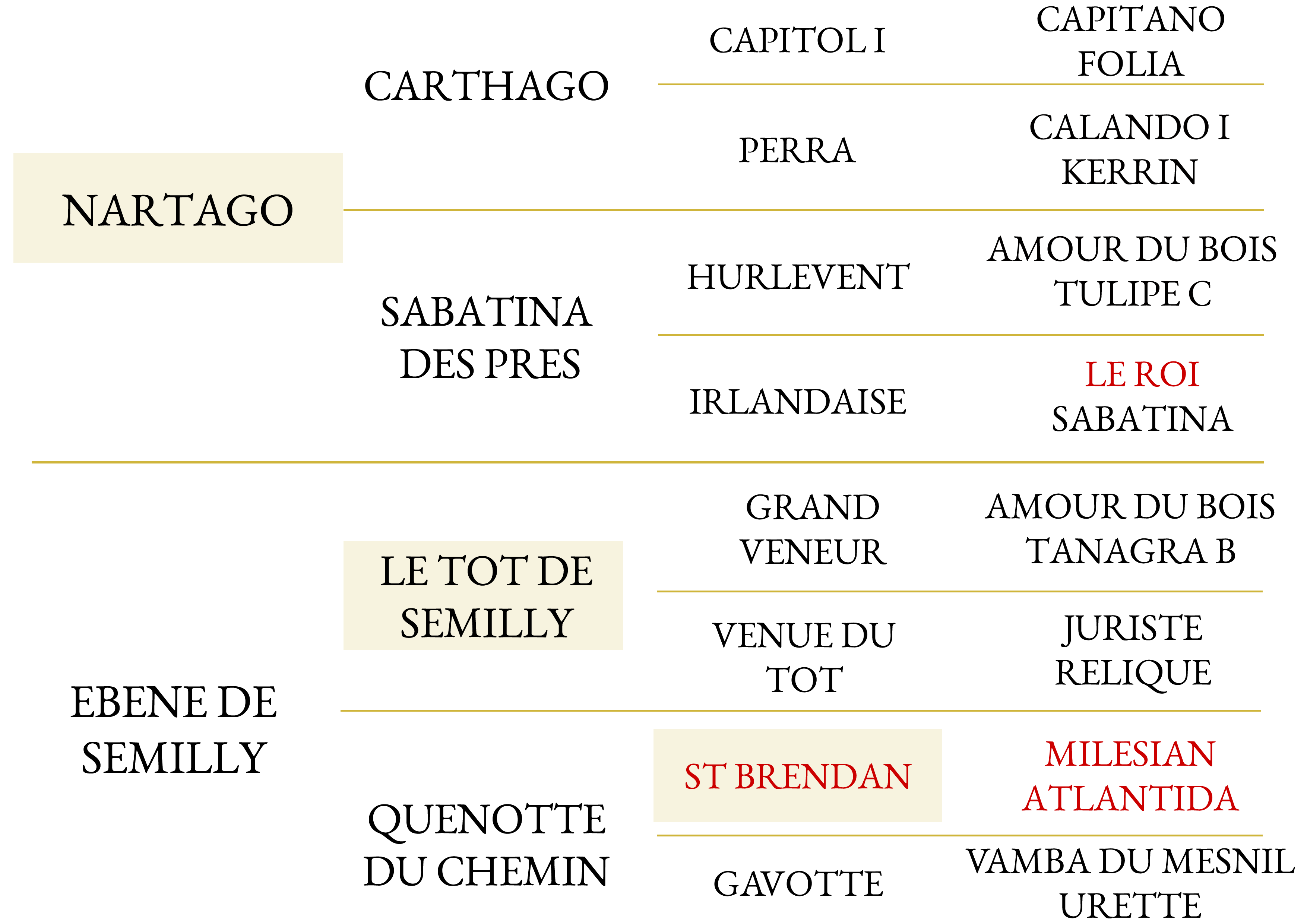 Captain has a rich pedigree of 60,22% thoroughbred (cf. webpedigree)
HIS SIRE : NARTAGO : son of the famous Carthago, excellent international showjumper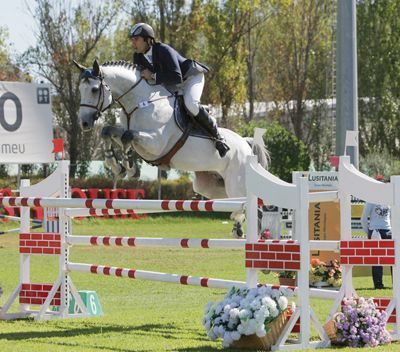 The sire of Nartago, the famous Carthago, excellent international showjumper with Jos Lansink, participated two times at the Olympic Games. He is also ranked among the best sires of showjumpers worldwide.

The mother of Nartago, Sabatina des Près, was also a great international winner with Manuel Malta da Costa, CSIO, ISO163. From this damline also come from several great international winners like : in dressage Bolero de Chine IDR146, in jumping Babette XVII ISO163,  Ut Majeur Trois ISO152, in eventing Flipper I ICC170, Gentleman E ICC175, …
Nartago himself jumped in 1,55m international Grand Prix with his young Portuguese rider before to concentrate his all life for breeding.
Nartago began breeding in 2005, after winning at 3YO the Selle Français stallions Championships. He has already produced some very good winners like : Sellia du Bessin ISO152, Shamira Semilly ISO142, Sabine des Ibis ISO145, Tessy du Bessin ISO136, Typhon de la Cense ISO153, Ushuaia d'Aurel ISO 159, Vartago du Dorset ISO143, Vodka Star ISO 157, Alentejo ISO 149, Darley du Lozon ISO 142, Dgin du Pestel ICC161 CCI3*, Django Semilly ISO 131, Donatello Semilly, stallion, Equistar de l'Abbaye ISO 139, Evora Semilly ISO 130 …
HIS 1ST MARE : EBENE DE SEMILLY: Filly of Le Tot de Semilly et full sister of the stallions Flamenco deSemilly, Vraitot and Dollar de Semilly
Filly of Le Tot de Semilly
Full sister of the stallions : Flamenco deSemilly (International performer and ambassador of BWP stallons in 2009 because of the quality of his offrspring like : Je t'Aime Flamenco and Wonder Boy III), Vraitot, Dollar de Semilly. It's also the full sister of the great jumper Iroise de Semilly (ISO 151).
The SF approved stallion Made In Semilly ISO174, CSI4* GP winner, is the first offspring of Ebène de Semilly.
The full brother of Made In, Red Hot Semilly, has also been approved as an SF stallion at 3 YO and then bought by the French National Studs.
Ebene de Semilly has also produced : Titanium Semilly ISO 130 finalist in Fontainebleau at 5 YO and then exported to Ecuador, Very Well Semilly selected for the KWPN 2012 stallions test, Al Capone Semilly, very impressive in young horses classes, ISO128, Best of Semilly, ISO111.
HIS 2ND DAM : QUENOTTE DU CHEMIN: daughter of the well-known thouroughbred St Brendan xx, is an exceptional broodmare
She has also produced:
♦ 1987 Vraitot, ISO 145, National stallion
♦ 1988 Artaban du Chemin, ISO 130
♦ 1991 Dollar de Semilly, ISO 149, National Stallion
♦ 1993 Flamenco deSemilly, IE SO, stallion in Belgium
♦ 1994 Glasgow de Semilly, SF approved stallion exported in Ecuador
♦ 1995 Hérésie de Semilly
          • 2002 Opal de Riverland
                    • 2014 Esperance de Riverland, ISO 122
                    • 2015 First Lady Riverland, ISO 118
          • 2003 Papillon de Riverland, ISO 124
          • 2004 Qrack de Riverland, ISO 115
          • 2005 Revolte de Riverland
                    • 2010 Athlete de Riverland, ISO 129
          • 2007 The Must de Riverland, ISO 126, private stallion
          • 2008 Urisia de Riverland
                    • 2014 Edition de Riverland, ISO 137
♦ 1996 Iroise de Semilly, ISO 151
2000 Maestro du Vilpion, ISO 129

HIS 3RD DAM: GAVOTTE
She has also produced:
♦ 1977 Lady du Montmirel
          • 1982 Quentine de Lady
                    • 1989 Bagad d'Andilly, ISO 125
                    • 1993 Floriane d'Olca, ISO 125
                    • 1994 Gollen d'Olca, ISO 111
♦ 1980 Oiseau de Feu III, ISO 148
♦ 1981 Pavotte, ISO 161
          • 1995 Haltea Dorcel, ISO 116
                    • 2006 Scala Dorcel, ISO 113
                    • 2006 Salsa Dorcel, CSI 140
                    • 2009 Vorea Dorcel, ISO 120
          • 1997 Jalby Dorcel, IE SO
          • 1999 Lory Dorcel, ISO 121, vice-champion junior CSO in Ecuador
          • 2001 Norka Dorcel
                    • 2005 Roky Dorcel, ISO 129
                    • 2007 Tosca Dorcel, ISO 112
                    • 2009 Vivorka Dorcel, ISO 113
                    • 2015 Forko Dorcel, ISO 110
          • 2003 Punchy Dorcel, ISO 130, CSI 155
          • 2005 Ruby Dorcel, ISO 135
All the bloodlines of Captain Semilly won in CSI. His sire, Nartago, himself international performer, comes from 2 great international champions : Carthago and Sabatina des Prés (ISO163). Nartago has already produced some performers ranked in the World Ranking list, like Shamira Semilly (which has the same pedigree as Captain : Nartago x Le Tot).

The mother of Captain, a filly by the famous Le Tot de Semilly (ISO177), is the full sister of the stallions and showjumping winners Flamenco deSemilly, Vraitot, Dollar de Semilly, Iroise Semilly (ISO151). Ebene de Semilly has also produded the stallion Made In Semilly (ISO174, CSI4* winner), brother of Captain.
Captain focuses the qualities inherited from those great bloodlines.
In 2018, Captain Semilly devoted himself to his stallion carreer.
In 2017, Captain has been qualifies easily for the French Championships and has been qualified "ESPOIR".
In 2016, Captain has been regularly placed in 4 YO classes, showing a lot of ease. He qualified easily for the Championships of France and finished 4th of the Norman Championships even though he had to stop competition for 1 month for breeding purposes. Actually, he covered so many mares in France and all over Europe that we didn't have enough frozen semen and had to collect him again in the middle of his showjumping season.
Best stallion of the SF stallions test, 3rd of the 3YO SF Stallions Championships 2015.
CAPTAIN SEMILLY
________________________________________ 
He started breeding in 2016
Captain Semilly's offspring arrives in 2017 and his first foals are handsome, full of blood, with a very good balance and great paces.
One of his products, Hermione de Rance, ranked 5th of the Final 2YO SF female Championship in 2019 ! In 2020, Havana du Bois was placed 20th of the 3YO sport Normandy Championship.
We also noticed : Havana du Bois ISO 110, Hommage du Bisson ICC 111, Hirondelle de Neveztell ISO 117…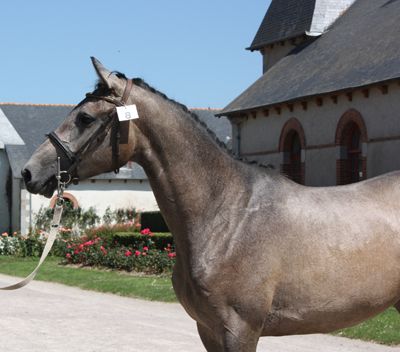 Hermione de Rance
Captain Semilly x Bacus de Nouveaulieu
5th of the Final 2YO SF female Championship in 2019
Halpha di Shabondy
Captain x Roch'N Roll Semilly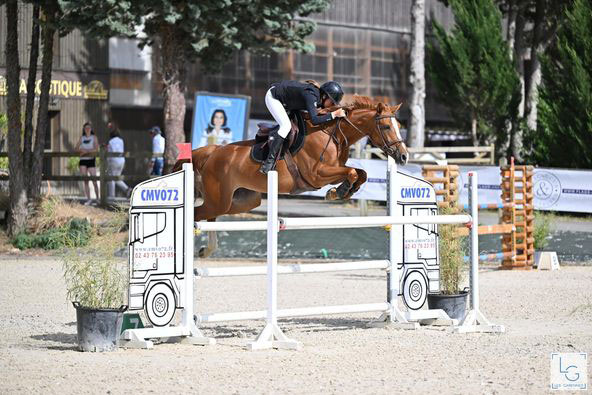 Hirondelle de Neveztell
Captain Semilly x Elan de la Cour
More offspring from Captain
Captain Semilly focuses the qualities inherited from his exceptional bloodlines : strength, scope and gaits of Carthago, chic and impulse of his grand-dam full of blood, nice character from Le Tot, which makes Captain a modern stallion, powerful, with beautiful gaits, huge blood and an excellent jumping technique.

Handsome stallion, mid-sized, which moves very well, with a lot of blood and strong hindquaters, Captain is a stallion easy to cross as he is suitable for all types of mares.
He is recommended for CSO and also eventing.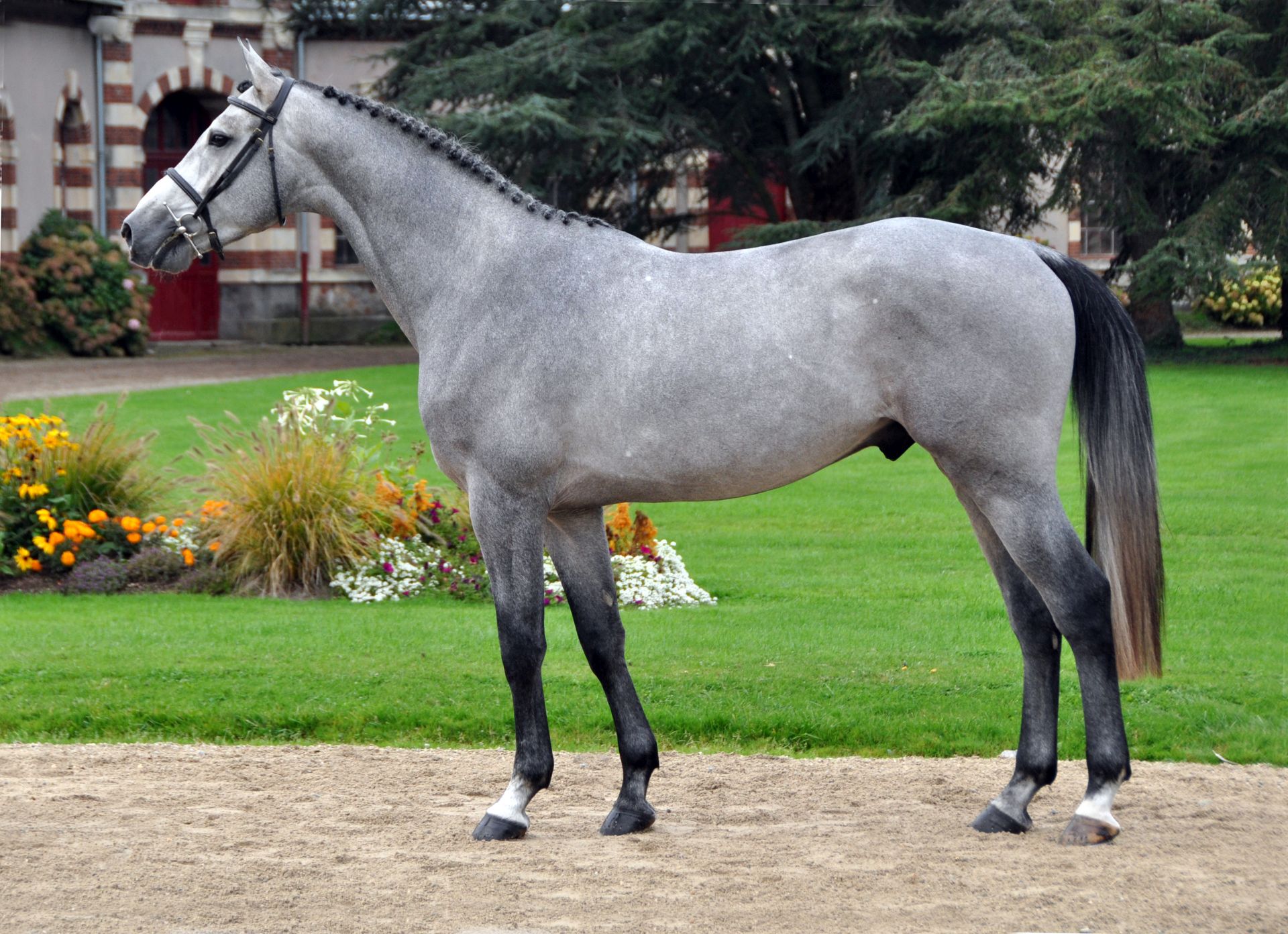 CAPTAIN SEMILLY
2023 COVERING CONDITIONS – France

You can bring your mare to France for being inseminated.
In this case, the stud fee is divided in two parts :
220 € at booking + 600 € payable 48h after foaling 
Frozen semen
At Haras de Semilly, the inseminations and scans are included.
Sales conditions –  France   🇫🇷
Further information
It is also possible to send frozen and/or chilled semen to another french AI center (shipping costs to add).
CAPTAIN SEMILLY
2023 COVERING CONDITIONS – EXPORT

Towards other countries, we can send you the semen directly
or through our broker if there is one who works for us in your country
with 2 different options:
800 € payable 48h after foaling
Frozen semen

OR
800 € for 4 doses of 2 straws per dose
sold under contract (ICSI, live foal guarantee, taxes, shipment and cost for the health certificate excluded). 1 dose is sold with 1 Breeder's Certificate and a maximum number of 1 foal born.
Contact us by email contact@semilly.com 

The doses' quality is certified by Eurogen and Captain Semilly's semen presents an excellent fertility rate.
ISO : Showjumping Index
ICC : Eventing Index
IDR : Dressage Index
IE : exported horses ranked in international classes CSI /CSIO / CSIW

100 to 120 : Good
120 to 140 : Very Good
140 to 160 : Excellent
160 and more : The Best

Generations of Horsemen in the service of breeding and equestrian sports
Haras de Semilly
Impasse de l'Hôtel Pohier
50680 COUVAINS
France
Email : contact@semilly.com
Phone : +33(0)233053144
Richard LEVALLOIS : +33(0)672887149
Sophie LEVALLOIS : +33(0)672887151