(Mylord Carthago x Diamant de Semilly)
SF – grey – 1,61m at 2 YO – 2020
APPROVAL :
SF

GENETIC :
BSO +17 (0,38)
XX = 55 %
WFFS & PSSM1 :
not tested
HEALTH :
CIRALE*****

MYLORD X DIAMANT
THE WORLD PODIUM
POWERFUL JUMP
STRENGTH IN THE HOCKS
HANDSOME TYPE
BASCULE
❝  Karaganda comes from the crossing of best sires worldwide: Mylord Carthago, 3rd and Diamant de Semilly, 2nd (cf. WBFSH sires rankings 2022) with a dam which is the full sister of the international showjumping winner Away Semilly and a grand-dam, Wanda, who also won several CSI classes. There isn't so much risk to use such a genetic! Karaganda has got strong hindquarters and jumps with a great energy. He also has a modern type, with a beautiful long neck, a very good top line, long hips and powerful hocks. He will be exceptionally available in fresh semen this season.❞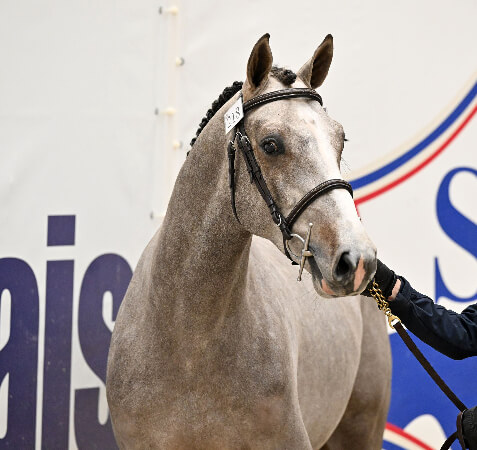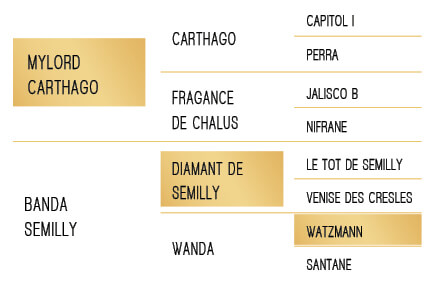 HIS SIRE MYLORD CARTHAGO : Big winner in CSIO and CSI-W
With Penelope Leprévost, he ranked 8th WBFSH world performer in 2010, finalist World Cup in Geneva in 2010, team silver medallist at the Lexington World Championships in 2010, team silver medalist at the European Championships in Madrid in 2011, J.O. London in 2012, winner of the GP at the CSI5* in Helsinki, Vienna, ISO 178(12)… He is the 3rd best father of CSI winners in the WBFSH 2022 ranking, especially father of : 
Toledo de Mescam, CSI5* with K. Staut, ISO 175 (21)
Timon d'Aure, CSI5* with A. Deroubaix, JEM de Tryon 2018, European Championships 2019, winner of the GP CSI5* de Dinard, ISO 162 (16)
Argan de Béliard, GP CSI 1.60m with L. Sabino Gonçalves, Herning World Championships with L. Keenan, ISO 169 (21)
Twentytwo des Biches, team bronze medallist at the European Championships in Gothenburg with R. Duguet, J.O. from Tokyo with B. Balsiger, ISO 173 (21)
Truman ex Virtuose Breil, winner in GP CSI 1.60m and CSIO5* with A. Millar, Herning World Championships, ISO 172 (22)
Bingo du Parc, 4th per team at the J.O. of Tokyo with H.Smolders, ranked in GP CSI5*, ISO 169 (21)
Vertigo du Désert, GP CSI5* and CSIO5* with L. Diniz, J.O. of Tokyo in 2021, ISO 173 (21)
Utopie Villelongue, winner of the GP CSI4* of Rouen with Mr. Thirouin, vice-champion of France Pro Elite 2019, ISO 171 (21)
Alouette d'Eole, French rider champion in 2019 with Mr. Gosa, 2nd in the 1.60m GP at CSI3* d'Oliva, ISO 166 (21)
Alibi de la Roque, classified in GP 1.60m with J. Epaillard, ISO 171 (20)
Billabong du Roumois, winner in GP 1.50m with J. Epaillard, ISO 172 (22)
Chance of the Brand, 3rd of the GP 1.55m at the CSI3* of Béthune with A. Borrin, ISO 162 (22)…
He is 15th best father of CCE WBFSH 2022 winners, father of:
Totem de Brécey, 4th at the European Championships in Luhmülen, bronze medallist by team at the J.O. in Tokyo, vice-champion of France Pro Elite with C. Six, ICC 160 (21) ; Babylon de Gamma, winner in CCI4*-S with A. Nicolas, ICC 155 (21) ; Big Boss Melo, 6-year vice-champion in Pompadour, winner in CCI3*-L with M. Chombart, ICC 159 (22)…
He is also the father of many stallions including performers: Equine America Valmy de la Lande, ranked in CSI 1.60m with M. Whitaker, ISO 171 (22); Grupo Prom Milton, CSIO5* with J.Guery; Dexter de Kerglenn, ranked in GP CSI 1.55m with J. Sadran; Bellini Dufaure de L, GP CSI 1.60m, ISO 162 (22); Mylord Carthender Dei Folletti, GP CSI 1.45m…
HIS DAM, BANDA : Sister of Away Semilly
She is the full sister of the stallion Away Semilly , exceptionnal showjumping winner, indexed ISO 161with Yuri Mansur. They have been placed more than 55% with more than 20 international rankings including 10 podiums!
Banda, ISO 113 (16) is the mother of 2 other young products:
• Jacaranda Semilly (2019, Kannan kwpn)
• Mandalay Semilly (2022, Mylord Carthago sf)
HIS 2nd DAM, WANDA: international showjumping winner with Ludger Beerbaum and Rodrigo Pessoa
Wanda has notably produced:
♦ 2003 Plutot de Beaufour,  sBs stallion
♦ 2004 Quisas Diamant, ISO 158
♦ 2005 Vision de Ligny
          • 2009 View of Semilly. She jumped amazingly at 3 years old, before being injured. She became a broodmare which has produced :
                    • 2014 Elite Semilly, ISO 123
                    • 2016 Grimsky Semilly, stallion ISO 122
          • 2011 Bunny Boy Semilly, CSI 1,40m
          • 2014 Eye Pop Semilly, ISO 147
          • 2016 Gin Fizz Semilly, ISO 120
♦ 2006 Babalou de Ligny, stallion Italie
♦ 2006 Cancan de Ligny, stallion USA
♦ 2006 Balaika de Ligny, ISO 143
♦ 2007 Bannda des Bergeries
          • 2013 Hanna des Bergeries, ISO 127
♦ 2008 Diablesse du Ry Z, ISO 126
♦ 2009 Vendetta Semilly, ISO 133
♦ 2010 Awani Semilly, ISO127 then exported to Italy where it is classified CCI3*
♦ 2011 Browning Semilly, ISO 133
HIS 3rd DAM : SANTANE: is the sister of the stallion Weinheim and the international showjumper Wizard (CSI 1,60m) by Watzmann
She has also produced the full sister of Wanda, Waika, who is the mother of the international winner Graciella (CSI 1,60m) Champion of Switzerland 2012 with Janika Sprunger.
In 2022, Karaganda Semilly has been licenced SF stallion at the end of the SF French 2yo stallions Championship in Saint-Lô.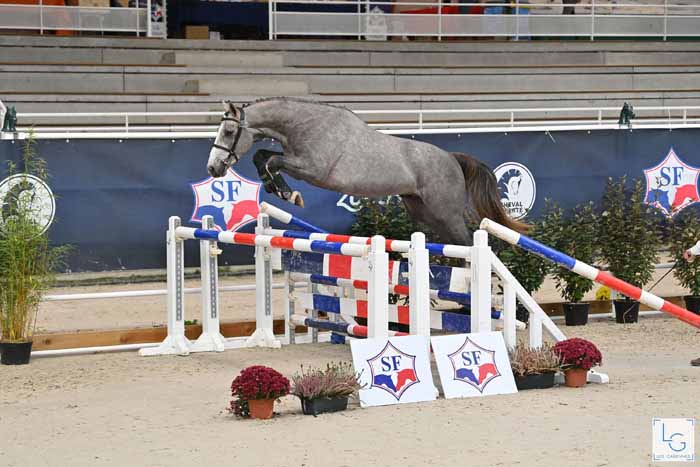 KARAGANDA SEMILLY
________________________________________ 
He starts breeding in 2023
Karaganda Semilly starts breeding in 2023. 
Karaganda Semilly is SF stallion licenced selected in the "Young Male Genetic SF program" of the Selle Français studbook
Trust the horsemanship of Levallois family for having selected the most promising young sires. There isn't so much risk to use this up-and-coming genetic.
Karaganda should impart to his offspring his handsome type, his strength in his hindquarters with strong hocks and powerful back line. He can be crossed with tall and long typed mares. Even though they have a lot of blood and are difficult to manage, the good temperament of Karaganda should compensate.
Don't miss the opportunity to use the FRESH semen of this up-and-coming stallion which comes from the best sires worldwide !
MYLORD x DIAMANT
THE WORLD PODIUM
POWERFUL JUMP
STRENGTH IN THE HOCKS
HANDSOME TYPE
BASCULE
KARAGANDA SEMILLY
2023 COVERING CONDITIONS – France

You can bring your mare to France for being inseminated.
In this case, the stud fee is divided in two parts :
220 € at booking + 550 € when the mare is pregnant 
Live Foal Guarantee
Fresh and Chilled semen only this year
At Haras de Semilly, the inseminations and scans are included.
Sales conditions –  France   🇫🇷
Further information
It is also possible to send frozen and/or chilled semen to another french AI center (shipping costs to add).
KARAGANDA SEMILLY
2023 COVERING CONDITIONS – EXPORT

Towards foreign countries, we can send you the semen directlyvor through our broker if there is one who works for us in your country with 2 different options:
COVERING SALE

750 € Live Foal Guarantee
OR
SEMEN SALE

750 € for 4 doses
sold under contract (ICSI, live foal guarantee, taxes, shipment and cost for the health certificate excluded). 1 dose is sold with 1 Breeder's Certificate and a maximum number of 1 foal born.
For ICSI, thank you to send us an email at contact@semilly.com

ISO : Showjumping Index
ICC : Eventing Index
IDR : Dressage Index
IE : exported horses ranked in international classes CSI /CSIO / CSIW

100 to 120 : Good
120 to 140 : Very Good
140 to 160 : Excellent
160 and more : The Best

Generations of Horsemen in the service of breeding and equestrian sports
Haras de Semilly
Impasse de l'Hôtel Pohier
50680 COUVAINS
France
Email : contact@semilly.com
Phone : +33(0)233053144
Richard LEVALLOIS : +33(0)672887149
Sophie LEVALLOIS : +33(0)672887151