(Diamant de Semilly x Heartbreaker)
SF – Chestnut – 1,65m – 2015
APPROVAL :
SF

GENETIC :
BSO +26 (0,60)
%PS XX = 52 %  
WFFS & PSSM1 :
not tested
HEALTH : 
CIRALE***
A LITTLE GENIUS OF JUMPING
REACTIVITY 
RESPECT
❝  A modern sport horse with innate respect, very responsive and athletic, full of good energy and with an excellent jumping technique, FIFTY FIFTY confirmed at 7 years old its place among the best horses of its generation. Diamond of Semilly, from which he drew his strength, his good voluntary mind and a strong back passage, Heartbreaker for reactivity and influx. His maternal strain is also exceptional with many winners in CSI 1.60m including his mother, Mic Mac of the Demon God, but also Rexar du Houssoit, his brother stallion SBS, Panama of the Lord his sister… ❞ 
HIS SIRE DIAMANT DE SEMILLY : Recognized Best Selle Français Stallion, exceptional performer and classified Elite stallion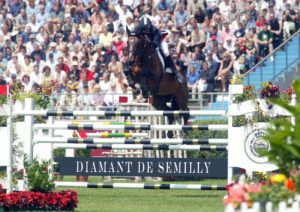 He is a son of Le Tot de Semilly, one of the best sires in the world and famous international jumping winner, and a dam by Amarpour xx.

Great showjumping winner at CSIO and CSIW level, he was crowned: World Champion with the French team and 9th in the individual ranking (WEG Jerez 2002), France Champion 2002, Team silver medal at the 2003 European Championships, Winner of the 1999 French 1st Category jumping criterium.
ISO 184.

Diamant de Semilly is placed BEST SELLE FRANCAIS STALLION, ranked ELITE with a 100% "bet value" (ANSF ranking) BSO +25 (1,00) and BEST STALLION WORLDWIDE (WBFSH showjumping stallions rankings 2015 and 2016).
He differs very significantly from all other stallions by the average value of the indices of his offspring which, with impressive regularity, has been clearly superior for many years. BSO + 26 (1.00).
Asathir (ex. Tecla d'Auge ISO 174) CSIO5* ; Away Semilly ISO 161, Blood Diamond du Pont ISO 170, Bond Jamesbond de Hay ISO 164 Deauville S CSIO5* ; Don VHP Z CSIO5* ; Dylon CSI5* ; Emerald, vainqueur des Sires of the World 7 ans 2011, vice-Champion du Monde des 6 ans Lanaken 2010, CSIO5* ; Emilie de Diamant CSIO5* ; Erenice Horta, Championne de Belgique des 7 ans 2011, CSIO5* ; Extra Van Essene CSIO5* ; Guv´nor CSIO5* ; Heliodor Hybris CSIO5* ; Ilex VP CSIO5* ISO 169 ; Inca Boy van't Vianahof CSIO5* ; Jésus de la Commune ISO 171 ; Joyau d'Opal ISO 181 ; Kalaska de Semilly IE SO ISO 169, JO Pékin 2008, JEM 2010, Médaille d'Argent Jeux Asiatiques 2010 ; Street Of Diamonds (ex-Kho de Presle) ISO 178 ; Niack de l'Abbaye ISO 175, JEM Lexington, JO Londres ; Obiwan de Piliere ISO 170 ; Pacific des Essarts ISO 177, CSIO5*; Picolo ISO 171 ; Piman de la Deviniere ISO 173 ; Polinska des Isles ISO 178, CSIO5* ; Prunella d'Ariel ISO 172, JEM Normandie ; Quickly de Kreisker ISO 183, JEM Normandie ; Rock'N Roll Semilly ISO 174, CSIO5* ; Safari d'Auge CSI5*, ISO 167 ; Salamera de la Nutria CSIO5* ; Sunshine CSIO5* ; Toledo de Kerser ICC 170, médaille d'Or par équipe en complet aux JEM de Tryon ; Tower Mouche ISO 170 ; Un Diamant des Forets ISO 166, Utamaro d'Ecaussines CSIO5*, JEM Normandie ; Vannan ISO 166, Valentino Tuilière ISO 168, Vega de la Roche ISO 165, Venizia d'Aiguilly ISO 171, Verdi Treize ISO 167, Verdict de Kezeg ISO 164, Viamant du Matz ICC 161, Villamoura ISO 167, Vinci de Beaufour ISO 167, Vital Chance ISO 178, Antidote de Mars ISO 176 (CSIO5*), Arioto ISO 166, …
HIS 1ST DAM, MIC MAC DU DIEU DEMON: Daughter of the famous Heartbreaker and big winner in CSI 1.60m (ISO 156)
Mic Mac du Dieu Demon has already produced several excellent showjumpers, such as:
♦ 1999 Panama du Seigneur, CSI 1,60m
          • 2002 Chanama du Seigneur
                    • 2007 Ballerine du Seigneur, ISO 131
                    • 2009 Darling du Seigneur, ISO 134
          • 2002 Chagall du Seigneur Z, CSI 1,40m
          • 2002 Soudan du Seigneur, ISO 142, CSI 1,50m
          • 2003 Tic Tac du Seigneur, CSI5* 1,60m, stallion
          • 2004 Ultima du Seigneur
                    • 2009 Utine MGN Z, ISO 144
                    • 2010 Anakine de Gani, ISO 127
                    • 2014 Eiken de Gani, ISO 124
          • 2005 Vivaldi du Seigneur, ISO 150, stallion
          • 2006 Amour du Seigneur, CSI4*
          • 2006 Anamo du Seigneur, ISO 121
          • 2007 Boyfriend du Seigneur, CSI4*, stallion
♦ 2001 Rexar du Houssoit, CSI 1,60m, stallion sBs
♦ 2001 Rush On du Houssoit, CSI 1,50m
          • 2015 Firenze de la Cense ISO 120
♦ 2011 Brenda of Mic, ISO 135
♦ 2011 Burdey of Mic, ISO 136
♦ 2013 Chic of Mic, ISO 120
♦ 2015 Fifty Fifty Semilly, ISO 139
In 2022, he ranks 9th in a 1.40m Top 7 race at the CSI in Dinard, 9th in the GP 1.40m Top 7 at the NHS in Saint-Lô, 11th in the GP 1.35m Top 7 in Canteleu, and finished 6th in the French 7-year Championship in Fontainebleau. he also ranks 5th in the GP 1.40m in Compiègne. He is approved as a standard by the Stud-book Selle Français.
In 2021, Fifty Fifty is a finalist in the 6-year Classic Cycle in Fontainebleau
With Alexis Gourdin in 2020, he made 14 clear round in the 5-year Classic Cycle, including a flawless double at the CIR in Saint-Lô. He's a finalist at Fontainebleau.
FIFTY FIFTY SEMILLY
________________________________________ 
He started breeding in 2023
Fifty Fifty Semilly started bredding in 2023
Fifty Fifty Semilly is a SF stallion, qualified "VERY PROMISING" who belongs to the "Young Male Genetic SF program" of the Selle Français studbook".
ONE OF THE FRENCH 7YO WIWH CORRESPONDS TO CURRENT MARKET DEMAND
Fifty Fifty is a modern sport horse, athletic, very careful and quick, full of good energy and wich has a perfect jumping technique. He was placed among the best 7YO in the last French Championships. He fits perfectly well with what we  are looking for showjumping nowadays.
I AM SEMILLY
2023 COVERING CONDITIONS – France

You can bring your mare to France for being inseminated. In this case, the stud fee is divided in two parts :
220 € at reservation + 700€ if the mare is pregnant 
Live Foal Guarantee
Fresh / Chilled 
At Haras de Semilly, the inseminations and scans are included.
Further information
It is also possible to send chilled or frozen semen to another french AI center (shipping costs to add).
Sales conditions – France   🇫🇷
Sales conditions – Export
Export conditions
Towards foreign countries, we can send you the semen directly or through our brokers if there is one who works for us in your country. For all information, feel free to contact us by email : 
contact@semilly.com
ISO : Showjumping Index
ICC : Eventing Index
IDR : Dressage Index
IE : exported horses ranked in international classes CSI /CSIO / CSIW

100 to 120 : Good
120 to 140 : Very Good
140 to 160 : Excellent
160 and more : The Best

Generations of Horsemen in the service of breeding and equestrian sports
Haras de Semilly
Impasse de l'Hôtel Pohier
50680 COUVAINS
France
Email : contact@semilly.com
Phone : +33(0)233053144
Richard LEVALLOIS : +33(0)672887149
Sophie LEVALLOIS : +33(0)672887151