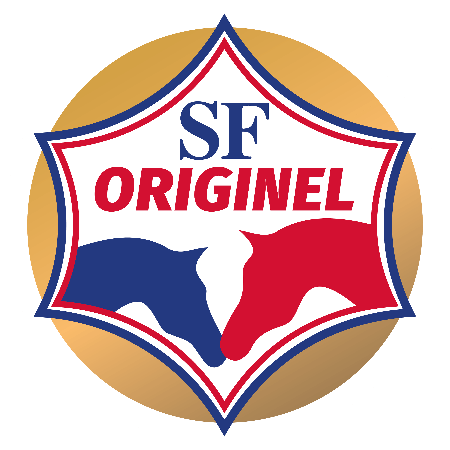 EL STAR SEMILLY
(Quick Star x Le Tot de Semilly x Jalisco B)
SFO – bay – 1,65m – 2014
GENETIC :
BSO+19 (0.58) 
XX : 50,5%

SPORT : 
ISO 136
Ranked in 1,45m class Grand Prix                                  5th in the French 5-year-old Championship (2019)
APPROVAL :
SF
WFFS & PSSM1 :
not tested
HEALTH:
CIRALE*****
THE QUINTESSENCE OF
BLOODS PUR SF
WILLINGNESS
RESPECT
BACK PASSAGE
ENERGY
❝  El Star Semilly is the result of a marriage of the best SF bloodlines reminiscent of the World vice-champion Orient Express, He has been crowned vice-Champion of the 4 YO indoor French finals in 2018 and 5th of the French Championships of the 5 YO males in 2019. Since, he has been placed in 1,40m and 1,45m GP with a young rider, demonstrating great abilities in competition, especially strong hind quarters, outstanding willingness and carefulness. El Star has many qualities: reactivity and agility inherited from his sire Quick Star, good strong bones and niceness from his grand-sire Le Tot de Semilly, power from Jalisco B, blood from his dam line. ❞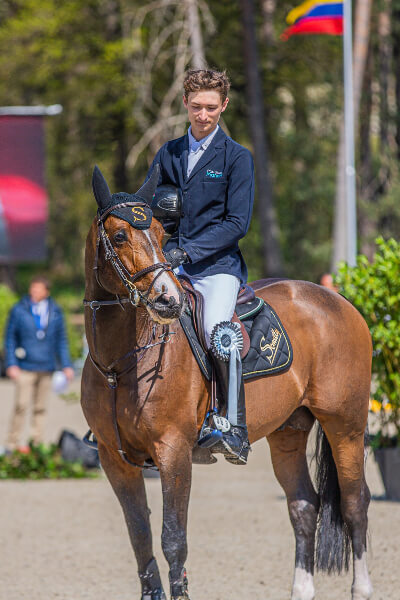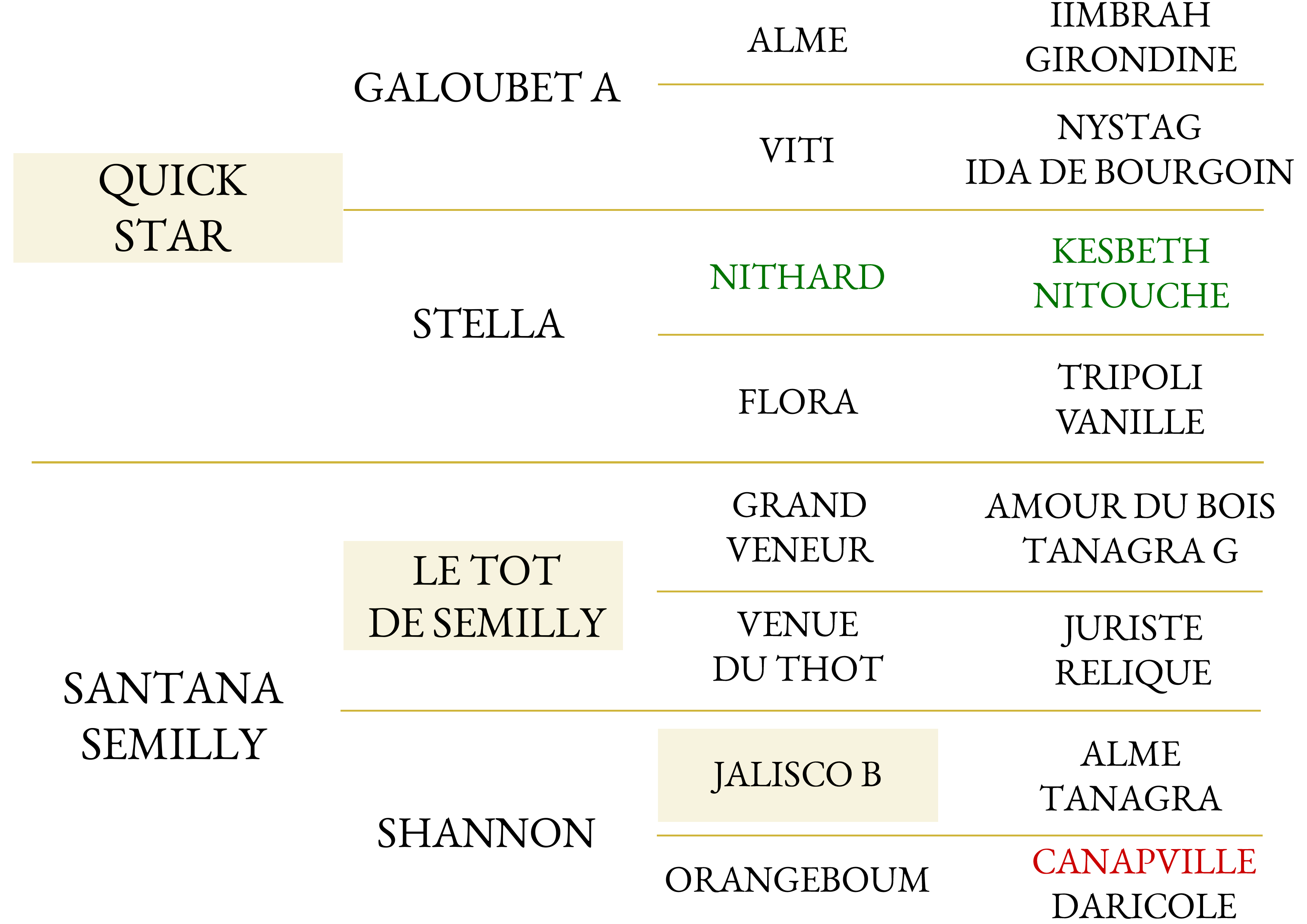 El Star Semilly has a rich pedigree of  50,10% thoroughbred (cf. webpedigree)
HIS SIRE : QUICK STAR : Son of Head of Breed Galoubet A, one of the best stallions in the world, qualified ELITE Stallion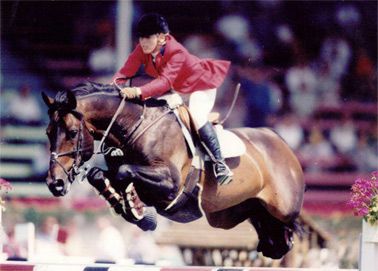 He is the son of Galoubet A (by Alme) ISO 181, which has produced many stallions and winners in CSI and CSIO. Great Performer with many rankings: between 1992 and 1994 he was: 1st of the Maastricht GP CSI , 1st of the Mannheim UPS Championship, 1st of the Aix-la-Chapelle International Pulsar GP, 1st of the Munich CSI of etc … He won more than 500 000 € of gains during his career!

BSO + 25 (0.99). "ELITE" stallion with a bet value of 99.99% !!
His outstanding offspring includes: Cuik Star Kervec ISO 161, Lady de Semilly ISO 163, Love Affair ISO 179, Lutin de Semilly = Quick Study ISO 186, Mel d'Argences ISO 167, Mils d'Hurl'vent IPO 169, Nokkia de Brekka ISO 176, Notrestar dela Nutria ISO 171, Omega Star Ar ISO 163, le vice-champion du monde Orient Express ISO 176, Osiris d'Ouilly ISO 162, Pop Lady d'Elle ISO 165, Popstar Lozonais ISO 161, Qantar des Etisses ISO 162, Quatrin de la Roque ISO 173, Red Star d'Argent ISO 168, Secret du Pays d'Auge ISO 161, TeaStar d'Oyale ISO 166, Tricky Choice du Pena IPO 169, Vagalam Merveilles IPO 169…
HIS 1st DAM : SANTANA SEMILLY: full sister of the stallion Elkintot (JEM Jerez 2002) and of Giotto II (stallion HN, ISO 161)
Santana, is the daugther of the famous Tot de Semilly, Breed Chef himself, 22th World Best Stallion in 2008 (according to WBFSH CSO rankings), placed ELITE by the SF studbook and excellent winners'sfather, including : Diamant de Semilly and Itot du Chateau !! More than 1000 of his products are placed in showjumping and 70 are approuved stallions !
Santana his the full sister of the international stallions performers Elkintot (WEG Jerez 2002) and Giotto (HN stallion, ISO 161)and the half-sister of the international winner Iscariote.
Santana was placed 1st of the 3YO Regional Automn head-on more than 100 competitors. She participated the 4 YO classical cycles and was qualified for the final in Fontainebleau where she finished 4 YO France Vice-Champion, "Elite". ISO 122
HIS 2nd DAM : SHANNON: dam of the famous stallions Elkintot and Giotto II
This filly of Jalisco B has also produced :
♦ 1992 Elkintot, étalon privé, IE SO, exported toured in CSI and made the World Equestrian Games Jerez (2002)
♦ 1994 Giotto II, ISO 161, HN stallion
♦ 1996 Iscariote, IE SO, ISO 135 before being exported and running in CSI
♦ 1999 Laristote
          • 2009 Vicientot, ISO 122
          • 2010 Aristot, ISO 136
♦ 2001 Nepomuk, ISO 131
♦ 2003 Physalie, ISO 121
HIS 3rd DAM : ORANGEBOUM: by the pur-sang Canapville
She has also produced: 
♦ 1987 Vanieska
          • 1988 Olga d'Aure, ISO 130
          • 2003 Pirouette d'Aure
          •           2014 Elliott d'Aure, ISO 123
♦ 1990 Clémentine du Cour
          • 1996 Indi de Boulaire, ISO 210

In 2022, El Star starts 1,45m classes with the young Rider Dylan Levallois. During the CSIU25 at Fontainebleau they shined all the week-end by ranking 3rd & 8th in 1,40m classes and 3rd of the GP145! In Deauville's CSIU25 they ranked two times 4th in 1m40 classes. And more, they ranked 8th in 1,45m classes in the Grand National FFE in Compiègne. 
In 2021, EL STAR SEMILLY is placed 10th of his 1st 1,40m 7 YO Grand Prix in Notre Dame d'Estrées with the young rider Dylan Levallois who also done his 1st 1,40m class today.

In 2020, El Star Semilly is reguliarly placed in the 6 YO classes : 3rd and 4th in Auvers, 5th in La Haye Pesnel.ème à La Haye Pesnel. ISO 131
5th best 5YO jumper of France, with ELITE title
Other performances
In 2019, with almost all clear rounds in parallel of the breeding season, El Star Semilly has been qualified easily for the Championships of France of the 5 YO jumpers. With 3 clear rounds in Fontainebleau, he is placed 5th best 5YO jumper of France, with ELITE title.
In 2018, with 14 clear rounds above 14 at 4 YO, El Star Semilly is showing disconcerting ease and extraordinary carefulness. He is placed 11th in the 4YO Male Championships of France, qualified "Excellent". With a double clear round at the French finals in EquitaLyon, El Star is crowned Vice-Champion of France of the 4 YO CIR.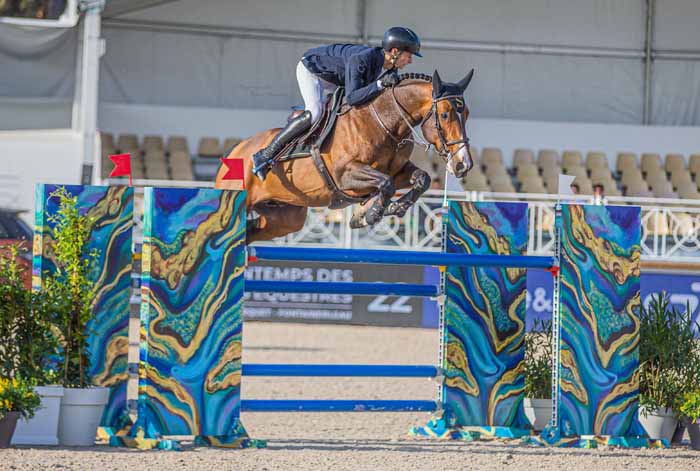 EL STAR SEMILLY
________________________________________ 
He starts breeding in 2019.
Trust the experience of the Levallois family to have chosen you promising young stallions. There is therefore no great risk to take using this young genetics.
BSO+18(0,59)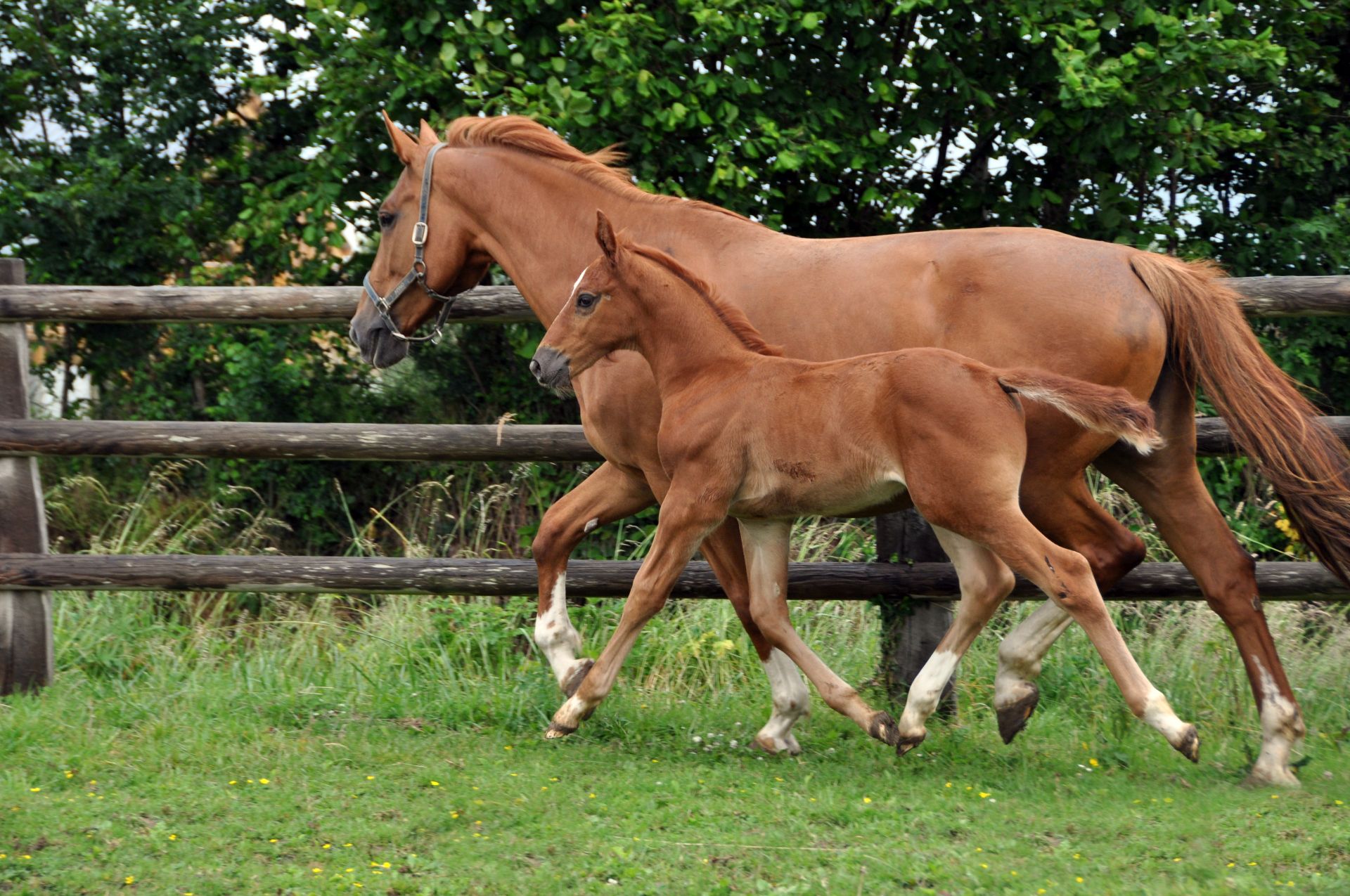 Kel Star de St Aubert
El Star x R'n Roll Semilly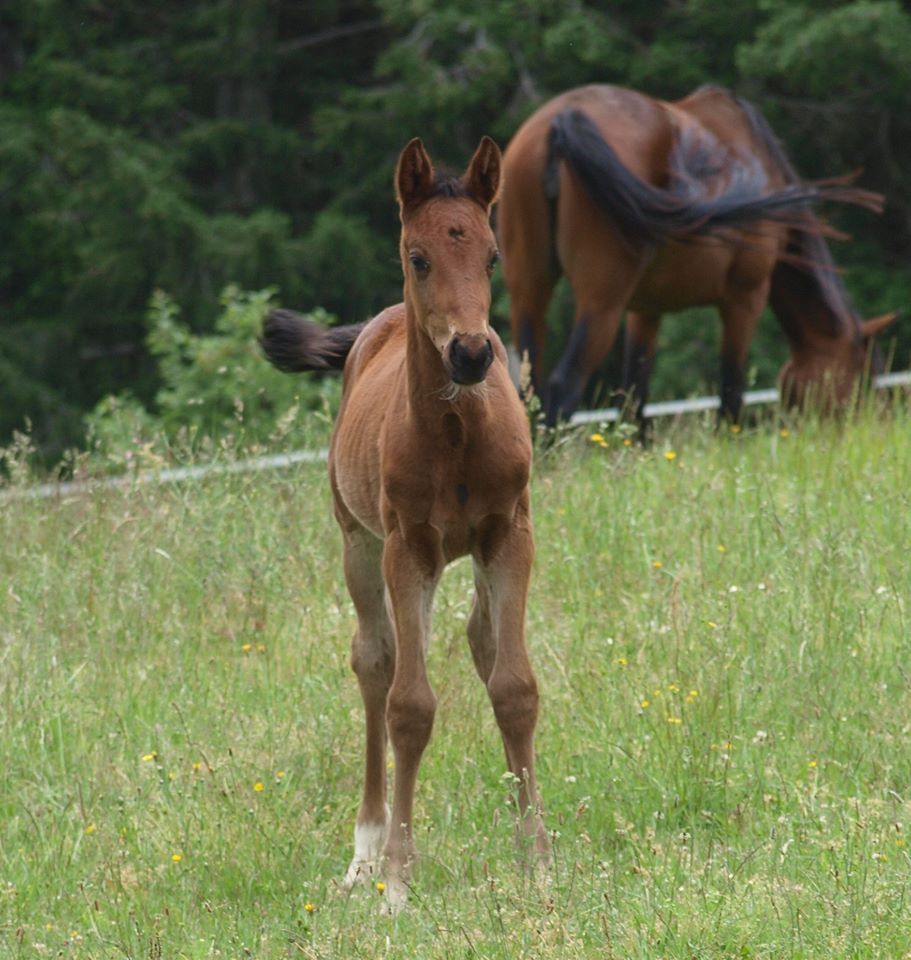 Kelstar du Barsac
El Star Semilly x Soleil du Fosse
Wedding of the SF Originals Best Blood with a pedigree reminiscent the one of the Vice World Champion Orient Express, El Star Semilly has many assets: responsiveness and flexibility inherited from his father Quick star, a golden mental, the kindness and respect from his grandfather Le Tot de Semilly, the power of Jalisco B, and the blodd of his maternal stock (Shannon is 67% thoroughbred).
He should passes on his good canter and power in the hocks and back.
THE QUINTESSENCE OF
BLOODS PUR SF
WILLINGNESS
RESPECT
BACK PASSAGE
ENERGY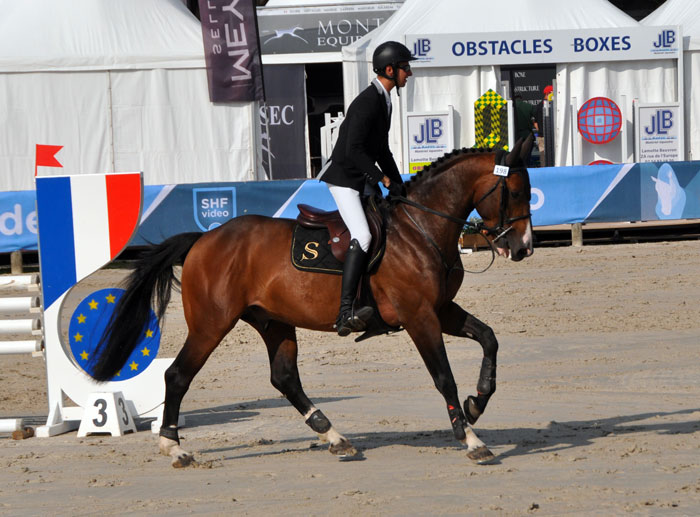 EL STAR SEMILLY
2023 COVERING CONDITIONS – France

You can bring your mare to France for being inseminated.
In this case, the stud fee is divided in two parts :
220 € at booking + 700 € when the mare is pregnant 
Live Foal Guarantee
 Frozen semen
At Haras de Semilly, the inseminations and scans are included.
Sales conditions –  France   🇫🇷
Further information
It is also possible to send frozen and/or chilled semen to another french AI center (shipping costs to add).
EL STAR SEMILLY
2023 COVERING CONDITIONS – EXPORT

Towards foreign countries, we can send you the semen directlyvor through our broker if there is one who works for us in your country with 2 different options:
COVERING SALE

900 € Live Foal Guarantee
OR
SEMEN SALE

900 € for 4 doses

sold under contract (ICSI, live foal guarantee, taxes, shipment and cost for the health certificate excluded). 1 dose is sold with 1 Breeder's Certificate and a maximum number of 1 foal born.
For ICSI, thank you to send us an email at contact@semilly.com

The doses' quality is certified by Eurogen.

Generations of Horsemen in the service of breeding and equestrian sports
Haras de Semilly
Impasse de l'Hôtel Pohier
50680 COUVAINS
France
Email : contact@semilly.com
Phone : +33(0)233053144
Richard LEVALLOIS : +33(0)672887149
Sophie LEVALLOIS : +33(0)672887151