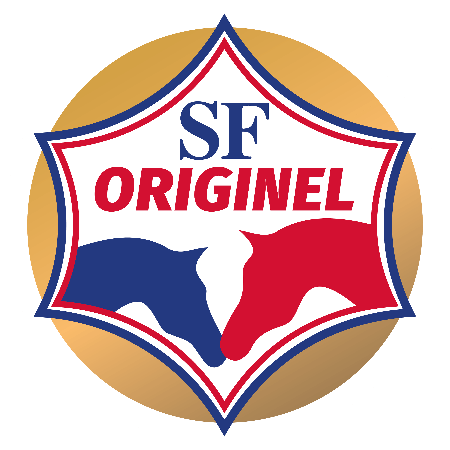 KALASKA DE SEMILLY
(Diamant de Semilly x Night and Day x Diable Rouge)
SF – chesnut – 1,68m – 1998
❝  Alchemy of exceptional sire and dam, Kalaska is a scopy, supple, careful horse with a fantastic mind and an amazing jumping technique. He brought his young rider, to the Olympic Games, World Equestrian Games and they got a Silver Medal in the Asian Games 2010. His soundness allowed him to remain at international level for many years.  ❞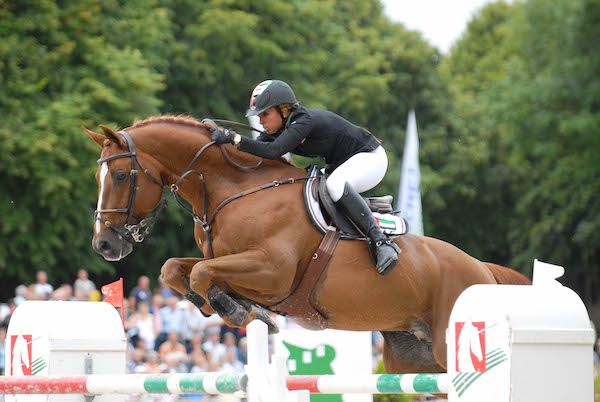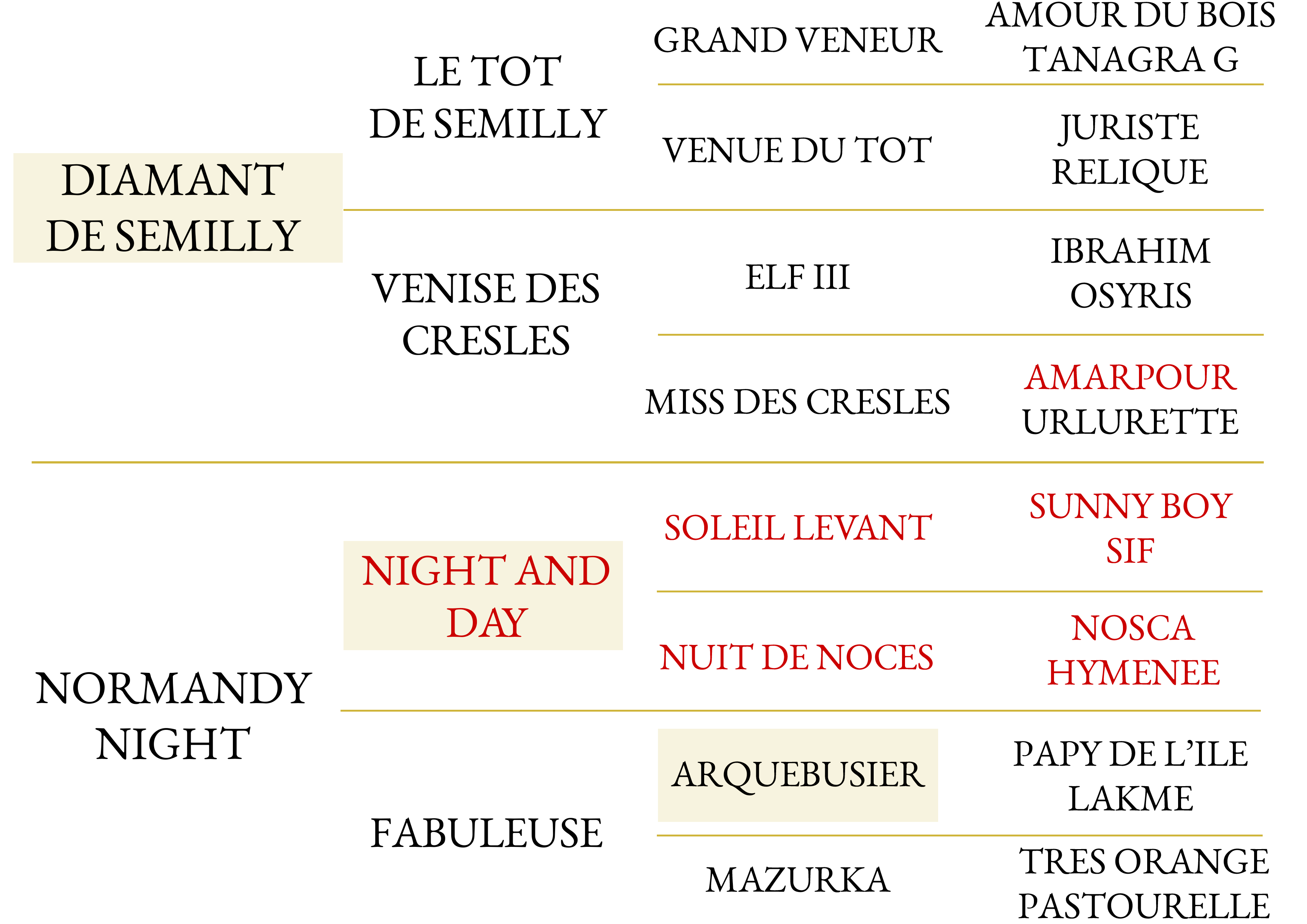 Kalaska has a rich pedigree of  65,51% thoroughbred (cf. webpedigree)
HIS SIRE, DIAMANT DE SEMILLY : The Best Stallion ever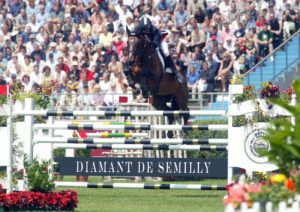 He is a son of Le Tot de Semilly, one of the best sires in the world and famous international jumping winner, and a dam by Amarpour xx.

Great showjumping winner place in CSIO and CSIW, he has been crowned World Champion with the French team and 9th in the individual ranking (WEG Jerez 2002), French Champion 2002, Team silver medal at the 2003 European Championships, Winner of the 1999 French 1st Category jumping criterium. ISO 184.

BEST STALLION EVER
He has been placed very quickly ELITE STALLION and best one in France. Then his fame spread worldwide and since 2007 he has placed among the best 30 Sires of showjumpers. For the eigth year in a row, he has placed in the Top 3 of the jumping Sires World Ranking and named BEST SIRE of showjumpers Worldwide in 2015 & 2016 (WBFSH).
88% of his offspring which has competed in showjumping in France has been indexed >100 and 360 has an index ISO >140, like Quickly de Kreisker ISO 183. Abroad, the list is also very long : more than 200 have competed in 1,60m CSI classes like Dominator, Don VHP, Elzas, Emerald, Mumbaï, Utamaro d'Ecaussines…
Diamant is also placed among the Best Sires of the World of Eventing winners (6th in 2020 and 2021 – WBFSH rankings). He is the sire of Toledo de Kerser (ICC 170, team Olympic Champion and 2nd in the individual in Tokyo OG 2021 and team World Champion in Tryon WEG 2018), Viamant du Matz (ICC 161,  Tokyo OG), …
Best Sire of showjumping Sires worldwide (WBFSH 2019, 2020 & 2021)
Diamant de Semilly is the only Sire which pass on so many QUALITIES to his offspring with such CONSISTENCY: easiness, willingness, strength in the back and in th hocks, scope, balance, blood…
HIS 1st DAM, NORMANDY NIGHT : filly of the thoroughbred Night and Day, great international showjumping winner herself
Normandy Night his a filly of the wellknown thoroughbred Night and Day,  great international showjumping winner, she won many Puissances, jumping 2,25m. ISO 154. Then she produced :
♦ 1992 Eloïse de Semilly, ISO 140, CSI 1,60m, JEM Jerez 2002
         • 2003 Pilot – CSI 1,60m
         • 2007 Delilah Z 1,45m
                    • 2011 Empress EH Z  1,45m
                    • 2014 Empire EH Z 1,45m
♦ 1992 Ellena de Semilly, ISO 110
          • 1999 Lerida de Semilly, ISO 114
          • 2004 Qaline de Vizy, ISO 116
          • 2006 Swany de Vizy, ISO 135
• 2012 Cyrius de Vizy, ISO 113
♦ 1992 Erosia de Semilly, ISO 114
          • 1998 Kiss Me de Semilly
                    • 2007 Gay Lord Della Rivabella 1,45m
                    • 2007 Axel Moito 1,45m
♦ 1993 Frisby de Semilly, ISO 121, stallion HN
♦ 1994 Hadol de Semilly, ISO 122, stallion HN
♦ 1997 Jazz de Semilly, ISO 124, stallion privé exported to Ecuador
♦ 1998 Kolorado de Semilly ISO 134, stallion
♦ 1999 Lorina de Semilly
          • 2009 Vanilla Semilly, ISO 111
          • 2010 Alaska Semilly, ISO 118 stallion SF exported to Estonia
♦ 2000 Magic Night's Semilly
          •2007 Quanta D' Ysenbeeck Z 
                    •2011 Javanais d'Ysenbeeck Z  1,45m

HIS 2nd DAM, FABULEUSE : dam line of several CSI winners and of the stallion Funchal de Semilly
FABULEUSE has also produced :
♦ 1976 Kollinor, ISO 134
♦ 1980 Ophelie du Chemin, ISO 120
          • 1986 Ultimée du Chemin, ISO 143, IE SO
                    • 1993 Féline de Semilly, ISO 142
                    • 1993 Flower de Semilly , IE SO, ISO 138
                    •1993 Funchal de Semilly, ISO 153, stallion HN
♦ 1987 Vermée, ISO 118
                    • 1995 Hula Jourdanière, ISO 116
                    • 1996 Isis Jourdanière, ISO 135
                    • 1998 Kim Jourdanière, ISO 135
HIS 3rd DAM, MAZURKA
MAZURKA, has also produced :
♦ 1961 Reine de Normandie
♦ 1971 Flots du Linon, stallion  HN
♦ 1976 Kasai du Linon
                    • 1980 Opale du Linon, ISO 134
♦ 1980 Olympe du Linon
                    • 1986 Ukraine du Linon, ISO 121
                    • 1987 Vodka du Linon, ISO 120
                    • 1990 Chapska l'Enchanté, ISO 134
♦ 1963 Triboulette, ISO 114
♦ 1973 Hérica, ISO 130
INTERNATIONAL SHOWJUMPER WHICH HAS BROUGHT HIS YOUNG RIDER TO THE TOP LEVEL, UP TO THE OLYMPIC GAMES AND THE WORLD EQUESTRIAN GAMES. ISO 169

• Silver medal in individual and team at the Asian Games
• Participation in the Beijing Olympic Games under the saddle of the youngest rider
• Participation in the World Equestrian Games in Lexington
• 5th in the World Cup GP and 4th in the GP at CSIW Qatar
• 5th in the World Cup GP at CSIW Damascus
Other performances
In 2012 : he keeps improving his ISO index :  ISO 169 ! 12th of the World Cup Grands Prix in the CSI4* of Al Ain and Abu Dhabi, 13rd GP CSI2* Auvers, 17th GP CSI3* Arezzo, …

In 2011,

 

3rd of the GP in Abu Dhabi CSIW*** !

In 2010,

 

6th in the World Cup GP of

 

Dubaï

 

CSI****. Double clear round in the Nations Cup of Abu Dhabi CSIO*****, 4th for the Emirates. 3rd in the GP of Palaiseau CSI**.

 

After the

World Equestrian Games in Lexington

, Kalaska de Semilly and Shaikha Latifa Al Maktoum, with their great experience acquired, win the

 

Asian Games Silver Medal in equestrian individual jumping

!

 

(Let's read the article of theSilver Team medal on

 

GulfNews)

 

They also triumphed in a tense jump-off and won a merited

 

Team Silver Medal during those 16th Asian Games 

!

 

(Let's read the article of theSilver Team medal on

 

GulfNews)
In 2009, 8th in the GP and 4th of a 1,45m class in Marseille CSI****, 9th in the GP of Vejer de la Frontera CSI***, 10th in the World Cup GP of

 

Dubaï

 

CSI***.

In 2008, Kalaska

 

took part in 

Beijing Olympic Games

under the saddle of the youngest rider and with the one he didn't come down at all in estimation (let's see the video above !). He is also ranked 6th of Wisbecq CSI*** GP, 8th of Berchères sur Vesgres GP, 10th Deauville GP, …

In 2007, after an excellent showjumping season in the Emirates (5th of the World Cup GP and 4th of Qatar CSIW GP, 5th of the World Cup GP at Damas CSIW) and in Europe (5th of the Normandy Horse Show GP), he has been qualified for

 

Bejing Olympic Games

 

!

In 2006, he wins the

 

Bronze Medal with Dubaï team

at Doha Asian Games, well remarked with the score for Dubaï (0/4) with the young Sheikha Latifa Al Maktoum.

At 5 and 6 years old, qualified for the French final. Very demonstrative in the 7 YO classes, he has been exported to Dubaï where he is ridden by sheika Latifa Al Maktoum and comes back regularly to France to train with Eric Levallois.


4 years old French Champion in 2002

.

2nd of the French 3 Y.O. stallions championship, in 2001.
KALASKA DE
SEMILLY
________________________________________ 

Good production
in showjumping and eventing.
Kalaska de Semilly is placed 25th Best Sire of showjumpers in France in 2019. He is also wellknown worldwide ! Paul Schockemöhle believes in Kalaska de Semilly and 20 mares of his breeding have been covered by this stallion in 2014. In Germany, a son of Kalaska de Semilly, Ketanou has been approved Oldenburg stallion in 2013, approved Hannovarian stallion in 2014 and won the 2014 stallion test in Germany with an amazing total score of 9 out of 10 in jumping !
Cf. http://www.reiterrevue.de/news/aktuelle-meldungen/Ketanou-siegt-im-70-Tage-Test-2531704.html
In Belgium, the owner of the wellknown Clinton and "van de Heffinck" breeding, Hubert Hamerlinck, has trusted Kalaska till the beginning and has been rewarded with a very nice stallion BWP approved, Jamal van de Heffinck.
His offspring shows a great temperament, a very good balance and a strong back, like River Dance Semilly (CSI 1,60m), Katharina Vom Illum Ch (winner of the 1,40m CSI3* in Gorla Minore, 2019), Kalence Flying (CSI3*)…
THE BEST PRODUCTS FROM KALASKA
________________________________________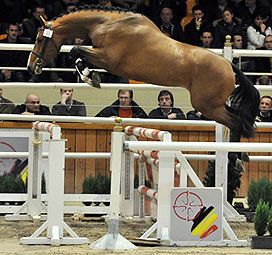 JAMAL VD HEFFINCK
Kalaska de Semilly x Cassini II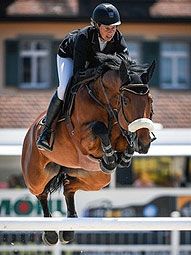 KATHARINA VON ILLUM
Kalaska de Semilly x Narcos II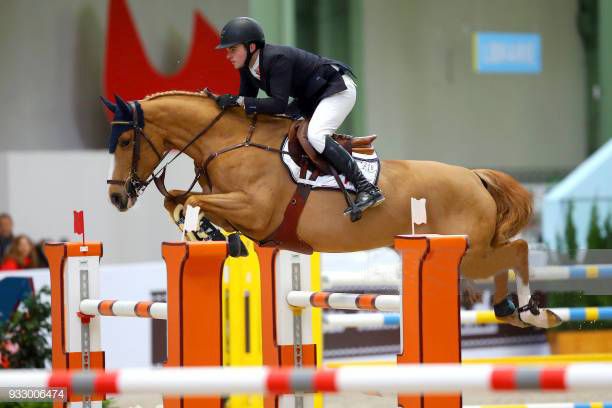 KALENCE FLYING
Kalaska de Semilly x For Pleasure
KETANOU
Kalaska de Semilly x Corrado I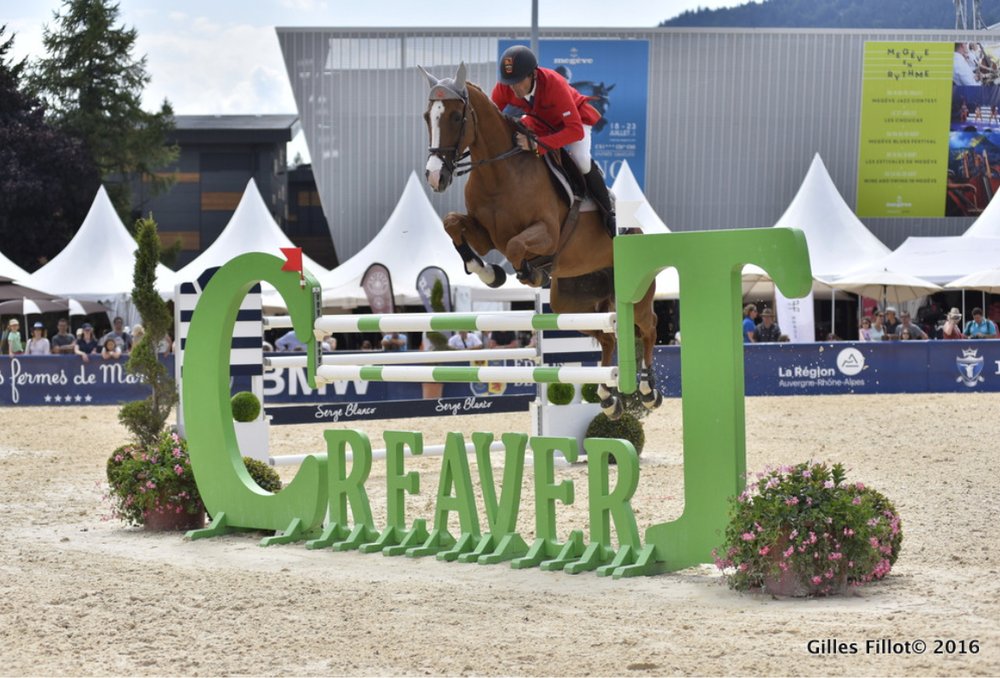 SERPENTINE
Kalaska de Semilly x Matador du Bois
RIVER DANCE SEMILLY
Kalaska de Semilly x Ulior des Isles
RIVER DANCE SEMILLY
Kalaska de Semilly x Ulior des Isles
Further information
In France, we noticed the results of Alaska du Barry winner of the 2YO stallions selection Saint-Lô 2012 ISO 114 ; Bamba du Jade Best filly of 2011 Normandy Horse Show ; Calin d'Espoir 2nd of the young males and Calix de Vains 2nd of the old males of the 2012 foals championships of La Haye Pesnel ; Rêve de l'Yserand ISO 117 ; River Dance Semilly ISO 151 ; Robi ISO 126 ; Sabra de Ravel ISO 125 ; Safran d'Argonne ICC 136 ; Saga de Grandry ISO 131 ; Samy ISO 116 ; Santana d'Alauna ISO 120 ; Saphir Del Sol IDR 123 ; Saphira de Savigny ISO 129 ; Scoop de Riverland is ranked 2nd of the 4YO Inter-Regional show of Pau 2010 ISO 119 ;Segur de Savigny ISO 125 ; Semilly de l'Abbaye ISO 131 ; Serpentine ISO 150 ; Skippy de l'Abbaye ISO 123 ; Socrate Landais is 4th of the 4 YO French Dressage 2010 Championships ISO 117 IDR 121; Sorbonne de Saint Fray ISO 124 ; Stella du Mazes ISO 122 ; Tess Elora ISO 116 ; Tinca du Houlbec ISO 118 ; Tosca Chatelier ISO 115 ; Ulexite du Soleil ISO 127 ; Ultra Kalaska Pierre ISO 123 ; United du Fraka ISO 117 ; U Two des Sansons ICC 113 ; Ulasko du Gue ISO 113 ; Vanilline d'Aurel ISO 125 ; Vega Dance Semilly ISO 118 ; Veloce de Riverland ISO 137 ; Velvet Castelforte ISO 122; Veynus de Beauval 4th of the 3 YO fillies in Verquigneul 2012 ISO 121 ; Vick de la Poulinière ISO 122 ; Vidy de la Pouliniere ISO 132 ; Vinipus de Monty ISO 116 ; Virtuose de Fritot ISO 124 ; Voluté de Nantuel ISO 130 ; A Ma Violette ISO 128 ; Adage du Vernay ISO 139 ; Air Kiss de Remicha ISO 120 ; Aita d'Am ISO 130 ; Al Bahie ISO 136, Alaska de Favi ISO 132 ; Alaska de Valbourg IPO 154 ; Alaska des Bruyere ISO 129 ; Alaska du Bary ISO 118 ; Alaska du Gast ISO 123 ; Alaska du Tilia IPO 150 ; Alaska West ISO 121 ; Alban du Chateau ICC 121 ; Alegria du Chêne Rond ISO 131 ; Altesse de Vernoy ISO 124 ; Amber Sweet ICC 129 ; Ambre d'Ermisserie ISO 136, Amigo des Fontaines ISO 134 ; Argentina Chevrier ISO 146 ; Asmara ISO 137 ; Aster de la Palatie ISO 113 ; Athos d'Ermisserie ISO 119 ; Atlanta de la Cense ISO 116 ; Aurassio de Flali ISO 118 ; Avril d'Odana ISO 119; Badianne du Montceau ISO143 ; Baghera d'Oz ISO 146 ; Bahia de Flot ISO 132 ; Balaika Flower ISO 133 ; Balaska de Beaupre ISO 120 ; Balaskala des Aigles ISO 115 ; Balaska des Aleurs ISO 133 ; Beauty des Isles ICC 131 ; Beauty du Tertre ISO 119 ; Becebege de St Eloi ISO 118 ; Bellagio des Brumes ICC 122; Bianka des Bruyere ISO 121 ; Biscotto ISO 123; Bomec Kervec ISO 113 ; Brooklyn des Marions ISO 128 ; Brume de Champrine ISO 123; Cadence d'Antinea ISO 120 ; Calaska de Beaufour ISO 129; Canaska du Park ISO 143 ; Carabosse Saint Clair ISO 136 ; Carlton du Layon 122 ; Cassepierre ISO 126 ; Coco Chanel Bougaux ICC 116; Constance d'Rouvieres ICC 137 ; Crescendo Sainte ISO 134 ; Daizi de Beaufour ISO 121, Dakota de la Palatie ISO 119, Deus Dei Ka ISO 117; Doc du Fenouillet ISO 128, Dragee de Mont Royal ICC 121 ; Dune du Fresne ISO 134; Eroine du Rio ISO 127 ; Eva du Mesnil ISO 120; Extra de Fougnard ISO 130, Fattaan ISO 119; Fearghas de Ffrajus ICC 121 ; Gini de la Cense ISO 117 ; Quayed du Champ du Bois ICC 115, Kolorado Springs Z ISO 115 ; Kalence Flying CSI3* ; …
More products from Kalaska
Kalaska's offspring presents good balance, suppleness, energy, strong backs well attached, lovely easy temperaments and very good jumping techniques (careful, with a very good back movement). He fits perfectly well with tall mares with length.
CAPABLE OF BRINGING HIS
YOUNG RIDER AT THE OLYMPICS
EASE
WILL
STRENGTH
FLEXIBILITY
HEALTH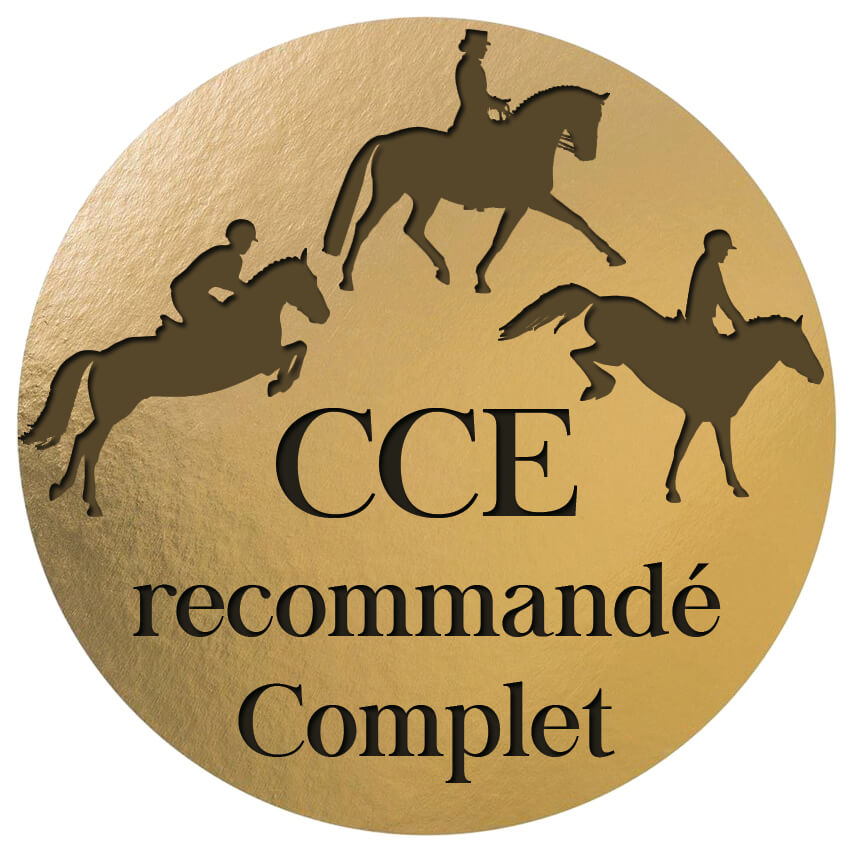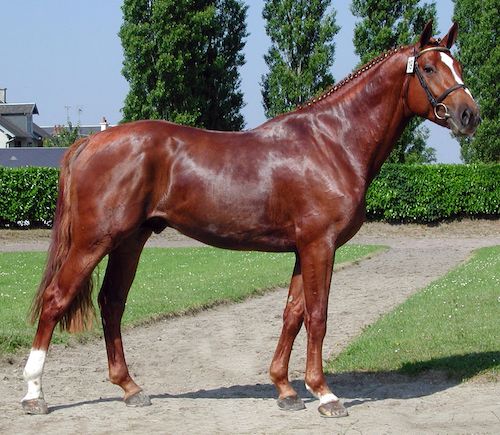 KALASKA DE SEMILLY
2023 COVERING CONDITIONS – France

You can bring your mare to France for being inseminated.
In this case, the stud fee is divided in two parts :
220 € at booking + 900 € when the mare is pregnant 
Live Foal Guarantee
 Frozen semen
At Haras de Semilly, the inseminations and scans are included.
Sales conditions –  France   🇫🇷
Further information
It is also possible to send frozen and/or chilled semen to another french AI center (shipping costs to add).
KALASKA DE SEMILLY
2023 COVERING CONDITIONS – EXPORT

Towards foreign countries, we can send you the semen directlyvor through our broker if there is one who works for us in your country with 2 different options:
COVERING SALE

1100 € Live Foal Guarantee
OR
SEMEN SALE
1100 € for 3 straws
sold under contract (ICSI, live foal guarantee, taxes, shipment and cost for the health certificate excluded). 1 dose is sold with 1 Breeder's Certificate and a maximum number of 1 foal born.
For ICSI, thank you to send us an email at contact@semilly.com

The doses' quality is certified by Eurogen and Kalaska de Semilly has excellent fertility.
ISO : Showjumping Index
ICC : Eventing Index
IDR : Dressage Index
IE : exported horses ranked in international classes CSI /CSIO / CSIW

100 to 120 : Good
120 to 140 : Very Good
140 to 160 : Excellent
160 and more : The Best

Generations of Horsemen in the service of breeding and equestrian sports
Haras de Semilly
Impasse de l'Hôtel Pohier
50680 COUVAINS
France
Email : contact@semilly.com
Phone : +33(0)233053144
Richard LEVALLOIS : +33(0)672887149
Sophie LEVALLOIS : +33(0)672887151