(Caretino x Lavall I x Raimond)
Holst – bay – 1,67m – 1999
❝  Legendary Champion , Casall will remain in the showjumping history with an impressive 15 victories in 1,60m Grand Prix CSI5* and rankings in all the big championships of the last past years under the saddle of Rolf-Goran Bengtsson. Casall rises up the ladder of the World Sires rankings. He is placed 3th in the WBFSH jumping sire ranking 2018-2019-2021. ❞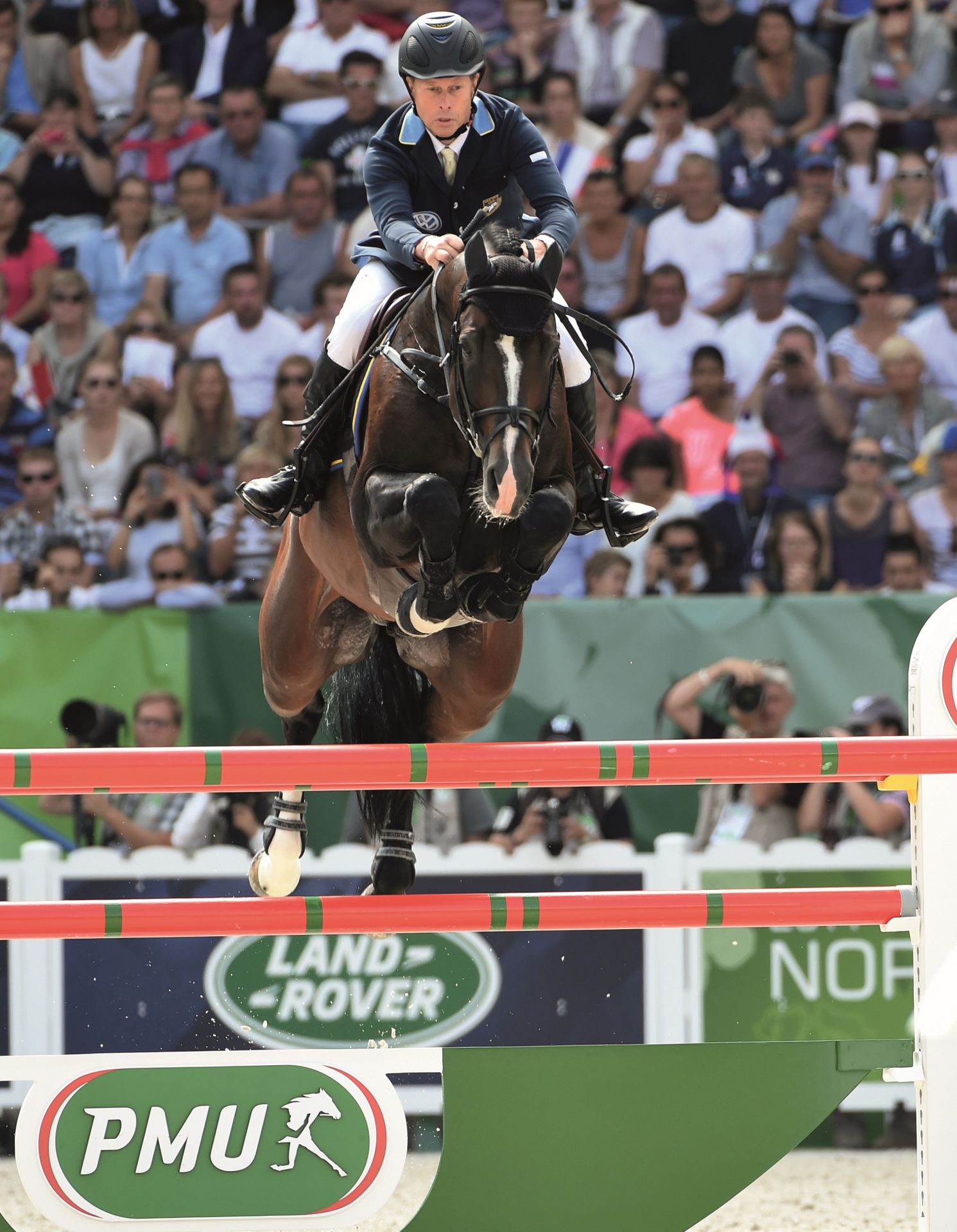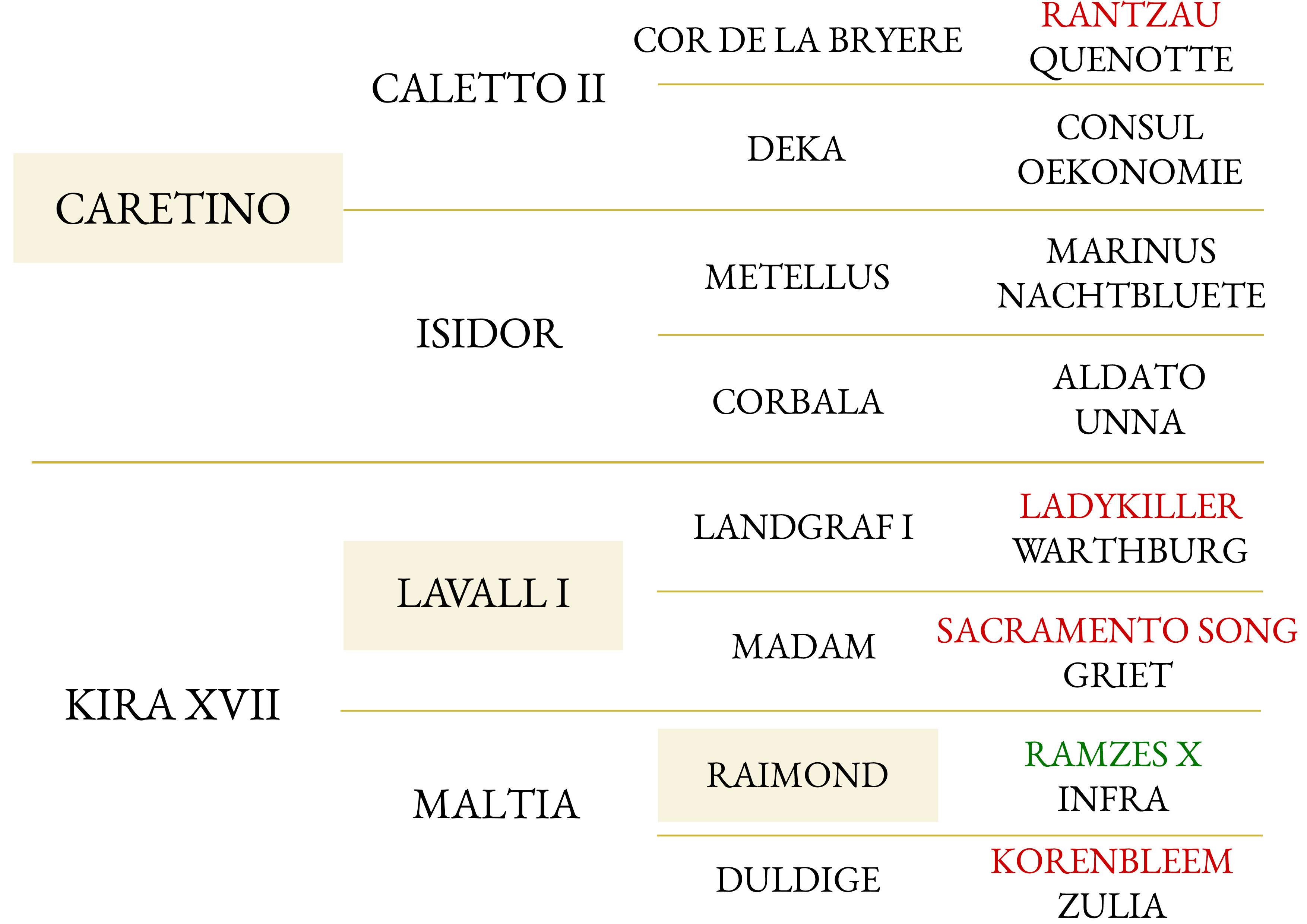 HIS SIRE : CARETINO: son of Caletto II, himself father of other great performers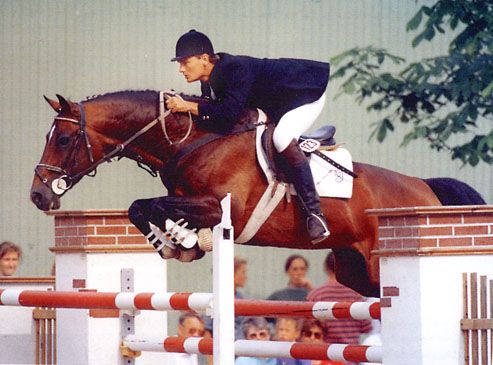 He is a son of Caletto II, sire of other great performers like Classic Touch, ranked in several CSIO in Grand Pirx and World Cups.

Caretino is doing internationals showjumping since his 7 YO. Then, since 1995, he is doing only breeding because of the big demand. In 2010, he is placed at the 4th place of the WBFSH sire ranking list.
Caretino's outstanding offspring includes many internationals showjumpers like Cristallo, 2nd of the 2007 Rome GP CSIO5* ; Caresino, Coconuts, Crocodile Dandy, Caretano Z, Chupa Chups, Varetino OH, and stallions like Casario II, Clapton VDL, Cefalo, etc.
HIS 1st DAM : KIRA XVII: has produced other stallions such as Clarence I C, perform in CSI and Clarence III C
She has produced other stallions like Clarence I C, performer in CSI and Clarence III C.
Clarence C
HIS 2nd DAM : MALTIA
She has also produced :
♦ 1981 Taura
          • 1986 Ringo Starr, stallion
          • 1990 Crocodile Dandy CSI
          • 1996 Conally, CSI5* 160
          • 1997 Cesano II, CSI 150, stallion
♦ 1984 Winja
          • 1989 Casaretto, étalon
          • 1996 Capone I, CSI5* 160, stallion
          • 1998 Capone II, étalon
          • 2000 Stamberline, CSI 160
♦ 1985 Zypresse IV
          • 1997 Pamela, CSI 160
♦ 1988 Chamonix
          • 1995 Corinessa, ISO160, CSI 160 Hubert Bourdy
                    • 19I Chimney 
                              • 2013 Cunenvio EB, ISO 135
          • 1998 Notre Dame 10, CSO 140
          • 2000 Frederic 109, Grand Prix Dressage
          • 2013 Dorinessa, ISO 127
♦ 1989 Dunja XIII
          • 1995 Caitano, CSI 160
          • 1999 Odyssee IV
                    • 2005 Carrasco, CSI 160
HIS 3rd DAM : DULDIGUE: Is Cezanne's grandmother, CSI 1.60m
From this excellent holstein's dam line n°890 is also coming from the stallion Elmshorn CSI 160, Welga CSI 160, the stallion Fair Play Coudreau CSI 150, Kokoboy Latour CSI 150, Imperio Egipcio Milton CSI 160, Belle Bleu S CSI 160, Cassilo 2 CSI 145, the stallion Regilio CSO 140, Wonderlijke Vrouw CSI 160, the famous performer stallion Eurocommerce Berlin, great winner in CSIO, …
Legendary showjumping Champion, Casall has been placed in more than 55 Grand Prix CSI5* 1,60m and won 16 victories ! Under the saddle of Rolf-Goran Bengtsson, he has also been ranked among the best Championships :

3rd of the 2016 Göteborg

 

World Cup

 

final


4th of the 2014

 

World Equestrian Games

 

at Caen

4th of the 2013

European Championnship

at Herning

6th by team at 2012

 

Olympic Games

 

in London
Casall ended his long, regulary and shinning international career with a great success in Hamburg 1,60m Grand Prix CSI5* in 2017, which was very emotional !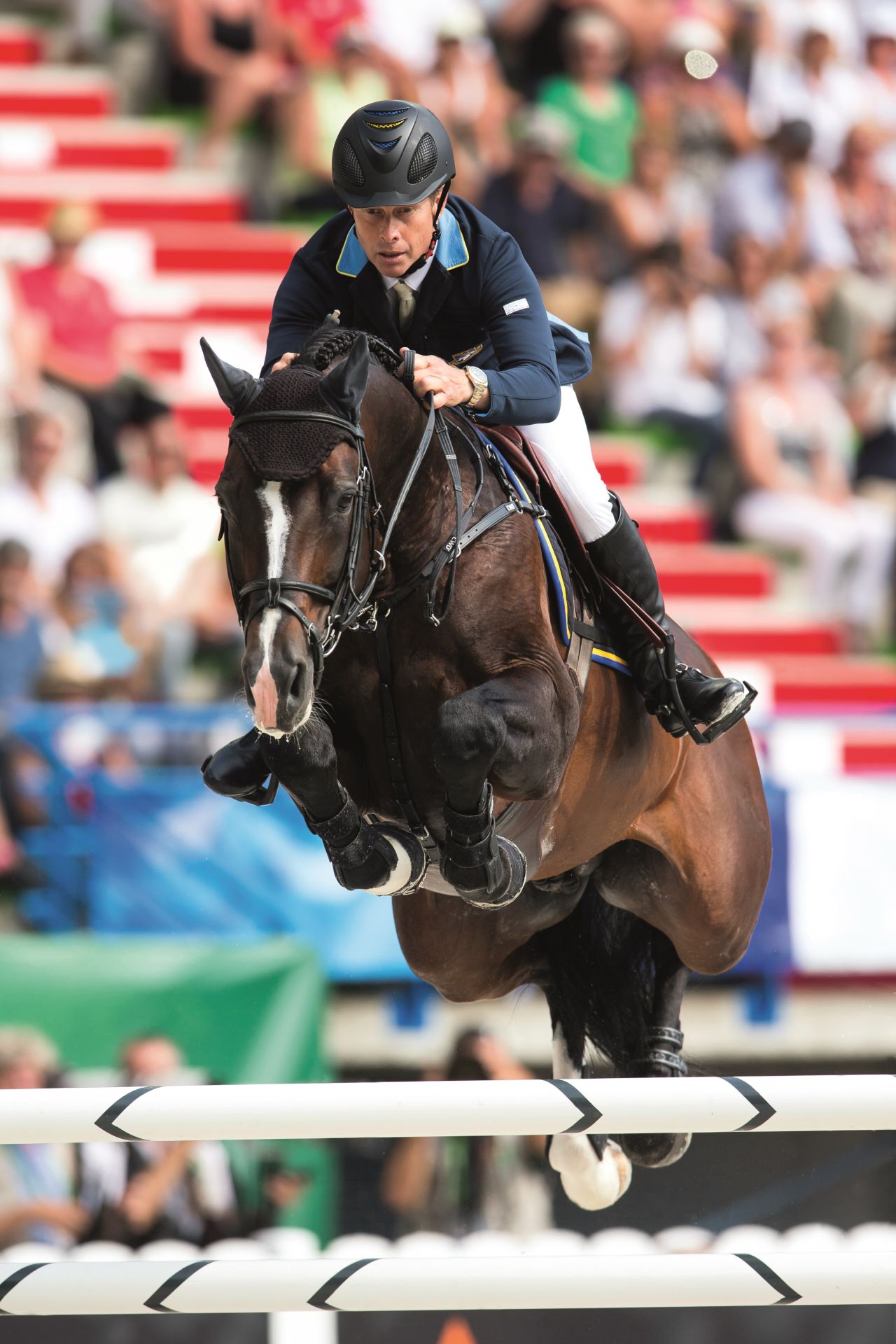 CASALL
________________________________________ 
Casall rises up the ladder of the World Sires rankings. He was placed 3th in the WBFSH jumping sire ranking 2018-2019-2021.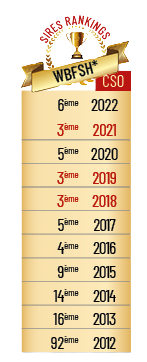 He is also the father of horses ranked in the 2018 Top100 world best showjumper : 
Casello (31e), Cita (36e), Caracas (42e); Chilli Willi (45e), Chesall Zimequest (72e).
Among his best products placed in Grand Prix CSI5*, there are especially : Ariso, Austria 2, Carpe Diem, Chat Botte du Ruisseau, Chesall Zimequest, Cochello, Cristallo A, Oak Grove's Carlyle, Chesall Zimequest with Simon Delestre, ISO 183, the stallion Casallo Z ridden by P. Bucci, Casello who went to RIO Olympic Games with Ludger Beerbaum, Caracas (1er CSIO5* Barcelone et Rotterdam 2018), Cita, Chilli Willi, etc.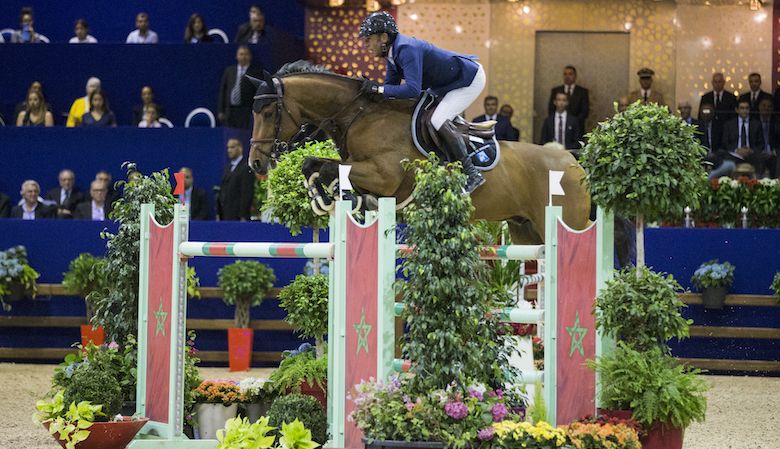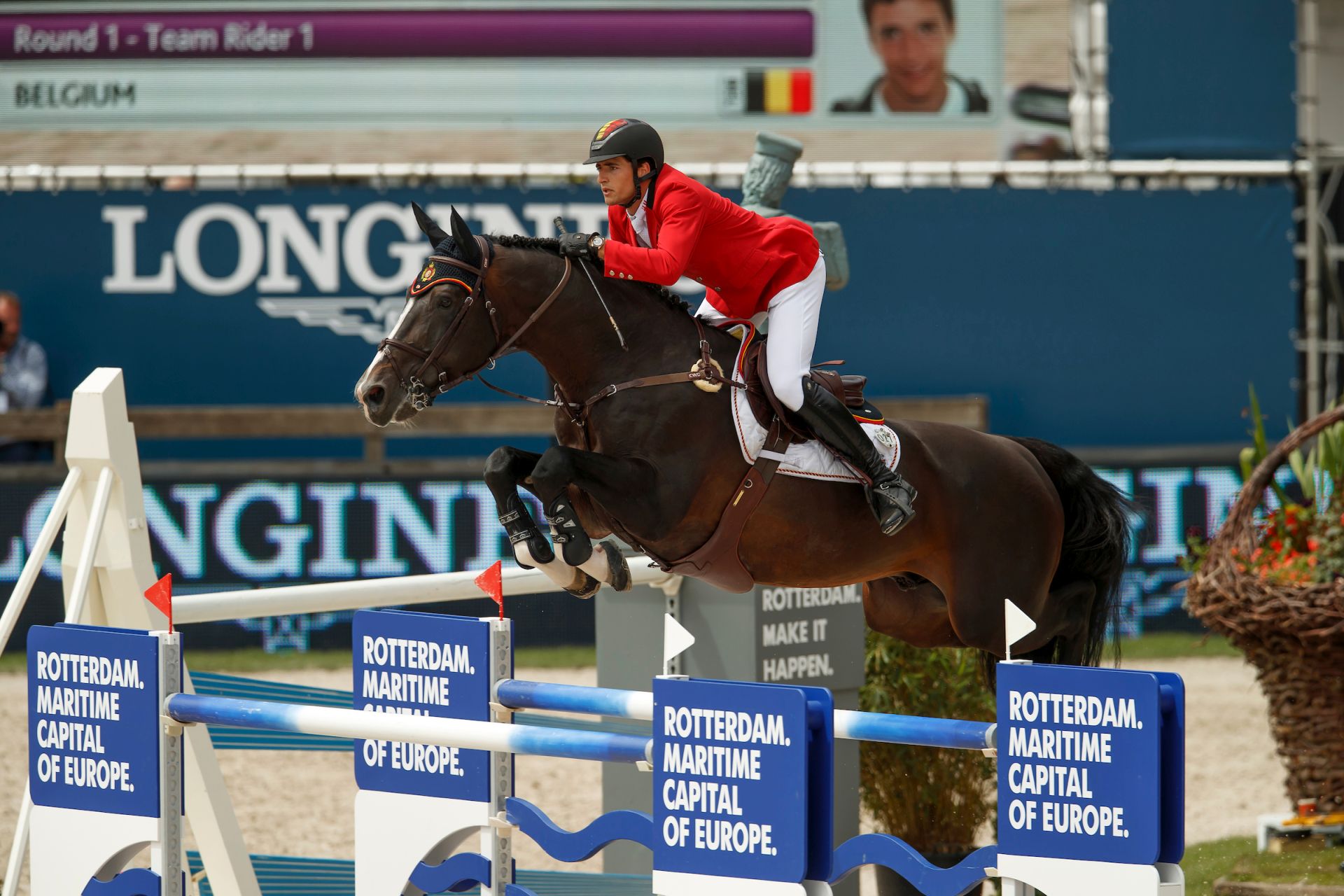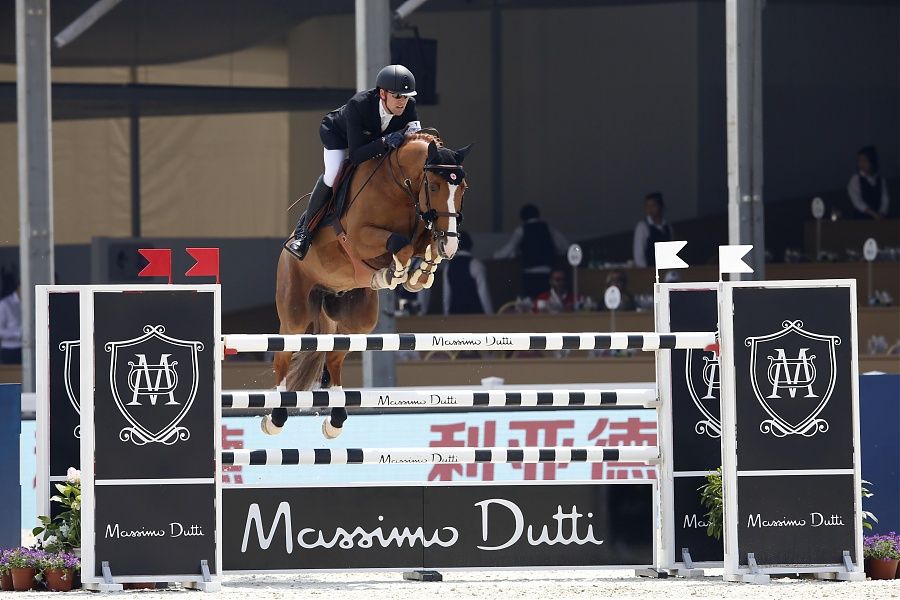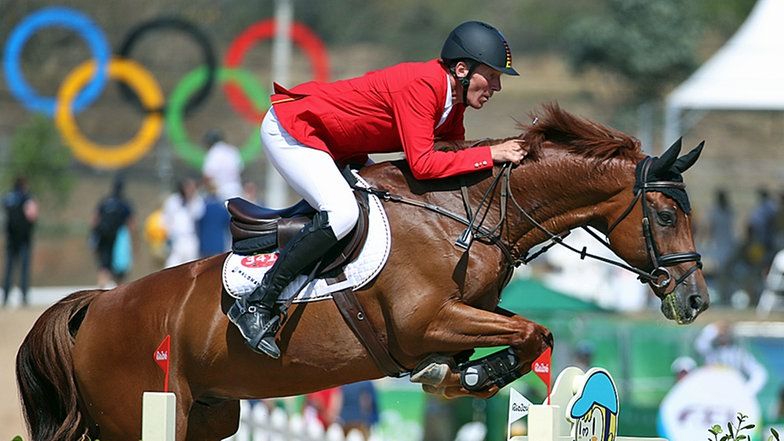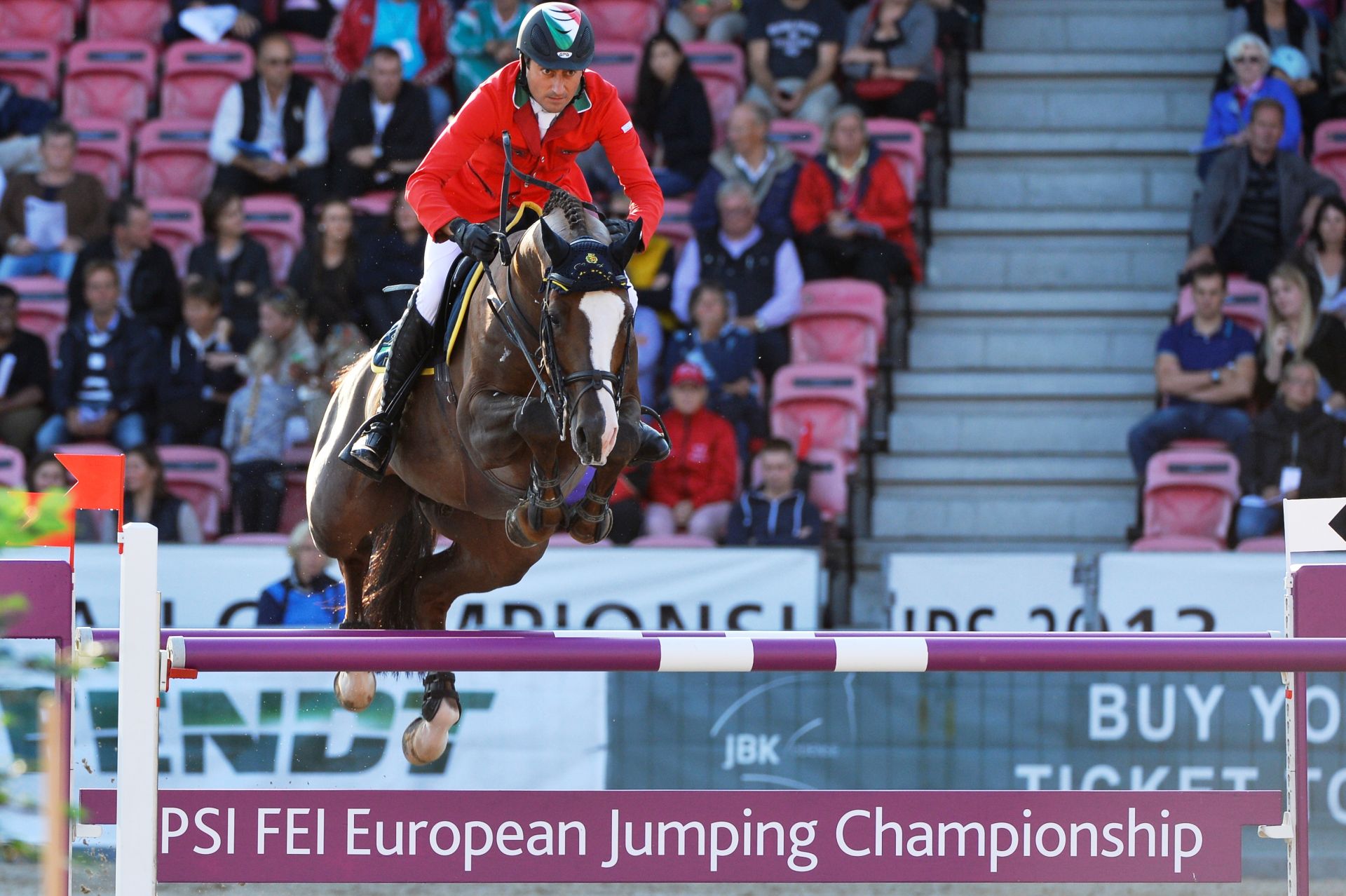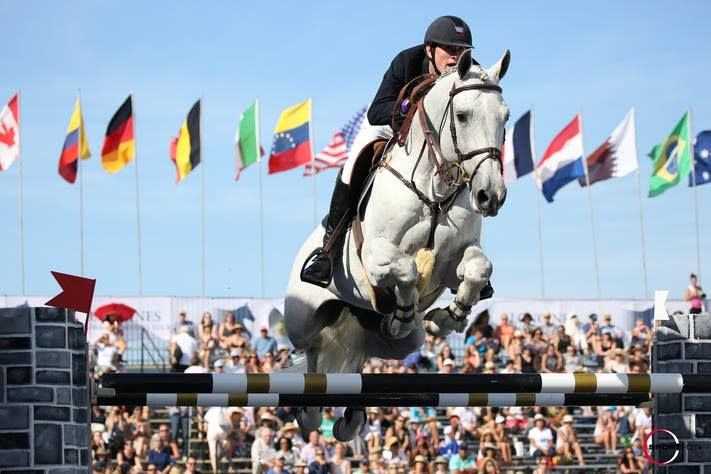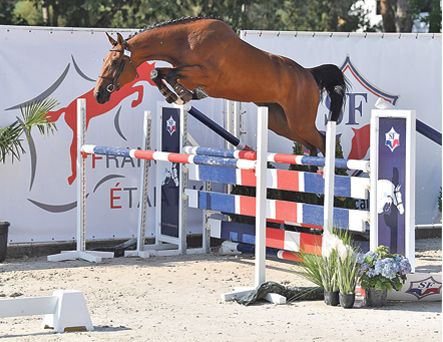 Italia de Champloue
Casall x Diamant de Semilly
1ère Championnat de France 2021 des femelles de 3 ans
Indiane Tonick
Casall x Roseau d'Or aa
1ere des Espoirs du Complet 3 ans 2021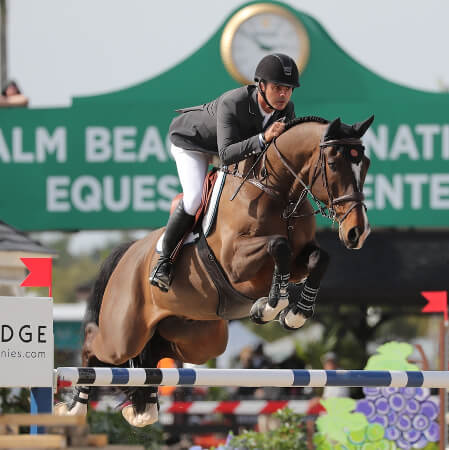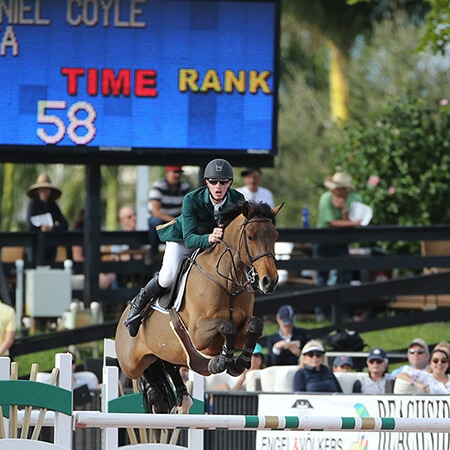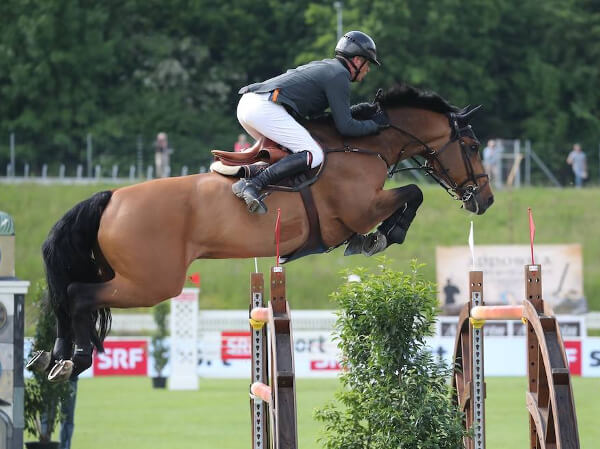 Further information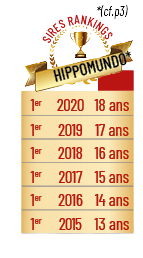 Casall is placed since 2015 in the World Hippomundo Rankings on the earnings of his offspring in CSI and selected on the age of his oldest offspring:
1st in 2020 – oldest offspring 18 YO
1st in 2019 – oldest offspring 17 YO
etc…
We also notice: Annabell I ISO 145, Cacharel V't Ameldonk Z ISO 133, Cayena ISO 136, Casa Princessa ISO 143, Casall de Fuyssieux Z ISO 150, Caballero ISO 155, Calder ISO 147, Camelot by Picobello Z ISO 130, Carington ISO 131, Carlo Van't Prinsenveld Z ISO 131, Casala de la Fontaine ISO 139, Casalor ISO 138, Candjera du Ventel ISO 136, Cassalfino ISO 140, Cordial ISO 168, Creta LS ISO 149, Cassalfino ISO 137, Charlotte 198 ISO 152, Connor ISO 148, Cresswell LVP Z ISO 138, Cristallo A ISO 174, Casual d'Authuit ISO 132, Coldplay des Premices ISO 138, Cubalibre Tuiliere ISO 132, Dream Boy d'Aiguilly ISO 144, Granada ISO 133, Gitane vt Hazelarenhoekje ISO 137, Hamlet Cooper ISO 150, Happy Girl ISO 150, Invitro du Caillou ISO 135, Istanbul VH Ooievaarshof ISO 143, Jimy ISO 146, Umea de Pleville ISO 146, Vanessa II  ISO 152, Vivaldi du Dom ISO 156, Pretty des Etains ISO 130, Zallina Floreval ISO 137 etc.
Some of his young products have been ranked in the Top10 during the France Championship of SF Foals and 2-3 YO: : Ildune du Cedreboguin (10e Foals Chp (young mares) 2018), Ilade des Chaines (8e Foals Chp (old mares) 2018), Indianapolis I (7e Foals Chp (young male) 2018). 
In 2021, Italia de Champloue won the 3YO female France Championship and Indiane Tonick won the 3YO "Espoirs du Complet".
He is also the father of: Chichester 3 (2e CSI2* Wellington 2018), Alicante, Colicchio, Compadre van de Helle, Calder, Chairman 20, Oak Grove's Carlyle, Wunschkind 19, Cassandra 285, Celeste 26, Chat Botte du Ruisseau Z, Casall (1er CSI4* Upperville 2018), Callas, Wunschkind 19 etc…
More offspring from Casall
Do we still need to present this living legend ? Casall is THE STAR who made history with an impressive track record in showjumping and placed in the top 6 best sires of showjumpers for 7 years in a row. He fits perfectly to tall mares with a long top line. 
PERFORMER AND REPRODUCTIVE
UNDISPUTED STAR
STYLE
OBLIGATE
THE RESPECT
FLEXIBILITY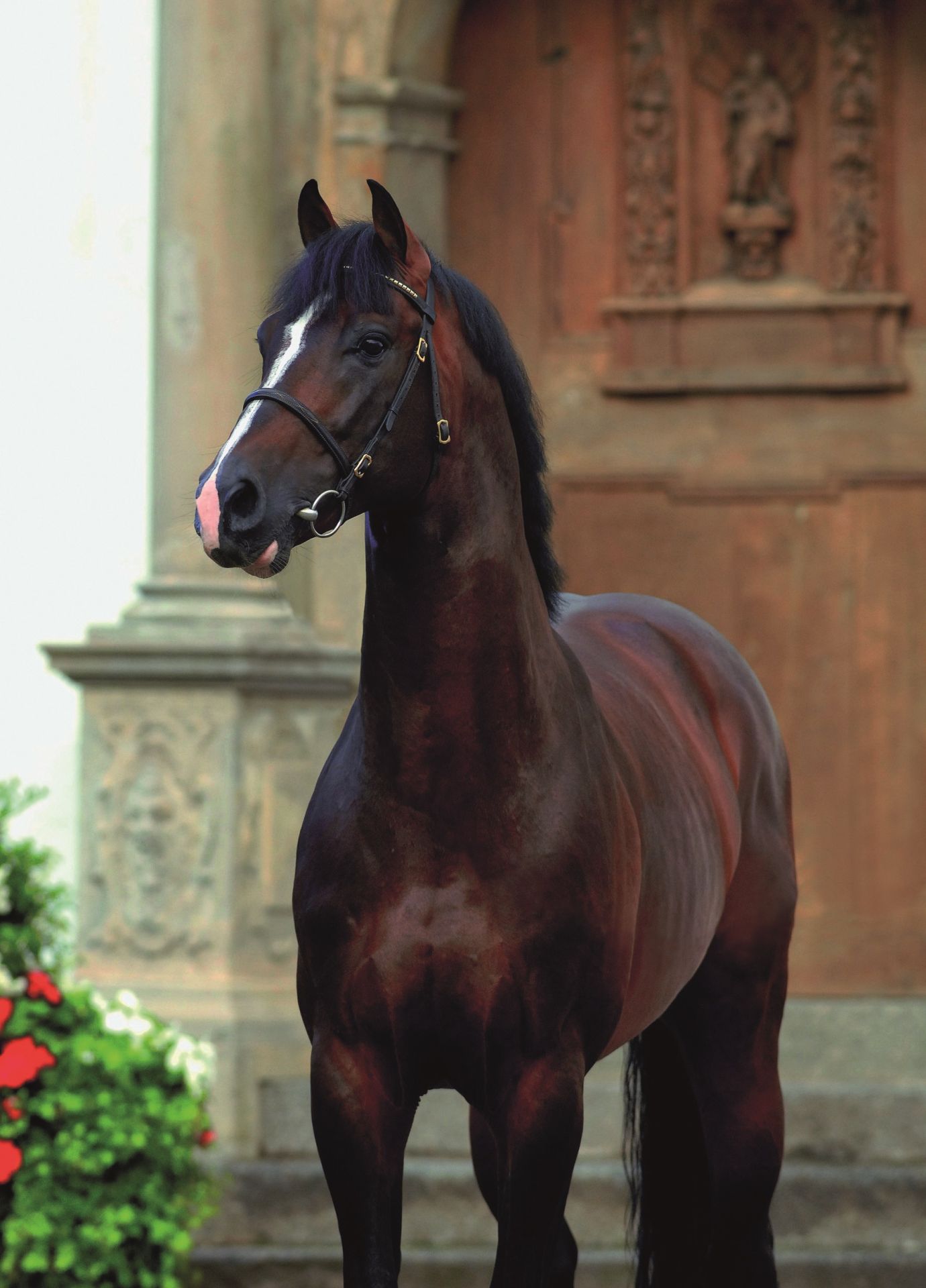 CASALL
2023 COVERING CONDITIONS – France

You can bring your mare to Haras de Semilly or Haras de Thouars, or Haras de la Nouvetière, or Haras de Flavi, or Haras du Levain for being inseminated. In this case, the stud fee is divided in two parts : 
700 € at reservation (not guarantee)
+
2 900 € if the mare is pregnant the 1st of October
Live Foal Guarantee
 Frozen semen
Further information
Sales conditions –  France  🇫🇷

Generations of Horsemen in the service of breeding and equestrian sports
Haras de Semilly
Impasse de l'Hôtel Pohier
50680 COUVAINS
France
Email : contact@semilly.com
Phone : +33(0)233053144
Richard LEVALLOIS : +33(0)672887149
Sophie LEVALLOIS : +33(0)672887151