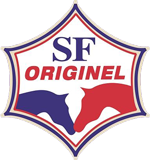 (Diamant de Semilly x Lama des Landes x J'T'Adore)
SFO – grey – 1,70m – 2006
❝  A grey Diamant with a golden heart !
Samouraï de Colchic is typical son of Diamant de Semilly, powerful, with a sane body, showing a great gallop extension, many qualities of jumping and with a excellent easy and volunteer mental.. ❞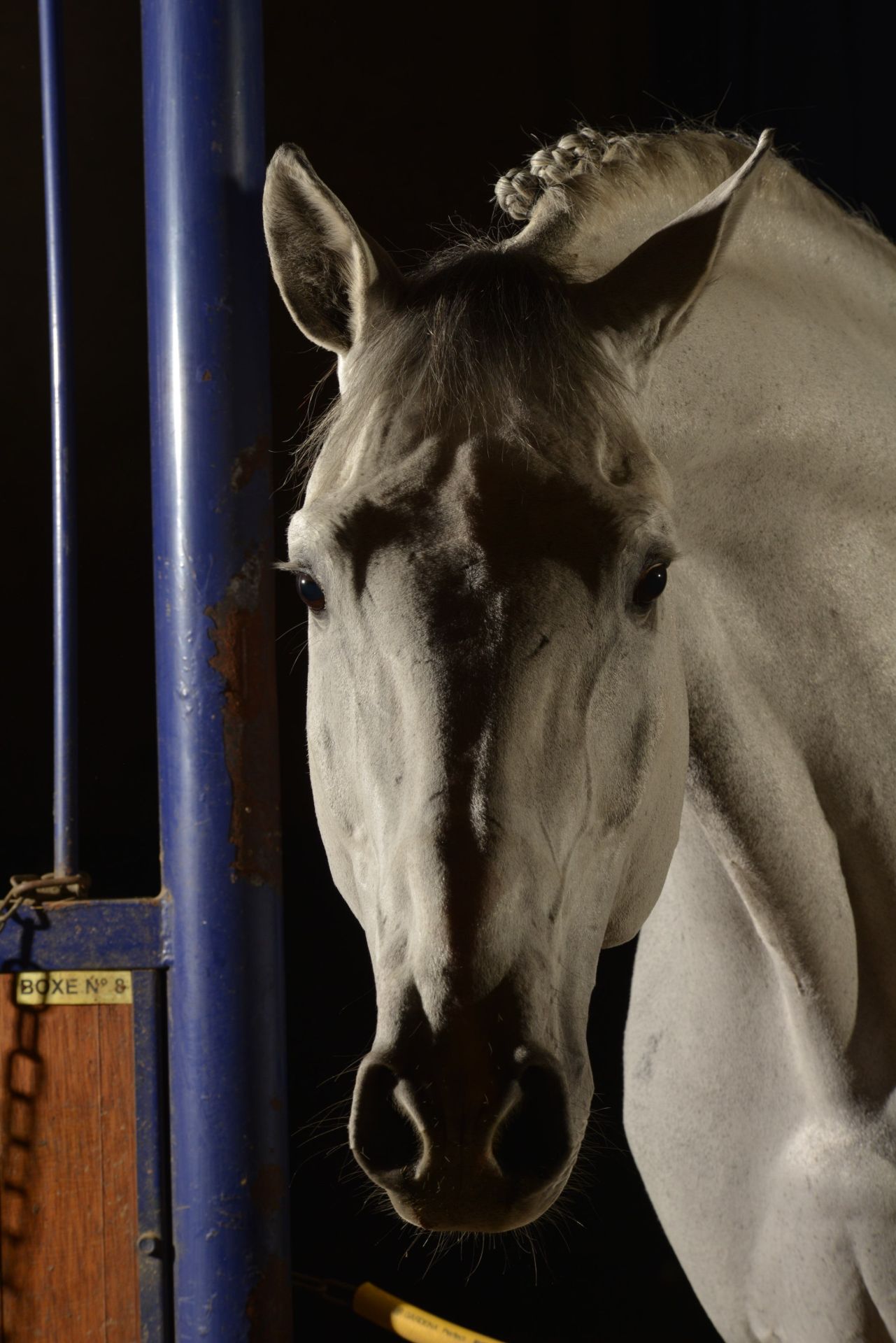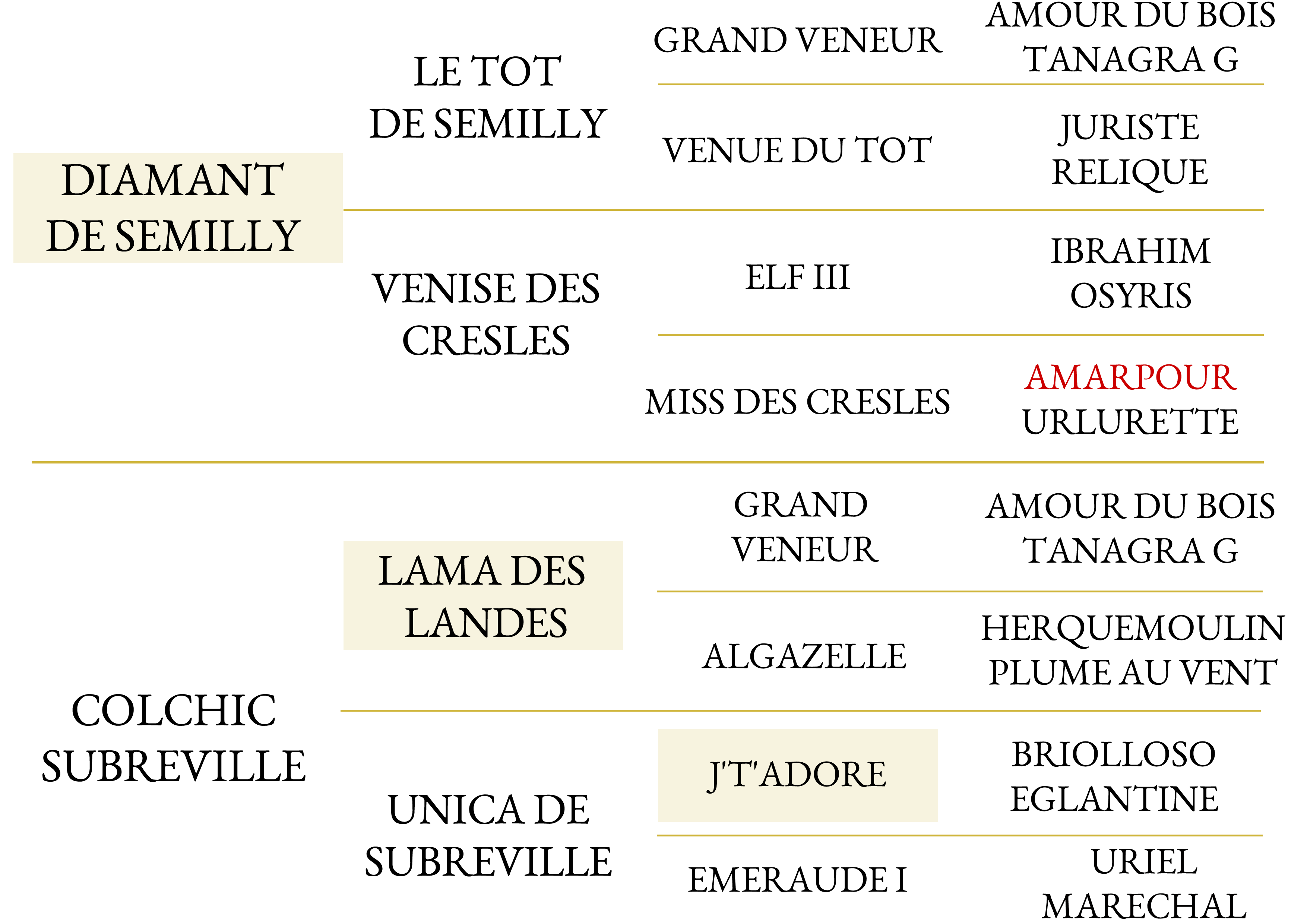 HIS SIRE : DIAMANT DE SEMILLY : Recognized Best Selle Français Stallion, exceptional performer and classified Elite stallion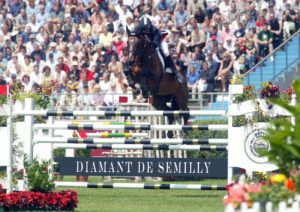 He is a son of Le Tot de Semilly, one of the best sires in the world and famous international jumping winner, and a dam by Amarpour xx.

Great showjumping winner at CSIO and CSIW level, he was crowned: World Champion with the French team and 9th in the individual ranking (WEG Jerez 2002), France Champion 2002, Team silver medal at the 2003 European Championships, Winner of the 1999 French 1st Category jumping criterium.
ISO 184.

Diamant de Semilly is placed BEST SELLE FRANCAIS STALLION, ranked ELITE with a 100% "bet value" (ANSF ranking) BSO +25 (1,00) and BEST STALLION WORLDWIDE (WBFSH showjumping stallions rankings 2015 and 2016).
He differs very significantly from all other stallions by the average value of the indices of his offspring which, with impressive regularity, has been clearly superior for many years. BSO + 26 (1.00).
Asathir (ex. Tecla d'Auge ISO 174) CSIO5* ; Deauville S CSIO5* ; Don VHP Z CSIO5* ; Dylon CSI5* ; Emerald, winner of the Sires of the World of the 7 ans 2011, vice-Champion of the World of the 6 yo Lanaken 2010, CSIO5* ; Emilie de Diamant CSIO5* ; Erenice Horta, Champion of Belgium of the 7YO 2011, CSIO5* ; Extra Van Essene CSIO5* ; Guv´nor CSIO5* ; Heliodor Hybris CSIO5* ; Ilex VP CSIO5* ISO 168 ; Inca Boy van't Vianahof CSIO5* ; Jésus de la Commune ISO 171 ; Joyau d'Opal ISO 181 ; Kalaska de Semilly IE SO ISO 169, JO Pékin 2008, JEM 2010, Silver Medal Asian Games 2010 ; Street Of Diamonds (ex-Kho de Presle) ISO 178 ; Niack de l'Abbaye ISO 175, WEG Lexington, OG London ; Obiwan de Piliere ISO 170 ; Pacific des Essarts ISO 177, CSIO5*; Picolo ISO 171 ; Piman de la Deviniere ISO 173 ; Polinska des Isles ISO 178, CSIO5* ; Prunella d'Ariel ISO 172, Normandy WEG; Quickly de Kreisker ISO 183, Normandy WEG ; Rock'N Roll Semilly ISO 174, CSIO5* ; Safari d'Auge CSI5*, ISO 167 ; Salamera de la Nutria CSIO5* ; Sunshine CSIO5* ; Toledo de Kerser ICC 170, gold medal team in eventing at the Tryon's WEG ; Tower Mouche ISO 170 ; Un Diamant des Foret ISO 166,  Utamaro d'Ecaussines CSIO5*, WEG Normandy ; Vannan ISO 166, Valentino Tuilière ISO 168, Vega de la Roche ISO 165, Venizia d'Aiguilly ISO 171, Verdi Treize ISO 167, Viamant du Matz ICC 161, Villamoura ISO 167, Vinci de Beaufour ISO 167, Vital Chance ISO 172, Antidote de Mars ISO 176 (CSIO5*), Arioto ISO 166, …
HIS 1st DAM : COLCHIC SUBREVILLE : ISO 139
She was placed in CSI1* and GP 145 ridden by steve Gasnier: 2nd of CSI1* in Brive la Gaillarde (2014), 2nd of GP 145 in Gouzon (2014). She only had one product: Samouraï de Colchic
HIS 2nd DAM : UNICA DE SUBREVIL: by Grand Veneur
ISO 142
She also only had Colchic Subreville. she was placed in National GP ridden by Steve Gasnier.
We can notice another time that the bredding of Diamant's son on Grand Veneur, repeated on the maternal origin, is a breeding that works very well (ex: Niack de l'Abbaye ISO 175 ; Jesus de la Commune ISO 171; Open Up semilly ISO 162)
HIS 3rd DAM : EMERAUDE I
Her-self indexed ISO 127, she has laso produced  :
♦ 1981 Platine IV , ISO 126
          • 1997 Joy de Platine
                      • 2006 Saxo de Joy, ISO 122
♦ 1982 Quadore II, ISO 120
♦ 1984 Si Tu Veux
          • 1995 Hella de Subrevil, ISO 139
                      •2000 Madam Ess, ISO 122
                      •2009 Very Best Ess, ISO 130
                      •2011 Babylone de Flabemont, ISO 127
♦ 1986 Unica de Subrevil, ISO 142
HIS 4th DAM : MARECHAL
She has also produced:
♦ 1966 Antigone, ISO 139
          • 1979 Nouba de Neuve, ISO 126
                    • 1991 Diamandor, ISO 124
                    • 1993 Fennec IV, ISO 129
                    • 1994 Garryl, CSI
                    • 1996 Isivon, ISO 120
          • 1981 Perle de Neuve, ISO 112
                    • 1999 Lutine de Brout, ISO 121
♦ 1968 Carina
          • 1973 Hydaspe
                      • 1986 Une des Vivreaux, ISO 126
♦ 1970 Emeraude I, ISO 127
It is ridden by his owner, Mr Steve Gasnier, that Samouraï reached the top with many placement in GP Pro 1 et CSI2*:
4th of Grand Prix 145 and 

3rd of another 145 at CSI2* Cagnes/Mer 2017

6th of the CSI2* 1,45m  Vichy 2018

2nd of CSI* 1,40m  Uzès 2016

4th of GP Pro1 Roanne 2017

5th of the GP Pro 1 Ste Cécile 2018, Macôn 2017 and Montluçon 2017

7th of the Grand Prix 145 at CSI2* Vittel 2017

7th of the CSI2* 1,45m Macon 2018 etc…
This beautiful stallion accidentally died early 2019, despite being promoted to a brillant jumping career.
Other performances
Il termine également : 9th of the CSI3* 1,50m Vichy 2017, 8th CSI* 1,40m Mâcon (2017), 9th of the CSI2* 1,40m Arnas Champburcy, 10th of the Grand Prix 140 CSI1* de Nice 2016, etc…
SAMOURAI DE COLCHIC
________________________________________ 
He begins breeding in 2019.
This typical son of Diamant, powerful, with a sane body, has a good scope, good jumping qualities with an easy and volunteer mental. He also has a similar model, well roiented, with good bottoms and a strong tied kidney.
We advice not to bring him mares with some blood of Grand Veneur.
A GREY DIAMANT
WITH GOLDEN HEART
VOLONTEER MENTAL
GREAT CANTER
STRONG TIED KIDNEY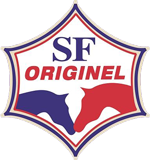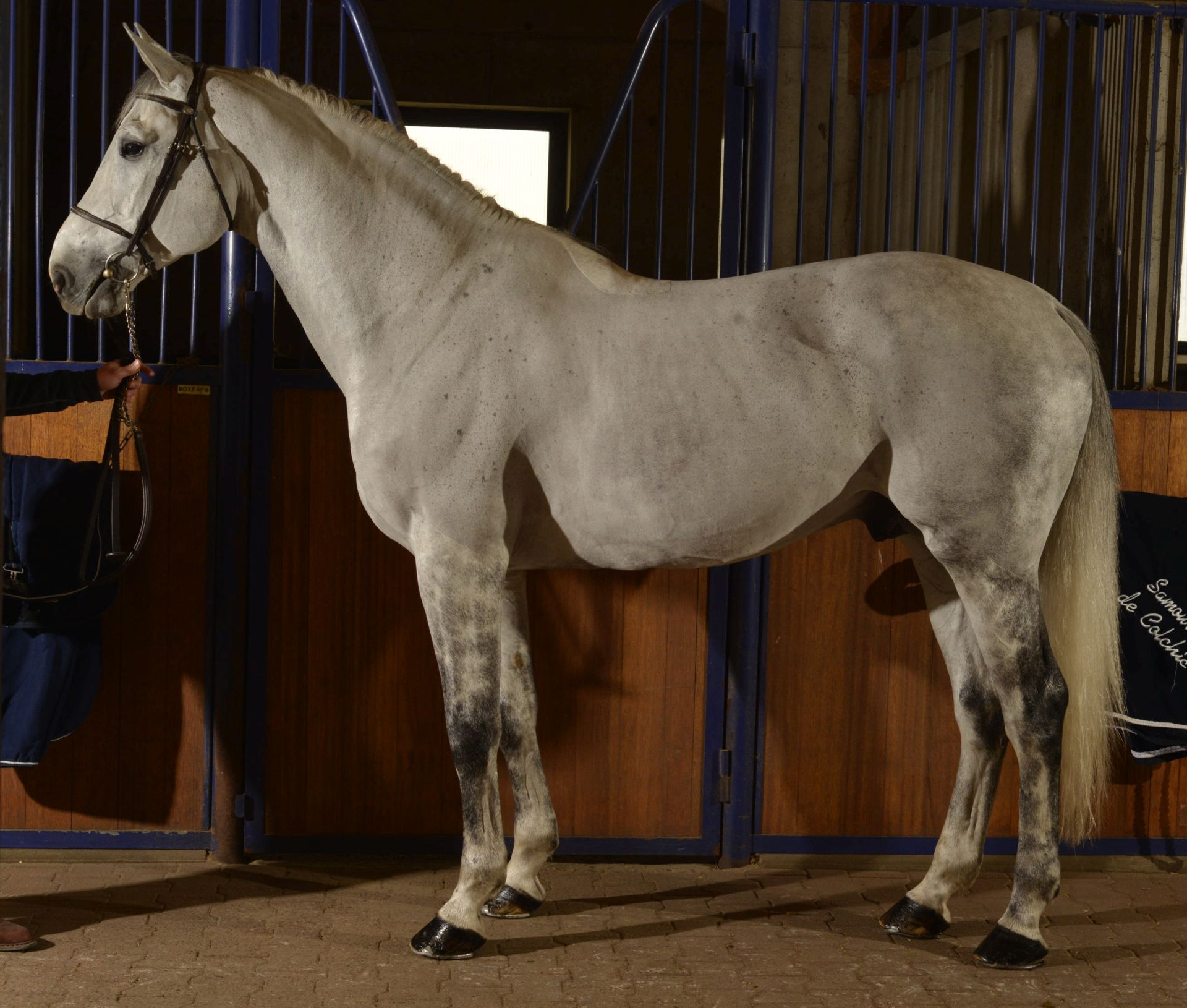 SAMOURAI DE COLCHIC
2022 COVERING CONDITIONS – France

You can bring your mare to France for being inseminated. In this case, the stud fee is divided in two parts :
200 € at reservation + 600 € if the mare is pregnant 
Live Foal Guarantee
 Frozen semen
Further information
It is also possible to send frozen semen to another french AI center (shipping costs to add).
Sales conditions – France   🇫🇷
Export conditions
Towards foreign countries, we can send you the semen directly or through our brokers if there is one who works for us in your country. For all information, feel free to contact us by email : contact@semilly.com
The doses' quality is guarantee
ISO : Showjumping Index
ICC : Eventing Index
IDR : Dressage Index
IE : exported horses ranked in international classes CSI /CSIO / CSIW

100 to 120 : Good
120 to 140 : Very Good
140 to 160 : Excellent
160 and more : The Best

Generations of Horsemen in the service of breeding and equestrian sports
Haras de Semilly
Impasse de l'Hôtel Pohier
50680 COUVAINS
France
Email : contact@semilly.com
Phone : +33(0)233053144
Richard LEVALLOIS : +33(0)672887149
Sophie LEVALLOIS : +33(0)672887151