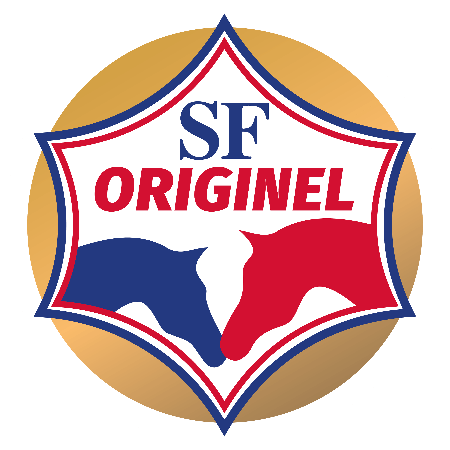 (Rosire x Quat'Sous x Grand Veneur)
SFO – chestnut – 1,70m – 2000
❝  Rosire's son with blood, Manhattan de Semilly matches up the qualities of his sire and his dam, which was also herself a great CSI winner and comes from the same damline as Le Tot de Semilly. This good looking stallion is extremely easy, supple, reactive, with strength and scope. ❞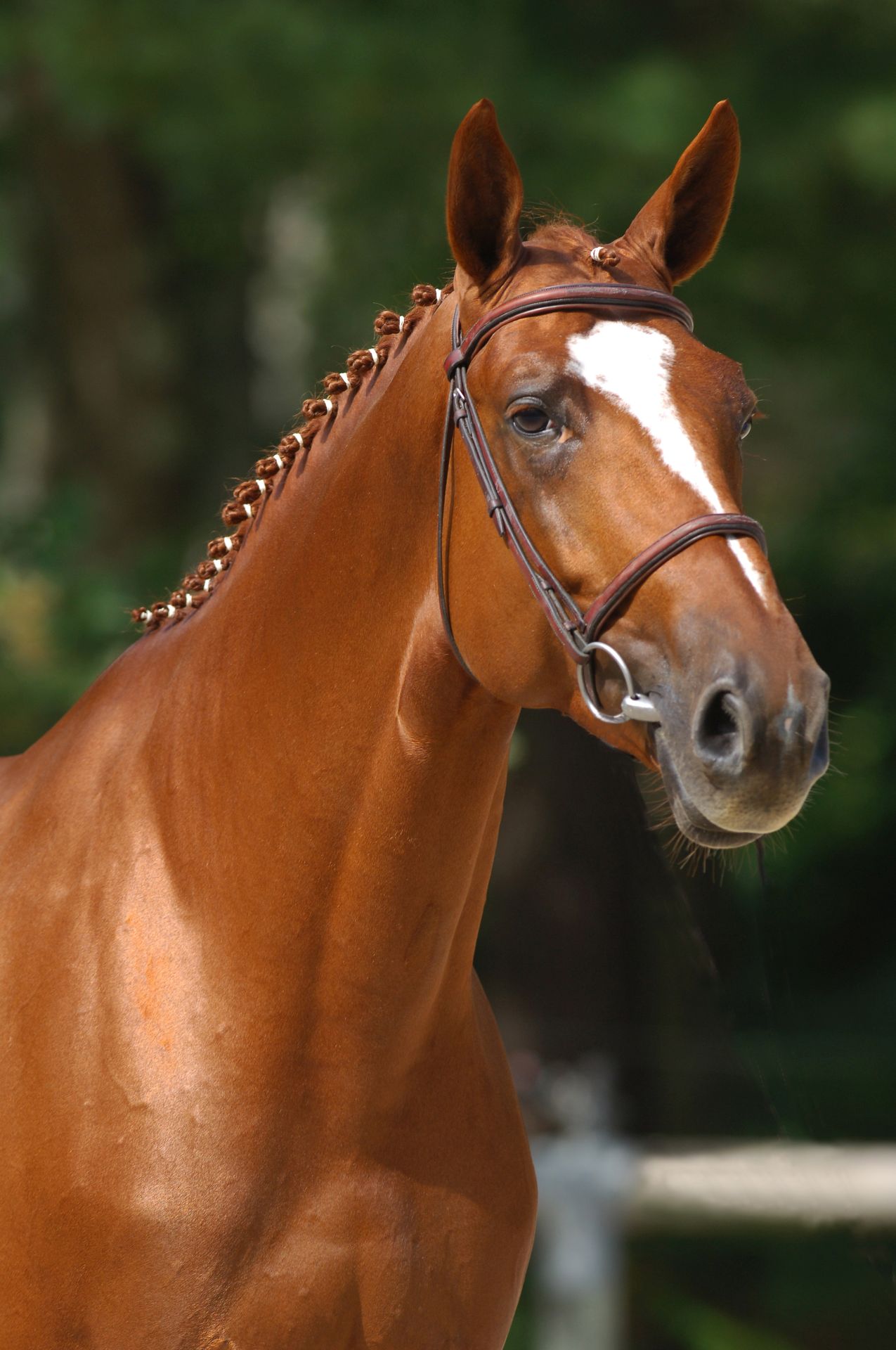 Manhattan ha a rich pedigree of 59,2% thoroughbred (cf. webpedigree)
HIS SIRE : ROSIRE : Great international showjumping winner CSIW-CSIO, ISO 177
National stallion, regularly ranked among the best sires of showjumpig winner, he has produced among the best  : Bibrahim du Moulin ISO 161 ; Billy du moulin IE SO ; Bonne Espoire ISO 167 ; Brenda Meranière IE SO ; Calino de Lezeaux IE SO ; Chanel de la Côte ISO 155 ; Crocus Graverie ISO 177 Team World Champion in 2002 ; Dandy du Bourg IE SO ; Depres ISO 165 ; Don Juan de Cuves IE SO ; El Paso Platière ISO 162 ; Elan du Thot IE SO ; Epsom de Rochefort ISO 160 ; Espoir Brécéen ISO 155 ; Espoir Herpinière IE SO ; Funchal de Semilly ISO 153 ; Gabyscion ISO 166 ; Galant de la Lande IE SO ; Ganache l'Amandour ISO 151 ; Gold de la Capelle IE SO ; Hermine d'Auzay ISO 160 IE SO ; Hiram Courcelle ISO 164 ; Hirsute Courcelle ISO 153 ; Holbein Pierreville ISO 153 ; Hosire des Chaines IE SO ; Hugo Gesmeray ISO 161 IE SO ; Ilexia ISO 153 ; Irish l'Amandour IE SO ; Isoline du Poncel IE SO ; Istar de Vesquerie ISO 152 ; Jakin Courcelle IE SO ; Jippy du Moulin IE SO ; Junior de l'Epine ISO 156 ; Kama des Cresles ISO 159 ; Kenzo du Gravant IE SO ; Kerbela de Laume ISO 154 ; Ksar de Blinière ISO 153 ; L'Amour du Bois ISO 171 ; Largo du Gravant IE SO ; Luganelle du Moulinet IE SO ; Major de la Mare ISO 154 ; Misteur des Tourelles ISO 151 ; Monjean du Vallet ISO 157 ; Nevada du Thot ISO 171 ; Nice de Prissey ISO 178 ; Nirvana Basters ISO 170 ; Palawane de Sully ISO 168 ; Petit Chef d'Orval ISO 151 ; Question d'Orval ISO 163 ; Rosira de Florys IPO 153 ; …
HIS 1st DAM : ELODIE D'AURSAYE : Great international showjumping winner, ISO 160
Great international showjumping winner, ISO 160 with a young rider, Adélaïde Malandain.
Elodie d'Aursaye had 4 foals  : Manhattan, Australia de Safray, Bahamas de Safray and, Melodie de Safray, directly used as a broodmare and who has produced Quointreau Un Prince ISO 162, 5 YO French Vice-Champion and then exported, and placed at the international level.
HIS 2nd DAM : MERINGUE : great international showjumping winner
She has also produced:

♦ 1993 Florence d'Aursaye, ISO 112
♦ 1996 Imperial d'Aursaye, ISO 117
♦ 1997 Justine d'Aursaye, ISO 125
          • 2009 Vérité Une Prince, ISO 152, CSI3* 145
          • 2010 Argon des Valdiers, ISO 111
          • 2011 Belamm des Valdiers, ISO 142
          • 2014 Ebony des Rondets, ISO 121
          • 2017 Haloue des Rondets, ISO 112

HIS 3rd DAM : IRISEE : by Calmar du Poncel son of the well-known thouroughbred Rantzau
She has also produced:
♦ 1979 Nuée du Bocage, ISO 147
          • 1991 Délia V, ISO 132
          • 1992 Eliote II, ISO 117
HIS 4th DAM : VENUE DU TOT : exceptional broodmare
This exceptional broodmare which was also the mother of Le Tot de Semilly and other stallions and very good showjumping winners.
Very regularly placed in Grand Prix Pro and CSI.
ISO 150
Among his best performances, we remind : 
Winner of GP CSI** in Cagnes sur Mer

(2014)

Winner of GP 1,45m in Massongy

(2014) 

2nd of GP Pro1 in Vichy

(2013)

3rn of GP CSI2* in Aix Meyreuil

(2013)

3rn of GP CSI* in Cannes

(2013)

Winner of GP Pro1 in Riom

(2011)

Winner of the 7YO international jumping of Riom

(2007) etc…
Others performances
Since 2015, Manhattant is still competing in CSI2* and finished 6th in the CSI2* of Arnas Champburcy 2016.

En 2015:
Manhattan is placed 2nd of a 1,45m class in Massongy CSI2*, 7th GP Pro1 Cluny, 7th GP Pro1 Vichy, 6th GP Pro2 Grimaux, etc.
En 2014:
8th of GP CSI** in Ajaccio, 6th of GP in Dommartin, etc
En 2013:
3rd of a 1,40m class in Grenoble CSI2*, 4th of a GP Pro1 Montluçon, 4th of a 1,40m class in Mantes la Jolie CSI2* , 5th of a 1,40m class in Chazey CSI2*, etc.
En 2012:
5th GP Pro2 Cluny, 6th GP Pro1 Coutras, 6th of a 1,40m class in Ste Cécile CSI2*, …
En 2011:
2nd of a 1,45m class in Cluny, 4th GP Pro1 Montluçon, 5th GP Pro1 Le Touquet, 6th of 1,45m classes in Ste Cécile and Vidauban CSI2*, 7th GP Pro1 Vichy, …
En 2010:
2010 showjumping season ends well for Manhattan by winning a class in the French Pro1 Championships at 1,45m and being 12th of the finale at 1,50m. Manhattan has also been placed : 7th of the Pro1 1,45m GP in Le Mans, 12th of 1,45m speed class in Cluny CSO Pro1, 5th of the 1,40m Pro1 GP in Olivet, 8th in the 1,40m Pro1 GP in Le Mans, 11th of the 1,40m Pro1 GP in Lignières, ….
En 2009:
He is ranked in CSI : 5th of one class and 11th in the GP at Rodez CSI*, 7th in Vittel CSI, 8th in Riom CSI**. He is also : 6th in a 1,35m speed class and 9th of Vichy 1m40 Grand Prix (cf. video below), 8th of a 1m40 speed class at Ste Cécile, 7th of a 1,35m speed class and 8th in Roanne Vougy Grand Prix, etc.
En 2008:
He is already ranked in several national and international Grands Prix : 4th of Rodez CSI* GP and 4th of another class, 3rd of the 1m45 GP of Ste Cécile, in some 1,40m GP he is ranked : 2nd at Arcachon, 3rd at Villeneuve Loubet, 6th at St Valérien, 7th at St Amand Lignières, …
At 7 YO, he is ranked in several small GP : 4th in Roanne Vougy and at the CSI* of Sandillon, 5th in Coutras. He is also ranked in Vichy's small GP and in Vittel's GP.
At 6 YO, he has done a great showjumping season, with nearly only clear-rounds and winning some 6 YO speed classes. Winner of the 6 YO Inter-Regional Finals in Normandy. Young Horses jumping classes finalist at 6YO, unfortunately not with his usual rider, Florian Angot, who was at the World Equestrian Games in Aachen at the same time. Engaged in the 6 YO classes in Paris CSI*****, Manhattan won the second class and finished 5th in the GP.
Young Horses jumping classes finalist at 4YO (ranked "Elite") and at 5YO (ranked "Excellent")
MANHATTAN DE SEMILLY
________________________________________ 
He begins breeding in 2006
BSO +13(0,82)
Among his first indexed offspring, we noticed :
Tatanka Jamaica ISO 117, Tulipe du Galeste ISO127, Une Premieredopepit ISO 126, Vahine de Querena CSI 1,55m ISO 125, Virgul de Jolymome ISO 111, Aiglon des Eygauds ISO 117,  Amour des Roussels ISO 113, Auréa des Camphoux ICC 139 ISO 118; Baccara d'Aire ISO 111; Brume de la Foret ICC 106; Cobra des Ailes ISO 111; Escorte d'Iberia ISO 111 …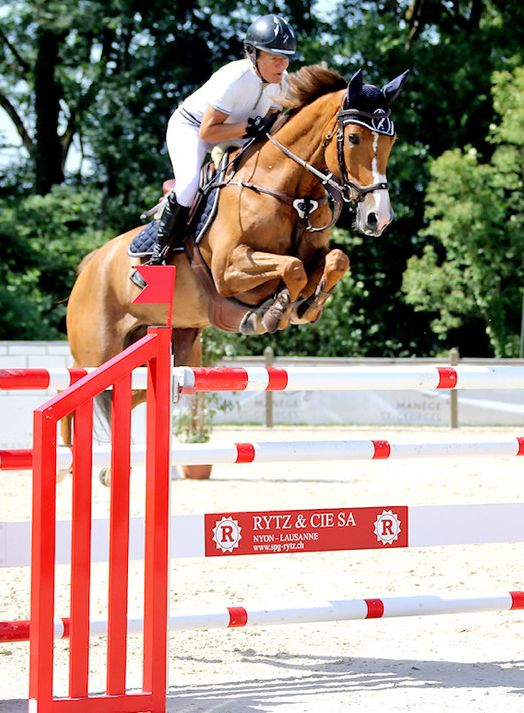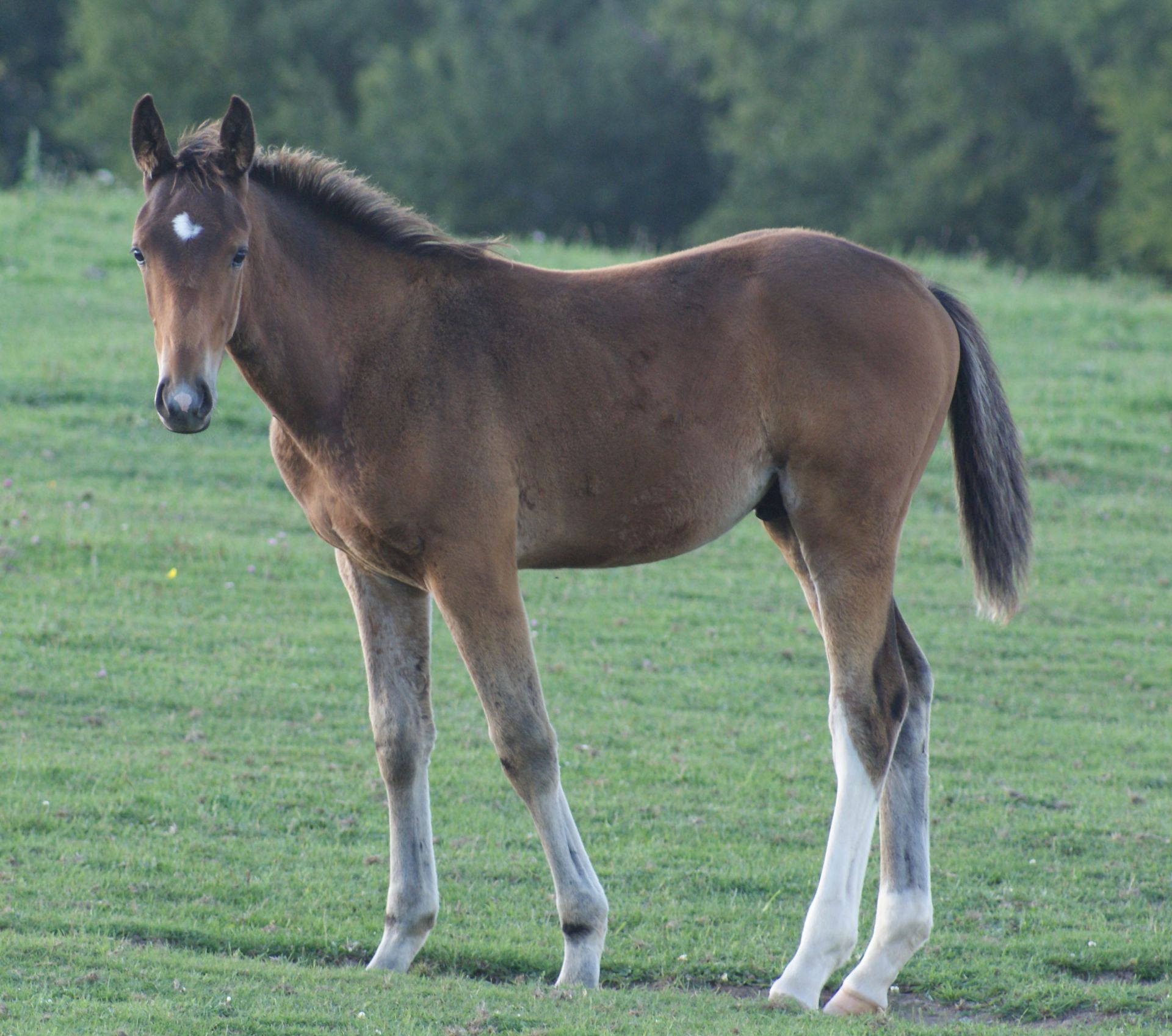 Baccara d'Aire
(Manhattan de Semilly x Feuvert de Laume)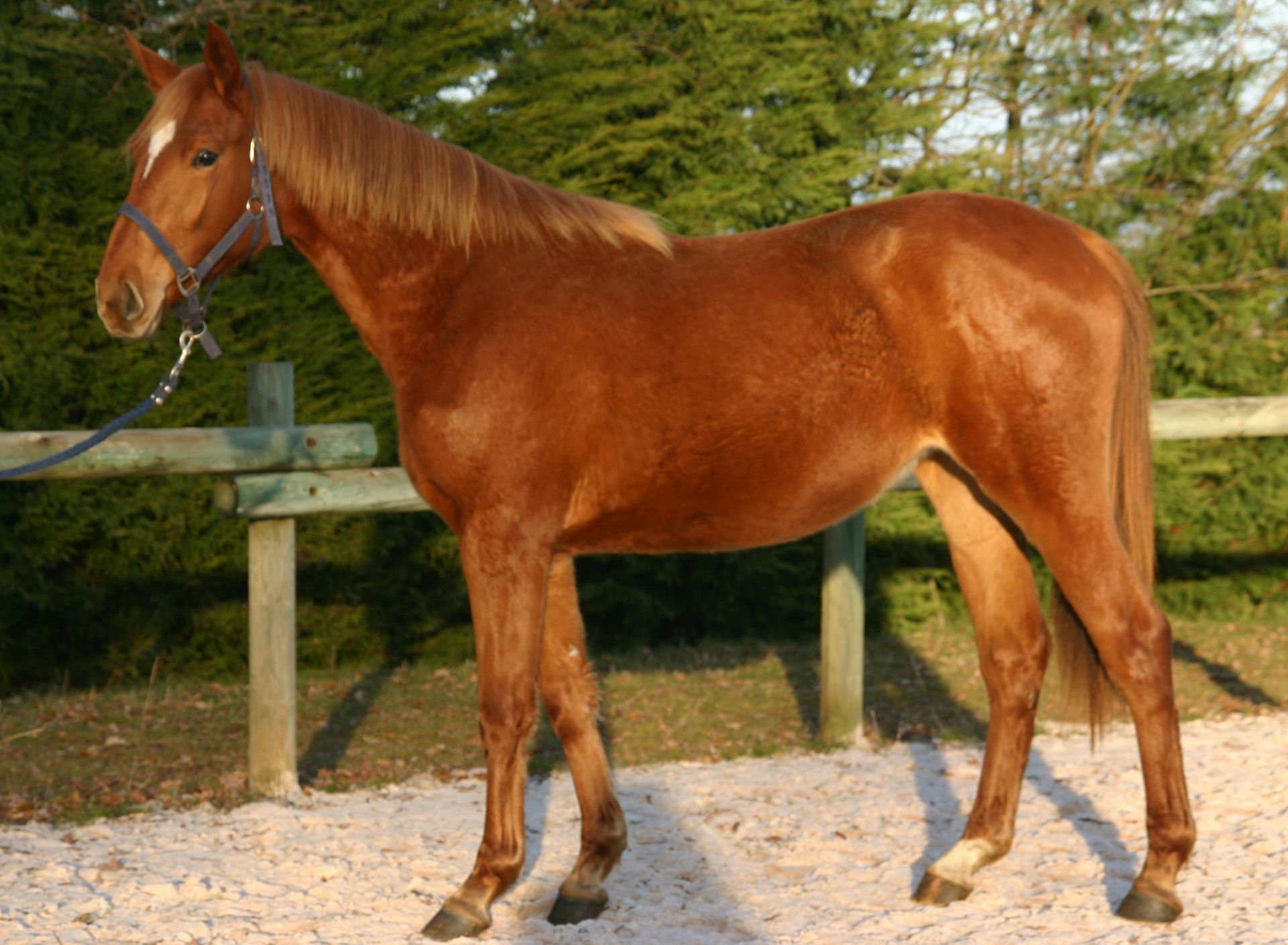 Tulipe du Galeste
(Manhattan de Semilly x Diamant de Semilly)
This stallion brings his energy, size and wonderful type to his offspring. He is easy to cross with the fillies of Jalisco B, Almé or Ibrahim.
WILLING
EASE
HEALTH
JUMPING STYLE
SCOPE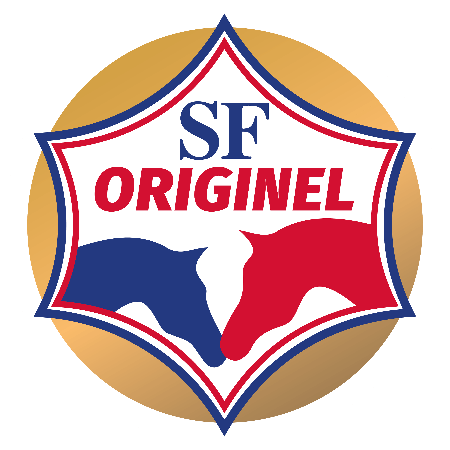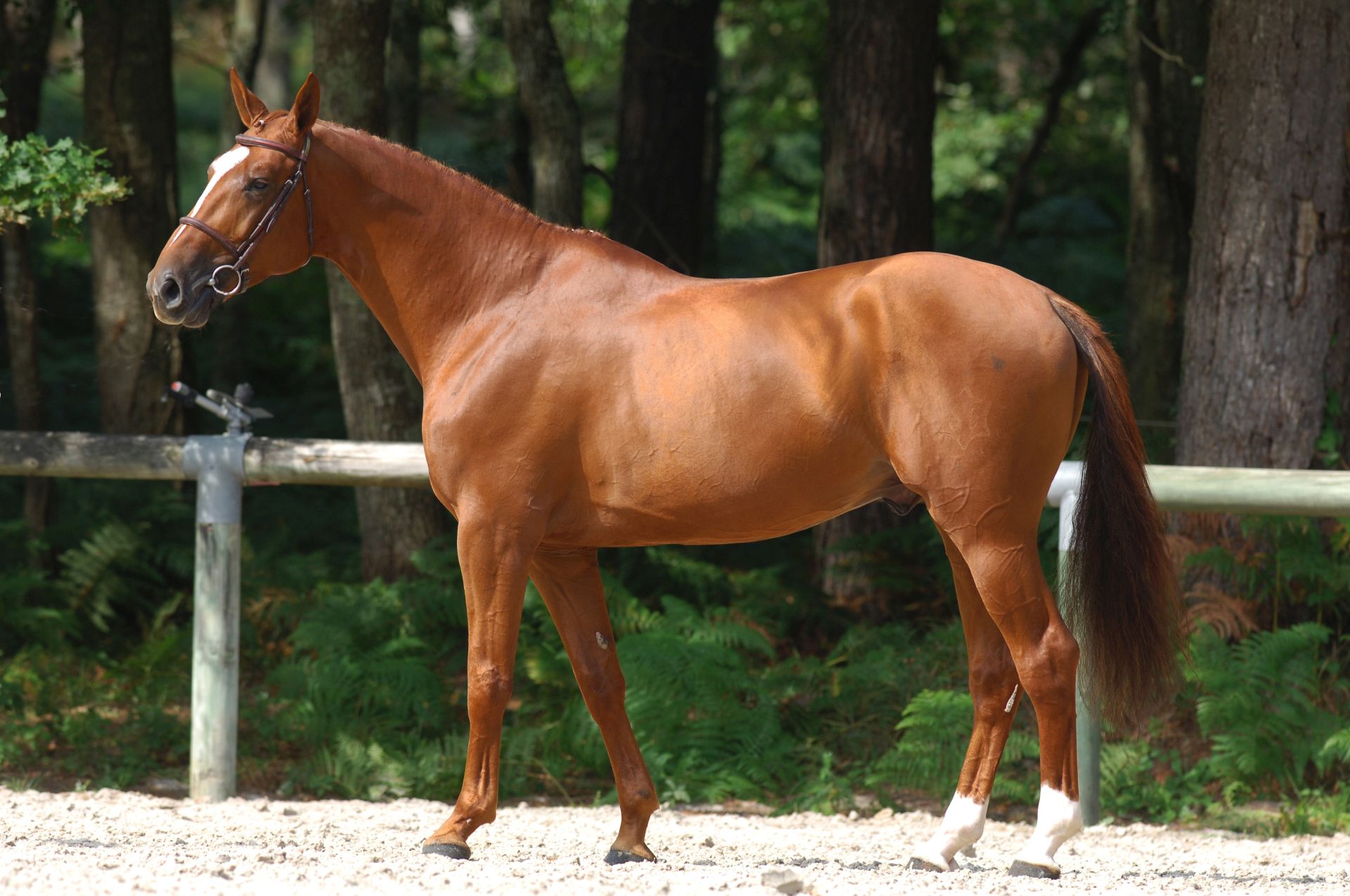 MANHATTAN DE SEMILLY
2022 COVERING CONDITIONS – France

You can bring your mare to France for being inseminated. In this case, the stud fee is divided in two parts :
200 € at reservation + 600 € if the mare is pregnant 
Live Foal Guarantee
 Frozen semen
Further information
It is also possible to send frozen semen to another french AI center (shipping costs to add).
Sales conditions – France   🇫🇷
Export conditions
Towards foreign countries, we can send you the semen directly or through our brokers if there is one who works for us in your country. For all information, feel free to contact us by email : contact@semilly.com
The doses' quality is guarantee and Manhattan de Semilly has got a very good fertility rate.
ISO : Showjumping Index
ICC : Eventing Index
IDR : Dressage Index
IE : exported horses ranked in international classes CSI /CSIO / CSIW

100 to 120 : Good
120 to 140 : Very Good
140 to 160 : Excellent
160 and more : The Best

Generations of Horsemen in the service of breeding and equestrian sports
Haras de Semilly
Impasse de l'Hôtel Pohier
50680 COUVAINS
France
Email : contact@semilly.com
Phone : +33(0)233053144
Richard LEVALLOIS : +33(0)672887149
Sophie LEVALLOIS : +33(0)672887151