(Untouchable 27 x Vigo d'Arsouilles x Habsburg)
SF – chestnut – 1,67m – 2017
❝  Alchemy of European blood! Application, seriousness, ease, these are the key words to describe Hors Série. Through his presence and his expressiveness, the features of his father, the handsome Untouchable 27, stand out. His mother's father, the world champion Vigo d'Arsouilles, transmitted to him his solidity and power. A modern sport horse, with blood and style for jumping, Hors Série also presents a harmonious model and excellent locomotion, inherited from his mother, Utha du Sud. ❞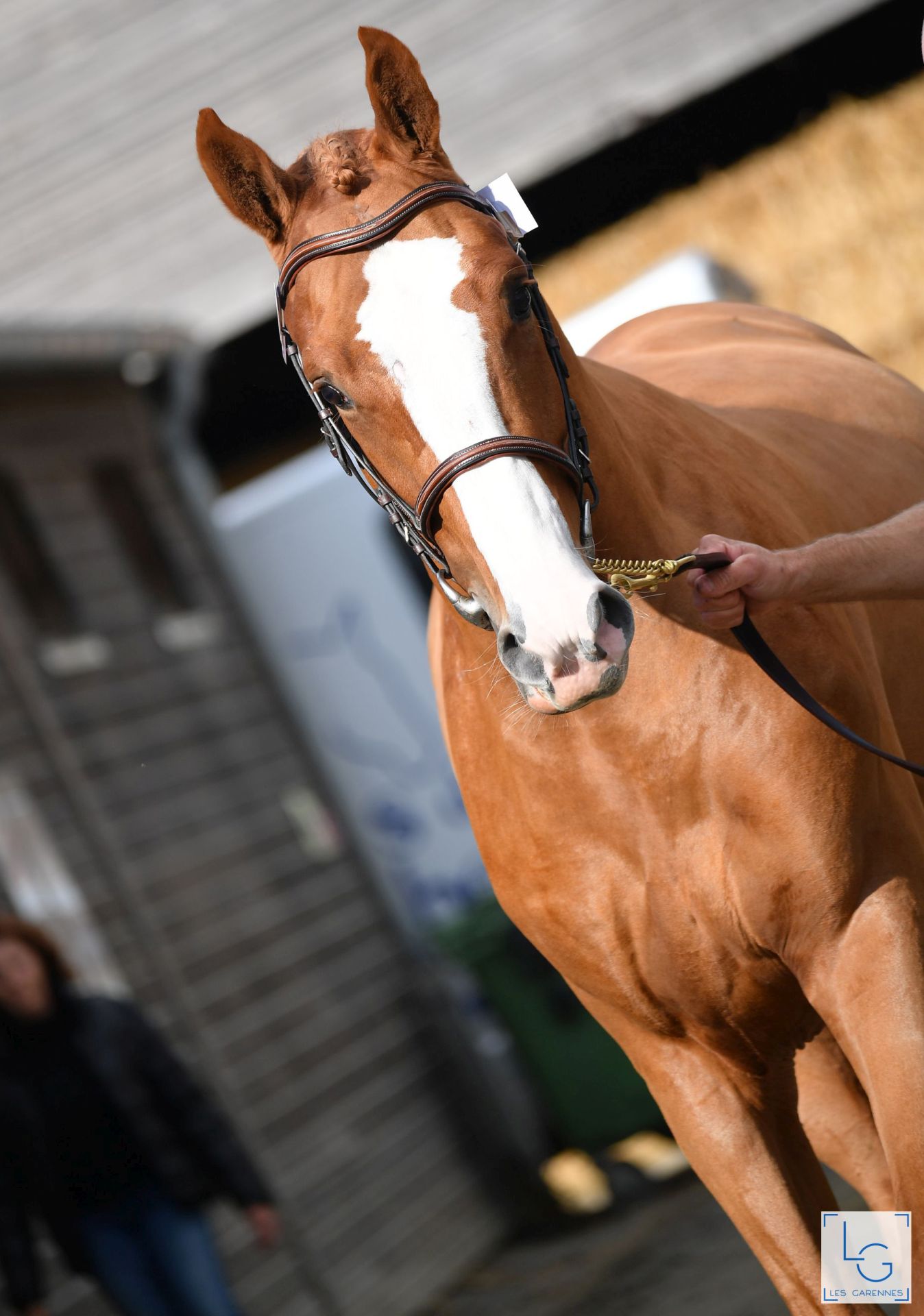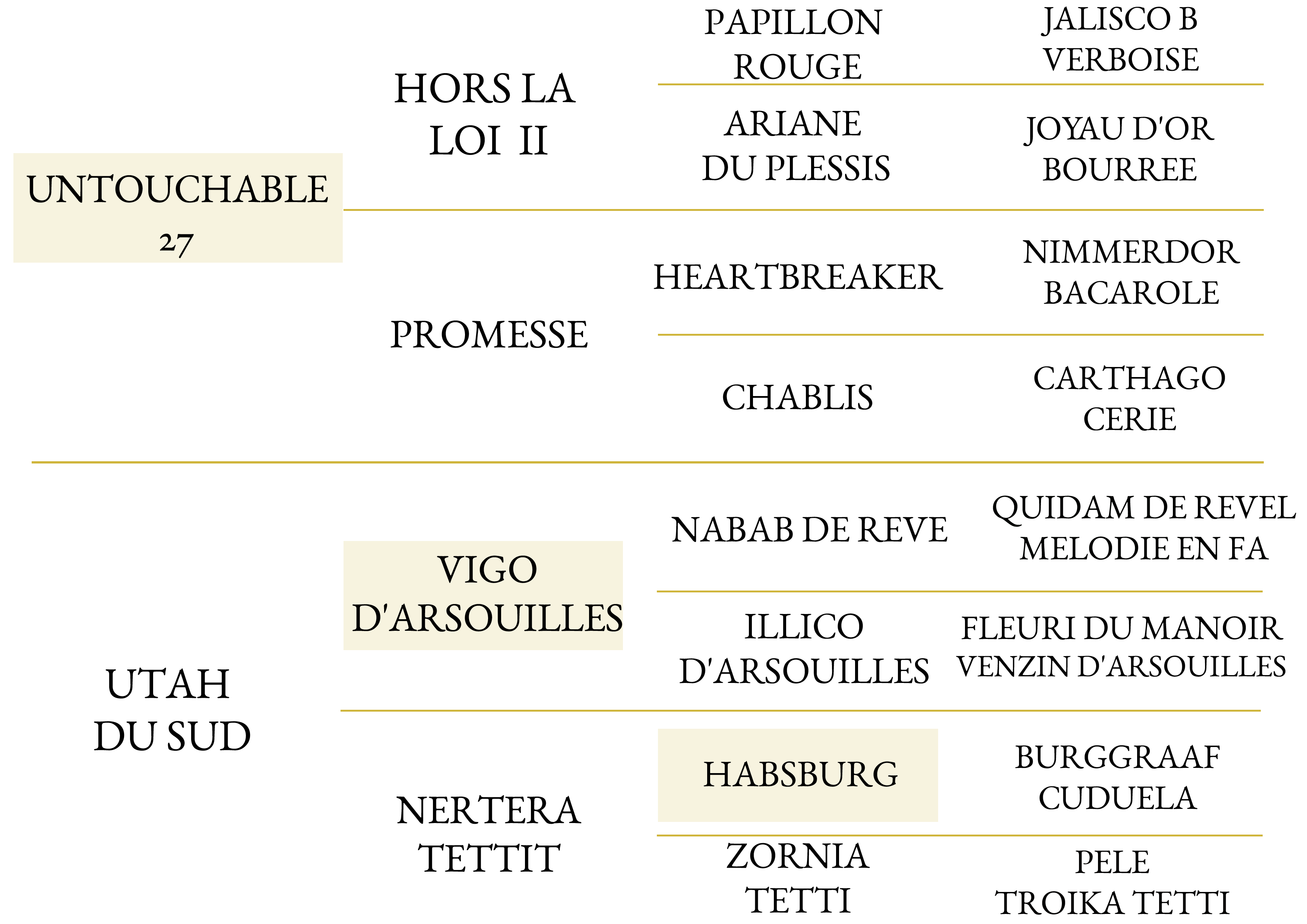 HIS SIRE : UNTOUCHABLE 27 : CSI5* winner and placed 2nd best indexed KWPN sire for 3 consecutives years
Even though his offspring is young, she stand out, such as :
• Carona, WEG in Tryon 2018, CSI5* 
• Corana's M&M, CSIO5* in Sopot 
• Untouched, 2nd of the GP CSI4* Wellington & finalist of the 7YO World Championship  in Lanaken 
But also Big Brother CSI4* ISO 140, Berdina CSI2*, Diesel CSI4*, Chess, VDL Groep Geoffrey, Balthazar, Beau Beau, Bon Ami, Calvin N, Dolocia, Cao Bang de Mars, Here I Am… all international showjumpers.
In France we noticeda : Expresso du Many ISO 136, Une Folie de l'O Z ISO 133, Geoffry ISO 132, Ulma du Cantraie Z ISO 131, Falstaff de Bréve ISO 126, Dolmen du Tertre ISO 125, First Lady du Moulin ISO 125…
HIS DAM : UTAH DU SUD : filly of the World champion Vigo d'Arsouilles and comes from Tetti's Dutch bloodline
Filly of the World Champion Vigo d'Arsouilles, she was able to bring her rider up to the CSI 1.40m, proving her means and her willing. She comes from the Tetti's Dutch bloodline from which also come many dressage and jumping winners including: 
Ganturana (5th of the CSI3* 1,50m Vilamoura)
Diamant (6th of the CSI2* 1,50m Lier)
Feramoon G (1,45m)
Hyper G (1,45m)
Basic Intinct WM (1,40m)
Verano Tetti (1,40m)

l'étalon NRPS 

Jasper's Egon, etc.
Hors Serie has inherited her energy and great locomotion.
HORS SERIE DU MOULIN
________________________________________ 
Begins breeding in 2021.
BSO+15(0,34)
Hors Serie du Moulin is a SF stallion who takes part of the "Programme Génétique Avenir " of the Selle Français studbook 
Consciencious, serious, easy, these are the key words to describe Hors Série. Through his presence and his expressiveness, the features of his father stand out, the handsome Untouchable 27, winner in CSI5 *. His mother's father, world champion Vigo d'Arsouilles, gives him his strength and power. A modern sport horse, with blood and style for jumping, Hors Série also presents a harmonious model and excellent locomotion, inherited from its mother, Utha du Sud.
NEW STALLION
VERY SPORT
CONSCIENCIOUS
STRENGTH
STYLE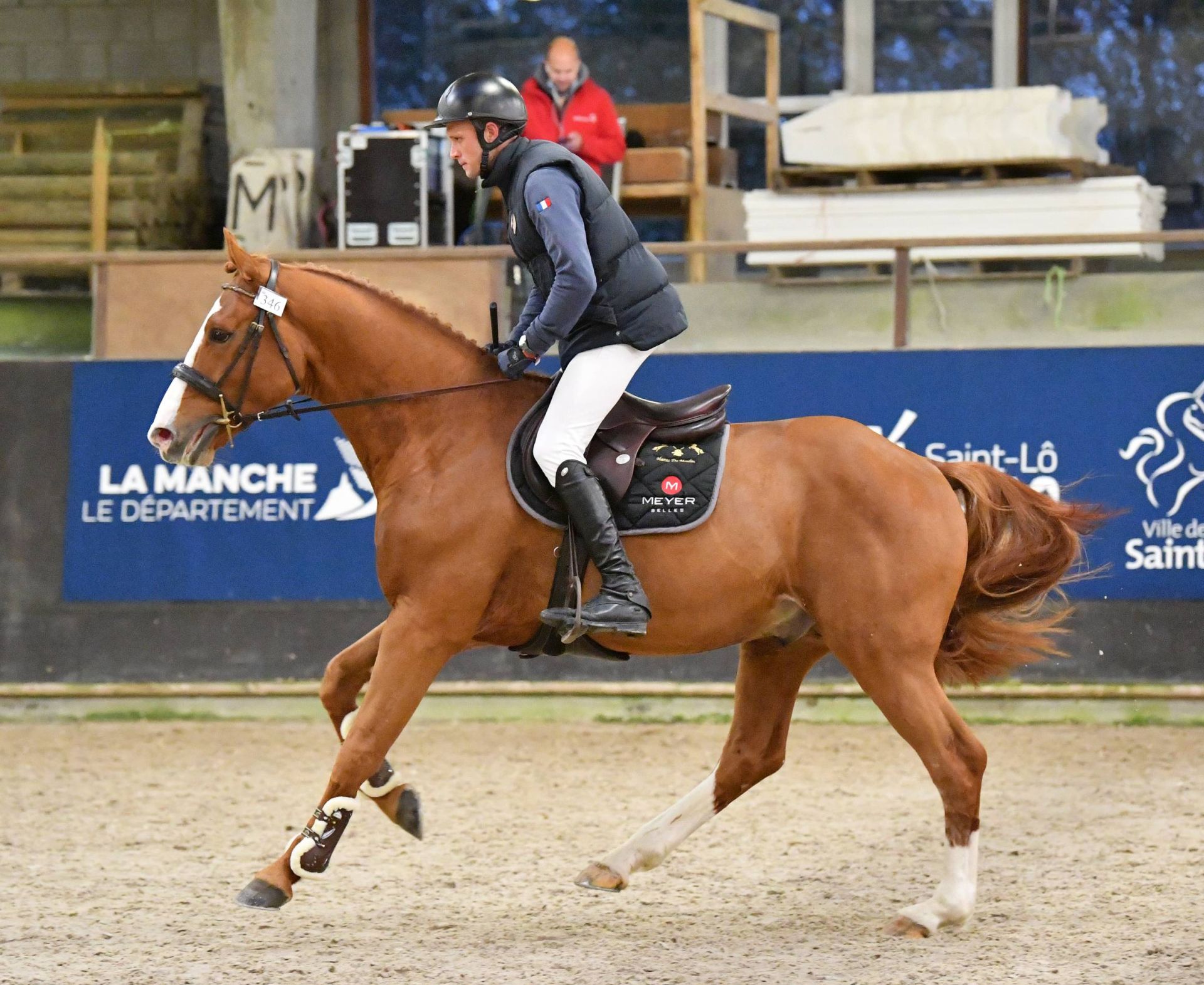 HORS SERIE DU MOULIN
2021 COVERING CONDITIONS – France

You can bring your mare to France for being inseminated. In this case, the stud fee is divided in two parts :
200 € at reservation + 550 € if the mare is pregnant 
Live Foal Guarantee
 Frozen semen
Further information
It is also possible to send frozen semen to another french AI center (shipping costs to add).
Sales conditions – France   🇫🇷
Sales conditions – Export
Export conditions
Towards foreign countries, we can send you the semen directly or through our brokers if there is one who works for us in your country. For all information, feel free to contact us by email : contact@semilly.com
The doses quality is guarantee 
ISO : Showjumping Index
ICC : Eventing Index
IDR : Dressage Index
IE : exported horses ranked in international classes CSI /CSIO / CSIW

100 to 120 : Good
120 to 140 : Very Good
140 to 160 : Excellent
160 and more : The Best

Generations of Horsemen in the service of breeding and equestrian sports
Haras de Semilly
Impasse de l'Hôtel Pohier
50680 COUVAINS
France
Email : contact@semilly.com
Phone : +33(0)233053144
Richard LEVALLOIS : +33(0)672887149
Sophie LEVALLOIS : +33(0)672887151