(Kannan x Narcos II x Alme)
SF – bay – 1,66m – 2016
❝  If you dreamt of using as a stallion NINO DES BUISSONNETS great international winner with Steve Guerdat, sacred Olympic Champion 2012 in London this is now possible with Gino, his full brother !
Gino is very similar to his brother at the same age. He has all the blood, carefulness, suppleness and the good natural technique of the innate jumpers. Son of the well-known Kannan and coming from a great dam line which has produced several 1,60m jumping winners, the stallion Gino du Ventel represents a secure value. ❞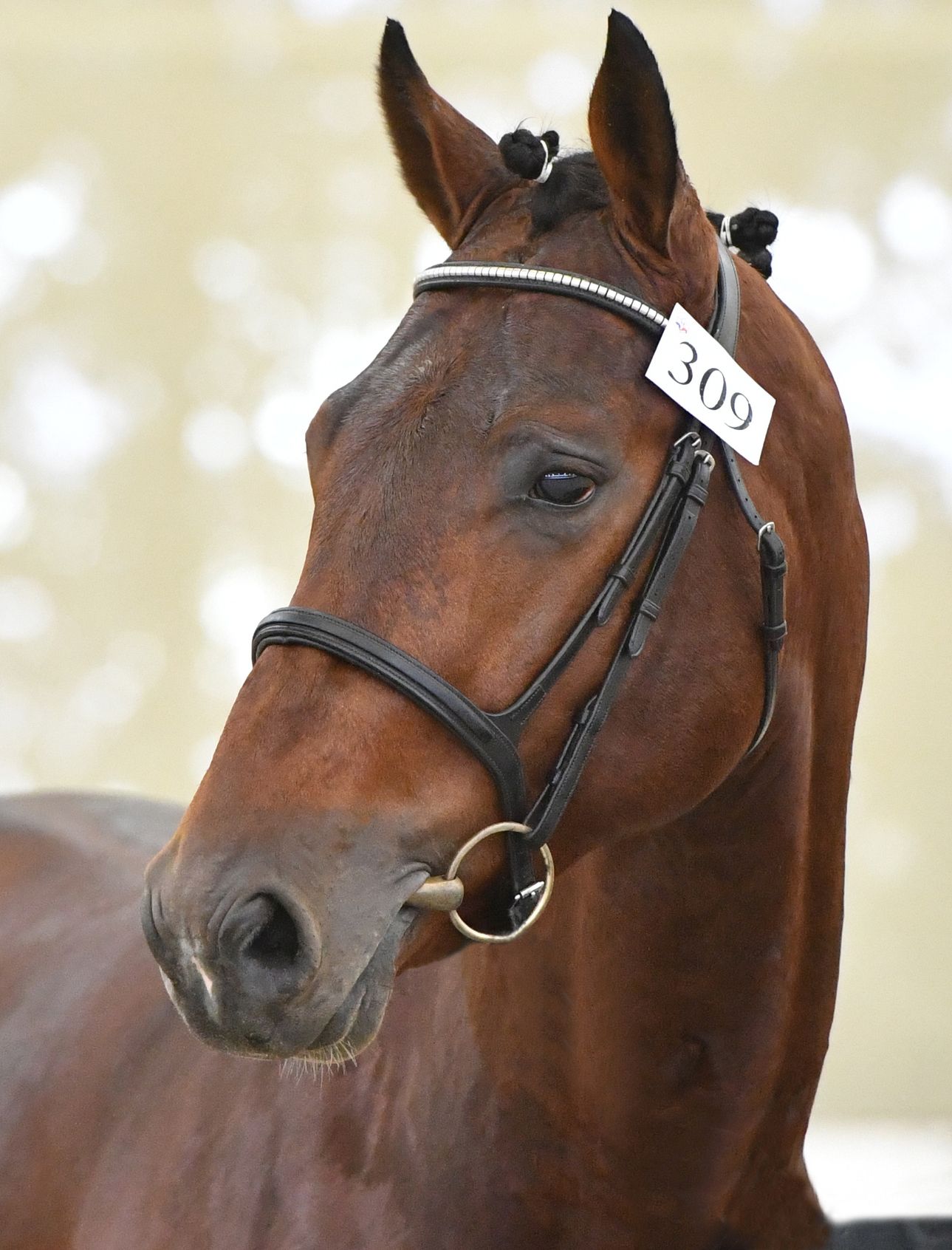 HIS SIRE : KANNAN : Son of the famous stallion Voltaire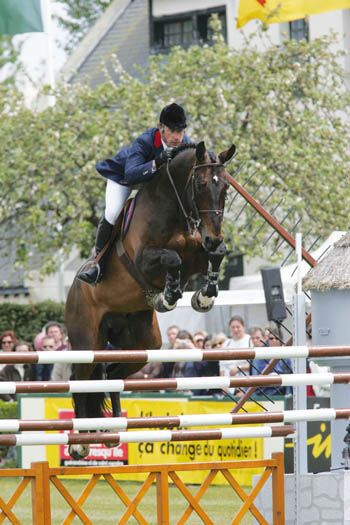 Son of the famous stallion Voltaire, international jumping winner who produced more than 200 Internationals performers among his offsrping.
Kannan was himself an International showjumping winner with Michel Hecart : Champion of France in 2005, Nations Cups winner, 2nd of the Grand Prix CSI3* La Courneuve, Vejer de la Frontera, Deauville and of Gijon CSIO5* Grand Prix, 3rd GP CSIO Moscou and Gijon, etc. ISO 178
Best Sire in the World in 2014 (WBFSH rankings) and regularly placed among the best sires, Kannan has produced more than 500 winners, including : Quabri de l'Isle, winner of the CSI5* GP Rolex at Versailles ; Molly Malone V, GP CSIO5* ; Sherkan d'Amaury, winner of the CSI5* GP at Windsor ; Nino des Buissonnets ISO 186, winner of the CSI5* in Genève; Oh d'Eole ISO 176, winner of the CSI5* in Zurich; Paille de la Roque ISO 178, winner of the CSI5* in Göteborg; etc..
His outsanding offspring includes : Prevert Van Sint Maarten ISO 164, Nikel de Presle ISO 168, O'Brion du Plessis ISO 164, Oliday d'Ira ISO 165, Ominerale Courcelle ISO 167, Padock du Plessis ISO 178, Plume de la Roque ISO 166, Prof de la Roque ISO 165, Quanan Rouge ISO 162, Quenzo de la Roque ISO 170, Quessada de la Roque IPO 185, Quorida de Treho ISO 177, Quorioso Pré Noir ISO 167, Quracao de la Roque ISO 170, Rosana du Park ISO 169, Sherkan d'Amaury ISO 168, Simba de la Roque ISO 166, Sultan du Chateau ISO 168, Sunshine du Phare ISO 164, Symphonie des Biches ISO 164, Tokyo de Saint Fray ISO 171, Toupie de la Roque ISO 162, Tradition de la Roque ISO 163, Uppsala del Cabalero ISO 165, Uthope de la Roque ISO 161, Vintadge de la Roque ISO 165 etc…
HIS 1st DAM : HERMINE DU PRELET : comes from a pur SF lineage Narcos II x Alme Z x Uriel
She has also produced:
♦ 2009 Luco des Buissonnets, ISO 132
♦ 2000 Marie des Buissonnets, ISO 135
♦2001 Nino des Buissonnets, ISO 186, CSI5*, OLYMPIC CHAMPION London 2012 and 4th in Rio de Janeiro Olympic Games 2016, 3rd Best Jumper of the World in 2012 (WBFSH rankings). Full brother of Gino du Ventel
♦ 2002 Ombre des Buissonnets, ISO 113
          • 2006 Sheitan du Paradis, ISO 132
          • 2009 Vinotinto du Paradis, ISO 115
          • 2014 Exception du Paradis, ISO 116
          • 2014 Eragone du Paradis, ISO 125
♦ 2004 Qlito des Buissonnets, ISO 139
♦ 2007 Tourment de Val, ISO 124
HIS 2nd DAM : BELLE DU PRELET
She has also produced Farabi du Prelet ISO 138 and Une Dame de Bouly mother of Dolce Vita des Blés ISO 120. 
HIS 3rd DAM : TORNADE DU PRELET
She has also produced:
♦ 1993 Fuego du Prelet, CSI 1,60m, stallion
♦ 1994 Gavroche du Prelet, ISO 118
♦ 1995 Hiram du Prelet, ISO 153
♦ 1996 Joker du Prelet, ISO 136
♦ 1998 Kreutzer de Carles, ISO 128
♦ 2004 Quelle Dame de Carles
          • 2011 Ballerine du Vilpion, ISO 150, CSI5*
          • 2014 Expert du Vilpion, ISO 120
♦ 2005 Rafale de Carles
          • 2010 Arpège de Carles, ISO 148
          • 2013 Danslevent de Carles, ISO 142
♦ 2005 Ramdam de Carles, ISO 124
♦ 2007 Tempête de Talma, ISO 125
From this dam line also come from many jumping winners such as : Koala du Prelet ISO 159, Sing Sing Une Prince ISO 141, Kannelle du Vilpion ISO 140, Allegro ISO 157, Beau Fixe ISO 141, Fair Play III ISO 146, Erudit IV ISO 143, Noire de Tame ISO 141, Oiseau Mouche ISO 149, Uvea du Sapin IE SO, Lutine du Charmoie ISO 162, Resille de Tourniere ISO 145 ICC 139, Saphir de Roize ISO 147…
GINO DU VENTEL
________________________________________ 
He begins breeding in 2020.
BSO+15(0,40)
He belongs to the "Young Male Genetic SF program" of the Selle Français studbook.
Very similar to his brother physically speaking, he has the perfect morphology for jumping with the right balance, strong and well-attached back, good legs with low and large hocks, which gives him strength in his hindquarters and makes him a scopey horse.
Like his full brother Nino, Gino has all the blood, carefulness, suppleness and the good natural technique of the innate jumpers.
FULL BROTHER OF
NINO DES BUISSONNETS
BLOOD
RESPECT
SUPPLENESS
ATHLETIC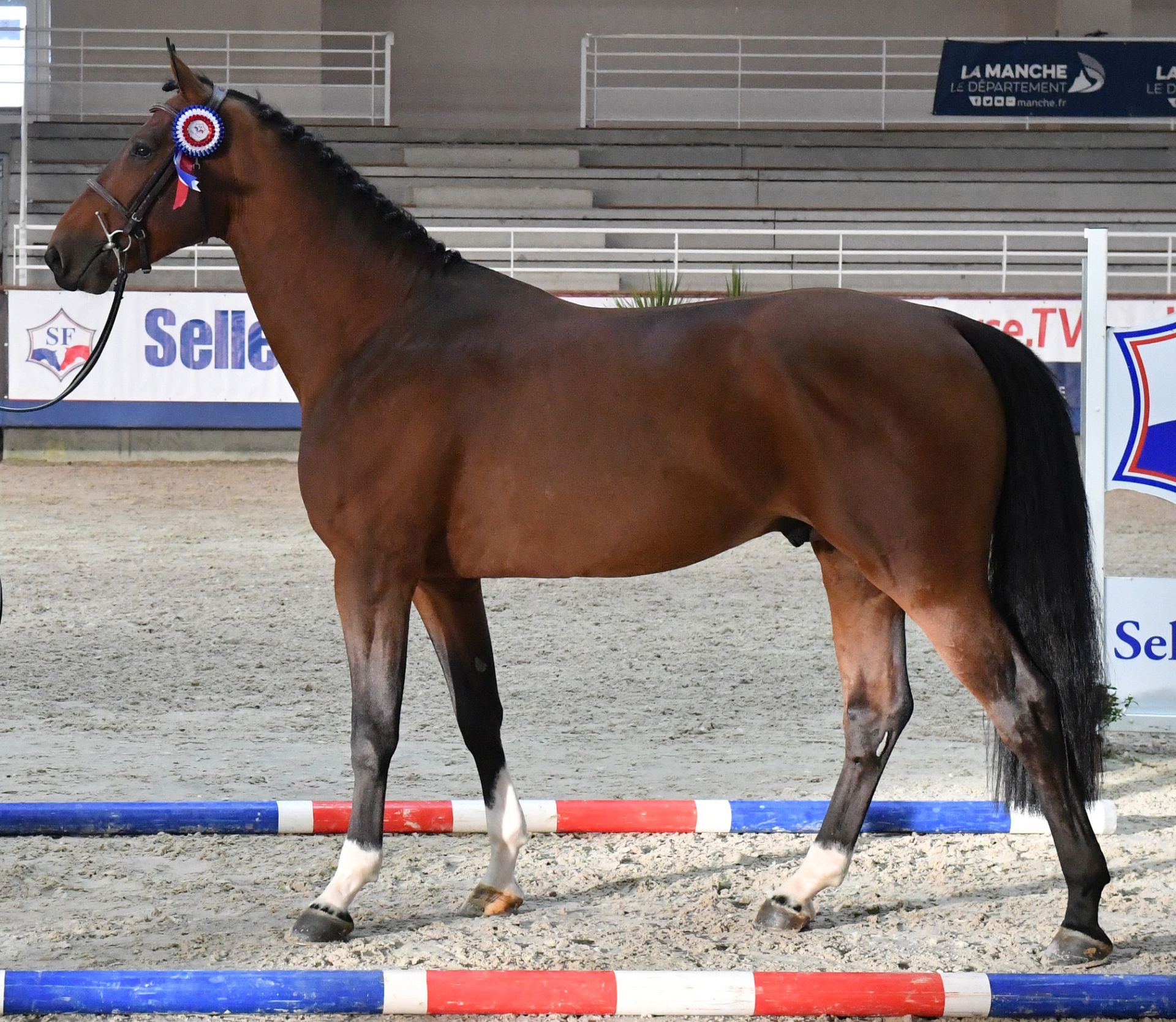 GINO DU VENTEL
2021 COVERING CONDITIONS – France

You can bring your mare to France for being inseminated. In this case, the stud fee is divided in two parts :
200 € at reservation + 550 € if the mare is pregnant 
Live Foal Guarantee
 Frozen semen
Further information
It is also possible to send frozen semen to another french AI center (shipping costs to add).
Sales conditions – France   🇫🇷
Sales conditions – France
Export conditions
Towards foreign countries, we can send you the semen directly or through our brokers if there is one who works for us in your country. For all information, feel free to contact us by email : contact@semilly.com
ISO : Showjumping Index
ICC : Eventing Index
IDR : Dressage Index
IE : exported horses ranked in international classes CSI /CSIO / CSIW

100 to 120 : Good
120 to 140 : Very Good
140 to 160 : Excellent
160 and more : The Best

Generations of Horsemen in the service of breeding and equestrian sports
Haras de Semilly
Impasse de l'Hôtel Pohier
50680 COUVAINS
France
Email : contact@semilly.com
Phone : +33(0)233053144
Richard LEVALLOIS : +33(0)672887149
Sophie LEVALLOIS : +33(0)672887151