(Berdenn de Kergane x Cor de Hus x Gold de Becourt)
SF – bay – 1,68m – 2015
❝  Best SF stallion at 5 and 6 YO, also placed 9th of the 6 YO World Championships in Lanaken 2021, Fancy de Kergane impresses with his excellent character, suppleness, strength and carefulness. Everything seems to be easy for him and his regularity confirms it. This gifted horse always tries to do his best. He is the kind of horse that everyone would like to ride!❞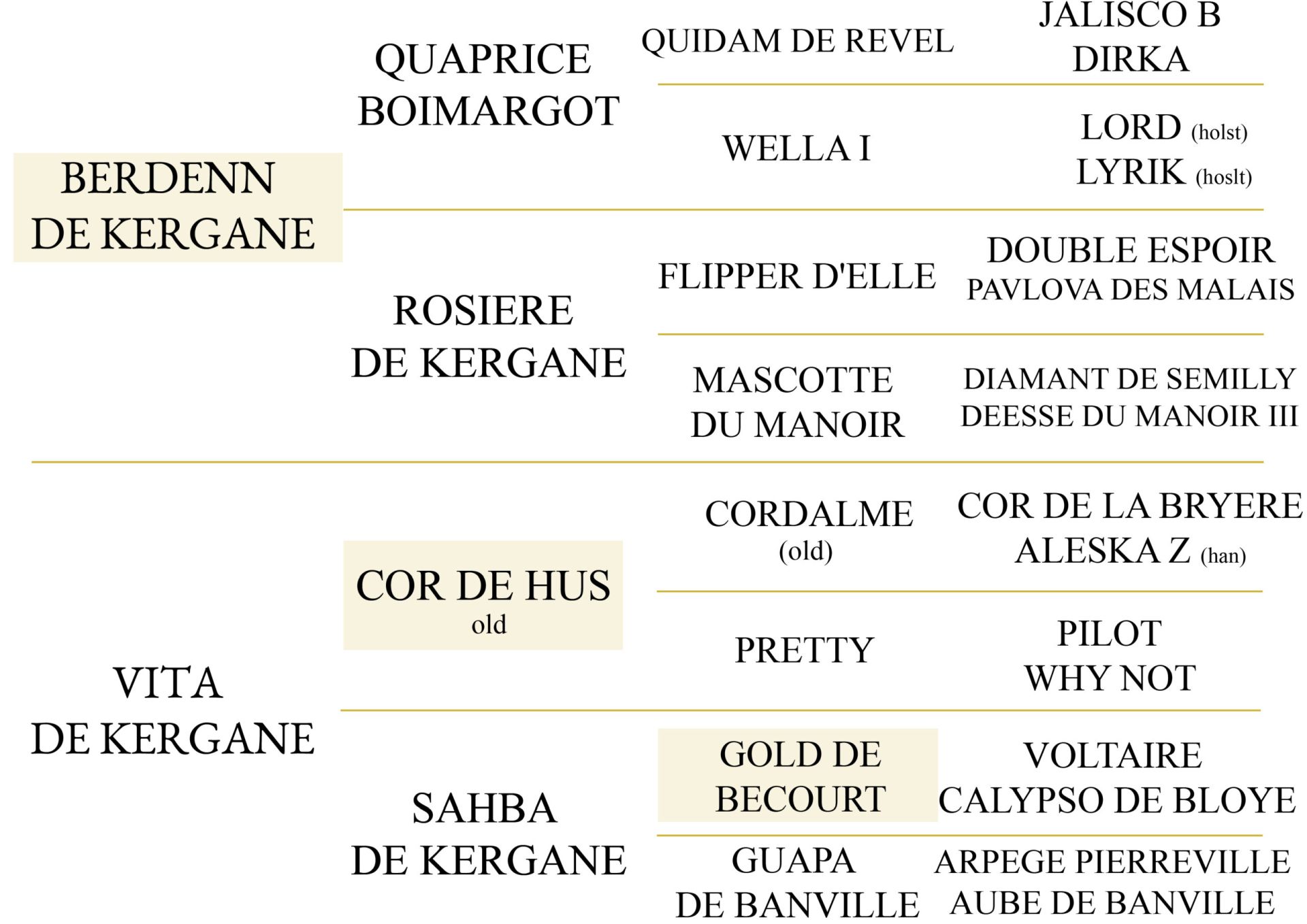 HIS SIRE, BERDENN DE KERGANE : Unfortunately prematuraly died at the dawn of a great international jumping career
ISO 162
Unfortunately prematuraly died at the dawn of a great international jumping career while he just won the 1,60m Grand Prix CSI3* de Vejer de la Frontera 2020 ridden by Laura Kraut.
Son of the famous performer stallion Quaprice Boimargot.
Many winners come from his dam bloodline :  Aladin du Chesnay ISO 151, L'Amour du Bois ISO 171 CSIO4*, Best of l'Herbage ISO 146, Cesar d'l'Herbage ISO 152, Fairplay du Manoir ISO 147, Fee d'Amour ISO 160, Folamour du Bois ISO 157, Isatis d'l'Herbage ISO 160, Kalif d'l'Herbage ISO 153, Milord d'l'Herbage ISO 151,   …
HIS DAM, VITA DE KERGANE (x Cor de Hus (old))
She has also produced:
♦ 2012 Cyann de Kergane, ISO 122
♦ 2013 Destrebann de Kergane ISO 118
          • 2016 Gwenndu de Kergane, ISO 127, SF stallion
♦ 2014 Ellebore de Kergane, ISO 120
♦ 2015 Fancy de Kergane, ISO 152, SF stallion
♦  2015 Fanuatou de Kergane, ISO 125

HIS 2nd DAM, SAHNA DE KERGANE (x Gold de Becourt)
She produced Vita de Kergane ISO 127 and Aquarelle de Kergane ISO 138.
HIS 3rd DAM, GUAPA DE BANVILLE: from who come from many performers
She has also produced:
1998 Kyrielle de Kergane, ISO 126

2011 Balaika d'Aurel, ISO 116

2000 Maeva de Kergane, ISO 148 CSI3*

2004 Quarla de Kergane

2007 Tassili de Kergane, ISO 139

2001 Naiade de Kergane, ISO 137
2004 Quasi de Kergane, ISO 159 CSIO3*
2006 Sahba de Kergane, ISO 125
2008 Ultimo de Kergane, ISO 135
2010 Acadie de Kergane

2013 Djelly de Kergane

2016 Gaelynn de Kergane, ISO 118

2014 Eothymm de Kergane, ISO 150, SF stallion

2011 BellaMona de Kergane

2014 Essidja de Kergane, ISO 116
Best SF Stallion at 5 and 6 YO 
ISO 152 
In 2022
1st GP Top7 Canteleu

2nd GP Top7 Canteleu
In 2021
9th of the 6YO World Championship in Lanaken 2021
6YO Vice-Champion of Franc

e

, best stallion – ELITE

6YO Champion during the SF stallions Master 2021 

1st of the 1,30m class CSIYH1* in Royan 2021
In 2020
3rd of the 5YO France Championship,

best stallion

–

ELITE

 
Fancy de Kergane has been approved Selle Français Stallion during the 3yo stallions France Championship in 2018.
FANCY DE KERGANE
________________________________________ 
He begins breeding in 2019
BSO+29 (0.54)
His first offspring have a great canter and good balance.
Modern typed Sire, Fancy comes from rare bloodlines which allows to make outcrossing without taking so much risk and bring the main qualities for breeding showjumpers.
BEST SF STALLION OF HIS GENERATION
JUMPING TECHNIQUE
CAREFULNESS
RELIABILITY
EASE
FANCY DE KERGANE
2023 COVERING CONDITIONS – France

Fresch & Frozen semen
You can bring your mare to France for being inseminated. In this case, the stud fee is divided in two parts :
200 € at reservation + 600€ payable 48h After Foaling
Further information
It is also possible to send chilled or frozen semen to another french AI center (shipping costs to add).
Sales conditions – France   🇫🇷
Sales conditions – Export
Export conditions
Towards foreign countries, we can send you the semen directly or through our brokers if there is one who works for us in your country. For all information, feel free to contact us by email : 
contact@semilly.com
ISO : Showjumping Index
ICC : Eventing Index
IDR : Dressage Index
IE : exported horses ranked in international classes CSI /CSIO / CSIW

100 to 120 : Good
120 to 140 : Very Good
140 to 160 : Excellent
160 and more : The Best

Generations of Horsemen in the service of breeding and equestrian sports
Haras de Semilly
Impasse de l'Hôtel Pohier
50680 COUVAINS
France
Email : contact@semilly.com
Phone : +33(0)233053144
Richard LEVALLOIS : +33(0)672887149
Sophie LEVALLOIS : +33(0)672887151